2015 marks Dragages Hong Kong's 60th Anniversary.  To celebrate this colossal milestone an exhibition cum cocktail was held on 24 March at AsiaWorld-Expo.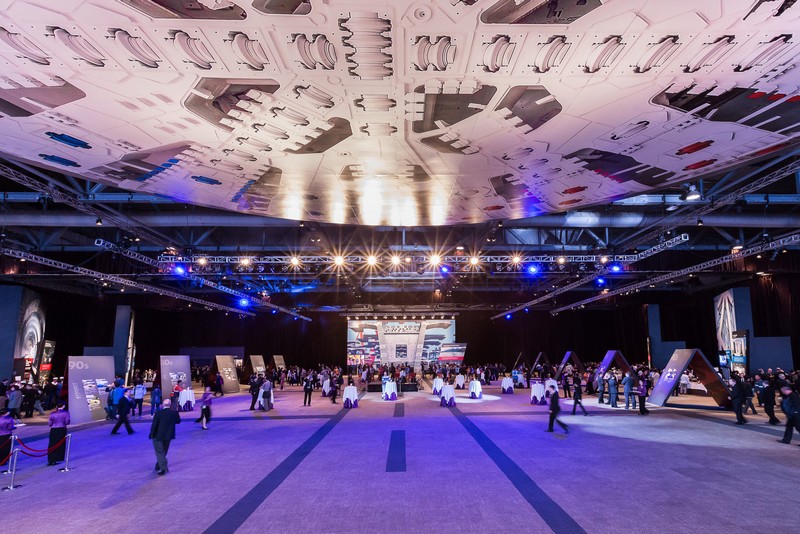 Projects by decades since the 1950s, including highlights of nine ongoing and recently completed projects were showcased.  Some of the exhibits were the size of real construction equipment, and a jumbo drilling machine was also displayed at the entrance of the venue to welcome our guests. Some 1,500 guests attended the exhibition, including senior government officials; management from Bouygues, Bouygues Construction, Bouygues Batiment International, Bouygues Travaux Publics; clients and working partners; together with staff. Dragages Hong Kong has been growing hand in hand with Hong Kong since 1955, working on many of the major infrastructure projects and developments that contribute to Hong Kong's status as one of the world's leading cities. Over the last 60 years, the Company has earned a reputation for ground-breaking innovation, and the on-time delivery of even the most technically-demanding projects. Its value-added engineering solutions continue to play a pivotal role in the city's development, "shaping a better life" for everyone who lives, works or travels in Hong Kong.

Innovation is always at the top of our agenda, from design and finance to construction and operation, and we are constantly striving to make every project more efficient, safer, faster and more satisfying to our clients. That tireless commitment to excellence has seen Dragages Hong Kong's business reach new heights in the last decade, with the awards of mega-sized projects, like Hong Kong-Zhuhai-Macao Bridge – Hong Kong Link Road; Tuen Mun-Chek Lap Kok Link – Northern Connection Sub-sea Tunnel Section; Liantang HYW – Site Formation and Infrastructure Works Contract 2, to name just a few.
Drawing on the technical know-how and expertise of our local team, as well as a global network from our parent company Bouygues Construction that brings together new ideas and best practices from around the world, Dragages Hong Kong will continue working hard to maintain its position at the very forefront of Hong Kong's growth and prosperity.
Mrs. Carrie Lam, Chief Secretary for Administration, was the Guest of Honour and officiated at the opening of the exhibition. She was joined by a team of eight officiating guests, namely Martin Bouygues (Chairman and CEO of Bouygues); Paul Chan (Secretary for Development); Philippe Bonnave (Chairman and CEO of Bouygues Construction); CK Hon (Director of Civil Engineering and Development); KK Lau (Director of Highways); KK Leung (Director ofArchitectural Services); Philco Wong (Projects Director of MTRC); and Nicolas Borit (Managing Director of Dragages Hong Kong).
Guest of Honour, Mrs Carries Lam, Chief Secretary for Administration, said

"As you will notice from the projects showcased in the exhibition today, Dragages Hong Kong has all along been very dedicated to building a better Hong Kong."
In its early days, it contributed its marine and dredging expertise to the reconstruction and extension of the Kai Tak runway.  When Hong Kong expanded from an aviation hub to become a cruise hub some fifty years later, Dragages again made its mark by designing and constructing our new landmark, the Kai Tak Cruise Terminal Building, on the former runway site.  In between these exciting projects, Dragages has been an active participant in tunnel works since the Lion Rock Tunnel project." "Innovation is in the blood of the company and I am sure this capability can give impetus to further development of the company and the industry."
Mr. Nicolas Borit, Managing Director of Dragages Hong Kong, said:
"Our journey in this city has been amazing, and what touches me the most is that we have been growing in parallel with this wonderful city, involved with the city's milestone developments over the past six decades.
"At present, we are simply doing what we have always done: building large and complex infrastructures that connect people and the city, which in turn will support the prosperity of Hong Kong for decades to come."