The world's top five largest shopping malls now reside in Asia. However, along with the challenges that people are looking for more engaging experiences that go well beyond traditional shopping, e-commerce revolution and rise of digital technologies are becoming more popular, and urban commercial capacity has been in a tense way, whether the "Size" of shopping mall is still important? Facing the situation that diversified retail brands could be seen everywhere in China, even brand homogeneity in shopping mall is very intense, whether leasing capability of shopping mall is still the core competitiveness?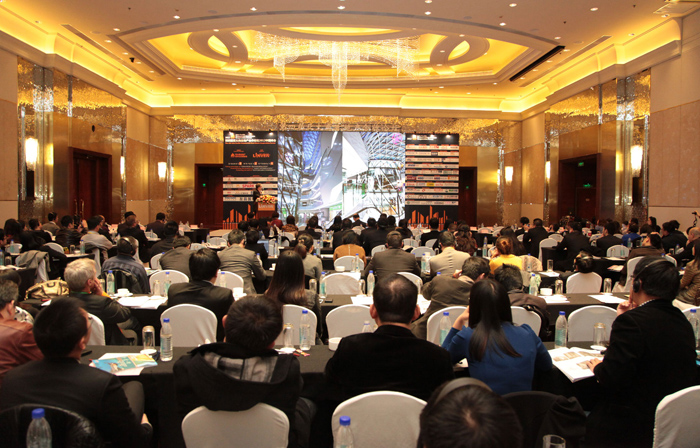 A storm of dramatic changes in China which are forcing commercial real estate developers to rethink how they conceive and operate their properties, to break through the "Pains".
1. How large capacity of shopping mall will be needed in one commercial project?
2. What is the real function of next generation shopping mall?
3. How O2O technologies influence traditional offline business model?
4. How to leverage public space of shopping mall to become new consumption points?
5. How to reshape consumer expectations and shifting the function of stores toward useful and   entertaining customer experiences?
6. How to change the role which high-density urban area play in people's lives?
APCREC7will witness the biggest 6 industry problems currently; emphasizing "standing in the future, thinking now"; aggregating top think tank in industry; surrounding the theme of "trend, essence, tool"; bringing successful case studies and brilliant brainstorming; helping you break through the bottleneck period.
APCREC7 will be held on 21st-22nd, May in Shanghai Marriott Hotel Luwan. It will gather above 50 industry heavyweight speakers and 350 industry elites. You will enjoy this gluttonous feast of commercial real estate industry through these domestic & foreign cases and mindsets.
The forum will begin with the first chapter " taking trends of regeneration" by 4 leading brainstorming. Topics will range from commercial property dimension, O2O big data application, gold proportion of commercial project portfolio and commercial product line layout. 24 top guests from Nielsen, Blackstone, Mapletree, Nan Fung, Tishman Speyer, Baidu, Alibaba Group, Evergrande Real Estate, JD.com, Intime Retail, Fosun Property, China Merchants Property, Poly Real Estate, Sino-Ocean Land, Greenland Group, Sincere Group, COFCO Longfor Group, OCT Group and Zhenro Group will bring all audience the most timely & effective information.
The second chapter "exploring methods to puzzles" will deeply analyze 4 hot commercial formats. The most intuitive feeling will be inspired through 1 overseas & 1 domestic case for each format. In terms of community: High management level of CapitaMalls and Fantasia will share their Singapore Lot 1 Shoppers' Mall &"Colorful" Community B2F Platform, then "Winning in Last One Kilometer" brainstorming will be intensively discussed around Vanke Group, S.F. Express, Maan Coffee, YangGuang Co., Ltd. and Shanghai Zendai Property. Regarding to tourism & resort, Resorts World Sentosa and Chimelong Ecology-Tourism City cases will be well presented, moreover, "Tourism Business: Destination New Landmark" brainstorming will gather Franshion Properties, Shanghai Disney Resort, Antaeus Group, Wilson Associates and CITIC Real Estate. Referring to urban regeneration & TOD hub, Singapore Clarke Quay, Hangzhou Clean-River Street, Changi Airport & Hongkong MTR will be completely displayed.
The final chapter "Optimizing Tools during Moving" will explore two kinds of innovation mode: project upgrading & retail innovation. Hongkong Hysan Place and Foshan Incity will be classically interpreted. After that, decision makers from CP Modern Living Group, China Resources Land, Swire Properties, New World Department Store, and Shui On Land will illustrate that a differentiated design and structure is increasingly important since such elements will help malls better blend in with their surroundings. In terms of retail innovation, typical companies like JASONWOOD, Starbucks, Fangsuo Commune, Club Monaco, Walmart, Seahood, Fengguo and Cinema City will be actively involved discussing the 3 biggest creative retail formats: experience, big data & cross-over cooperation.
Except exciting forum content, the forum will deeply enhance guests' interaction experience through online to offline such as applying related WeChat activities, on-site voting, lucky draw and other leisure & entertainment events.
APCREC7 will gather top-level decision makers from commercial developers, retailers (on the context of entry luxury, leisure & entertainment, brand gallery & children format), leading architecture design firms, senior commercial property operation agencies and product, software solution providers.
We wish you could enjoy all wonderful planning in the two consecutive days including listening to the latest trend publishing, participating newest cases sharing and conducting interactive networking. Expecting to see you and your company in Shanghai in this May!
For more information please visit : www.linver-insights.com/apcrec7/index_en.html