The Chapel, Vietnam, designed by a21studio, has won the 'World Building of the Year' award, UOL Group Ltd, at the World Architecture Festival (WAF) 2014.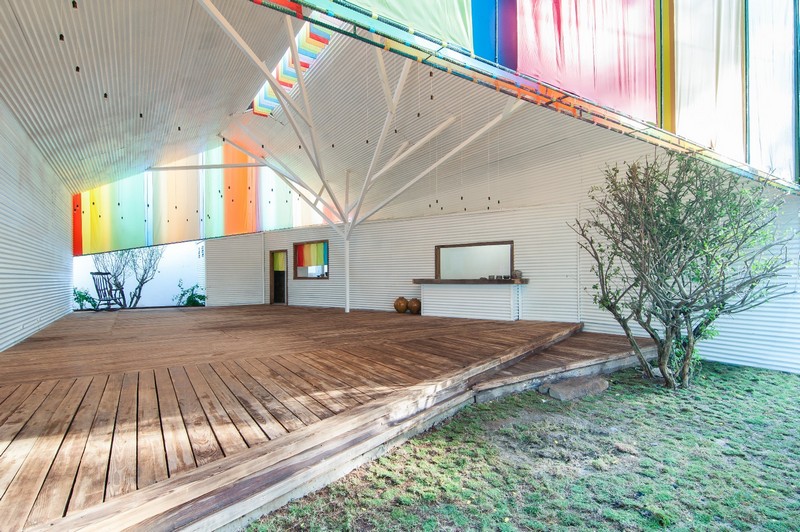 Live judging of the WAF awards took place during the largest global celebration of architecture – the World Architecture Festival, which culminated with a gala dinner and awards' ceremony today at the Marina Bay Sands in Singapore.
The Chapel is a community space in a new urban ward on the outskirt of Ho Chi Minh City, Vietnam. As a result of estate crisis, the surrounding area lacks communal centers; therefore, the Chapel is designed to be the place for people to participate in activities such as conferences, weddings and exhibitions. The Chapel takes advantage of materials from the owner's previous projects such as steel frames and metal sheets.
The project was selected by the festival's super-jury, comprising a selection of the world's leading architects and designers, led by renowned British architect Richard Rogers, and included Rocco Yim (Hong Kong), Julie Eizenberg (USA), Enric Ruiz Geli (Spain) and Peter Rich (South Africa).
Commending the winning project on behalf of the festival's super-jury, Paul Finch, WAF Programme Director, said "The judges felt this was a project that embraced history and modernity, and created a dialogue in the process. It has created maximum effect with minimum materials and has produced an unexpected change of pace in its urban context. The opportunity has been taken to recycle and rethink materials and site, and a series of design issues have been addressed which have produced a small project that makes a big statement. Colour and light have been deployed to put people at ease and the architect has found poetry in the mundane."
This is the 7th year the World Architecture Festival awards have been presented, with 33 WAF awards announced across the three main sections of Completed Buildings, Landscape and Future Projects.
Previous winners of the World Building of the Year Award include Luigi Bocconi University, Milan, designed by Irish practice Grafton Architects (2008); Mapungubwe Interpretation Centre in South Africa, designed by Peter Rich Architects of Johannesburg (2009); MAXXI (National Museum of the 21st Century Arts) in Rome, designed by Zaha Hadid Architects (2010); Media TIC, designed by Cloud 9 Architects (2011); Gardens By The Bay, designed by Wilkinson Eyre, Grant Associates, Atelier One and Atelier Ten (2012); Auckland Art Gallery Toi o Tāmaki by Frances-Jones Morehen Thorp (2013).