Coastal living set in a garden oasis, the third stage of Henderson Land's Ma On Shan development combines high quality interiors and outstanding design with an uncanny appreciation for the natural world.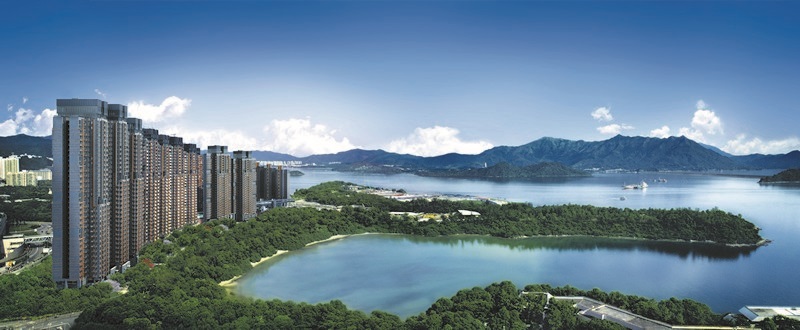 Shaped By Nature
Double Cove is located on a remarkable natural peninsula, surrounded by about 118,000 square metres of conservation area, with Wu Kai Sha Beach to the west, Starfish Bay to the east and the Whitehead headland coast to the North. The site is surrounded on three sides by Tolo Harbour.
The beach is a five-minute walk from Double Cove and Wu Kai Sha MTR Station is a 17 minute walk away.
Pritzker Prize-winning architect Lord Richard Rogers, founding partner of Rogers Stirk Harbour + Partners, was engaged as the design consultant of the Double Cove project. Ng says Rogers created a development theme described as "living in a park in a walkable community".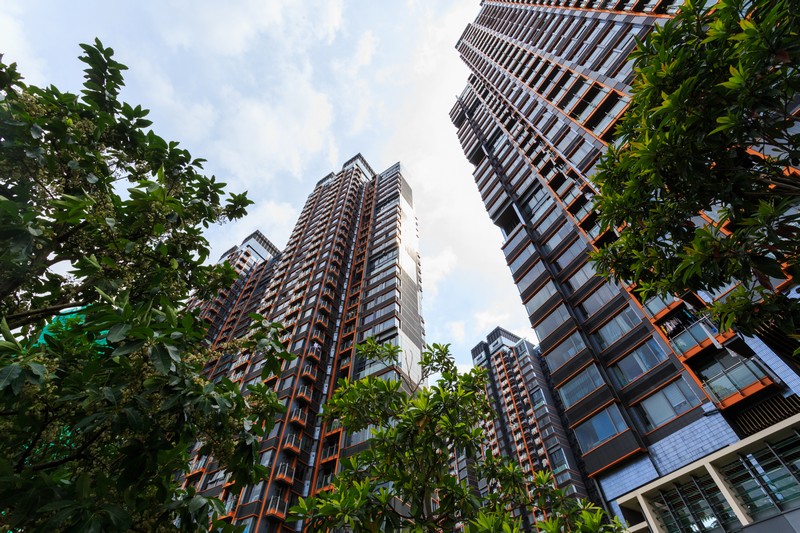 "Lord Richard Rogers echoed what we have been thinking about. It's a really unique site in Hong Kong with both nature and convenience at your fingertips," Ng says. "It is unique in the sense you are flanked by natural beaches on both sides but also you have convenience as it is directly accessible by MTR for all-weather commuting."
The living in a park lifestyle saw Rogers create an elevated park at the centerpiece of the project. It sits above the community, leisure and retail facilities. A covered 24-hour public pedestrian walkway on the podium allows residents to move freely through the development and connects each tower with the MTR station. The podium area rises above the gently swooping resort-style arrival for vehicles, a clever piece of design that keeps pedestrians and vehicles far apart.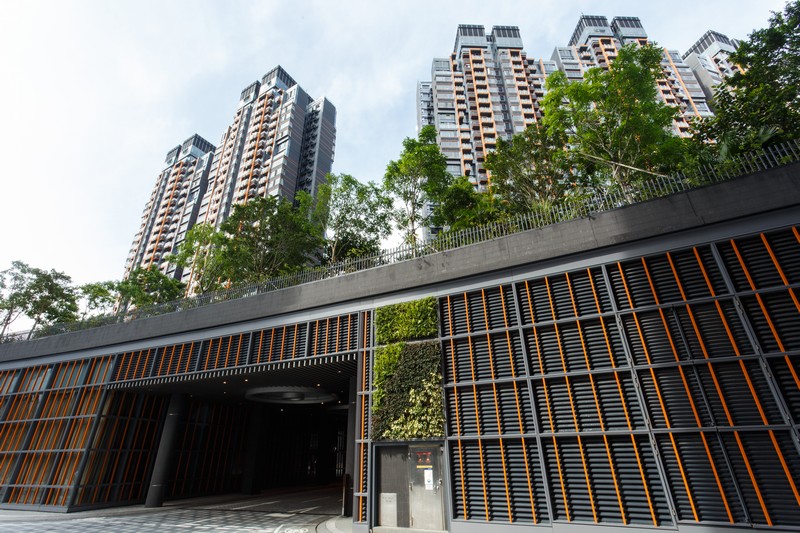 Other features include the residential towers lying along the perimeter of the development in step-fashion from south to north, creating a larger sense of space and view for residents. Materials such as non-transparent panels, glass, stone and aluminium panels are used to highlight the different levels of layering. He chose bold, dark colours punctuated with orange on the exterior walls.
An exceptional development in Ma On Shan promises the best of all worlds – a home surrounded by lush gardens, well-appointed community spaces and proximity to the beach, At Double Cove, the Henderson Land Development Company Ltd. has combined quality residences and environmental design elements to deliver the promise of high-quality living.
The five-phase project offers apartments from one to four-bedrooms, as well as a select number of garden units and penthouses, ranging in size from about 46 square metres to about 300 square metres in a number of layout options.
Work began on the 21-tower, 274,000 square metre residential and commercial development in 2010, with Phase 1 released in 2012 and Phase 2, Starview, in 2013.
Henderson Senior Deputy General Manager Kevin Ng says "The whole development is nearing completion. The final phase will be launched next year and consists of properties with outstanding views of the harbour," says Ng.
The success of the project has seen it win more than 10 awards, including three 2015 Asia Pacific Property Award for Best Residential Landscape Architecture Hong Kong (Phase 1) – 5-Star, Best Residential High-rise Development Hong Kong (Phases 2-3) – 5-Star and Best Architecture Multiple Residence Hong Kong (Phases 4-5) – 5-Star.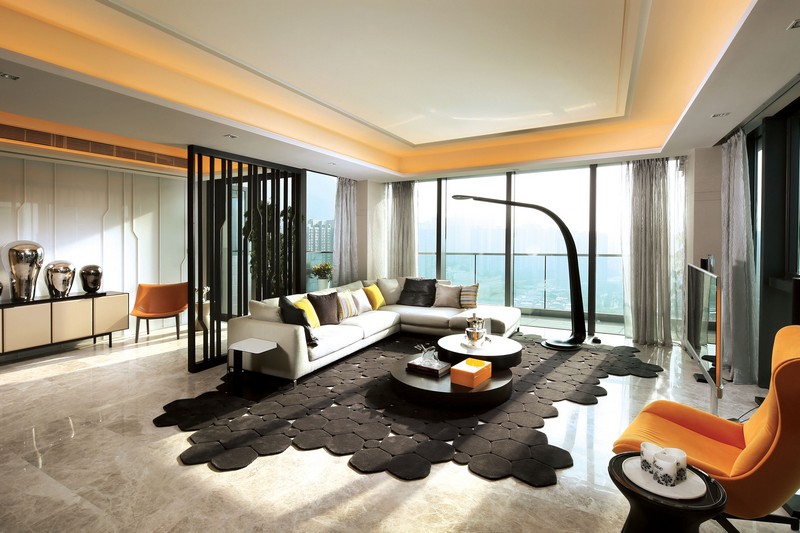 Cohesive Design
Ng says the Double Cove masterplan emphasises quality from within and throughout the environment. "Our concept is that people's home is not just their flat, it is the whole development. The outdoor area is also their home," Ng says.
Henderson Deputy General Manager Richard Chong says the developers wanted to maximise the space to enhance the resident's lifestyle. "We wanted to create a place where the residents can enjoy the environment," he says. "We have a lot of greenery around the site with the natural conservation area so we started the scheme by thinking about how to utilise the site. "The interiors show a particular attention to detail, with each apartment featuring luxury finishes and high-end appliances.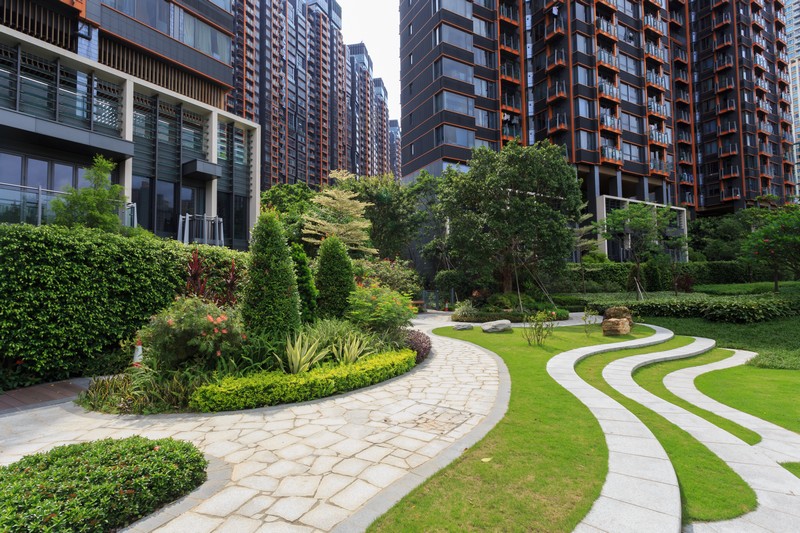 Kitchens boast a selection of the world's leading kitchenware brands such as Follina Cucina or Varenna kitchen cabinets and Miele or Scholtes stovetops. Refrigerators are from Miele or Scholtes, as are the microwaves and washer-dryers.
The elegant bathrooms boast Roca tubs, Duravit or Scarabeo wash basins and Panasonic thermal ventilators. Standard features for residents include a 5" tablet, the Carrot Touch, or the Carrot Home App which can be downloaded on a smartphone to allow convenient control of provisions such as video intercom, club facilities bookings and a wireless panic alarm button. Other services extend to a 24-hour concierge that wraps a luggage service, morning wake-up call service and public transport hailing for taxis, vans and trucks.
An Artistic Diversion Along The Garden Path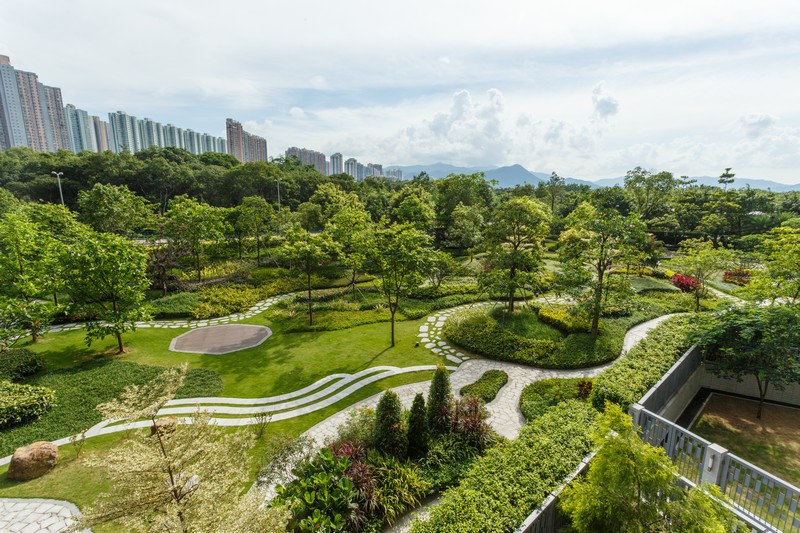 Environmental awareness and an appreciation of the finer things are at the heart of the Double Cove development, according to Henderson Land Development Company Ltd. Senior Deputy General Manager Kevin S.K. Ng.
"Double Cove is a truly green and sustainable residential development which has earned a long list of awards," he told PRC Magazine.
"We have adopted an integrated passive environmental design approach to implement the good initiatives in a commercially viable way to make the sustainability ideas sustainable for the long run. We want to create a good environment for residents. We've tried to make the whole development as enjoyable as we can. Land is a scarce resource in Hong Kong so you have to maximise the potential."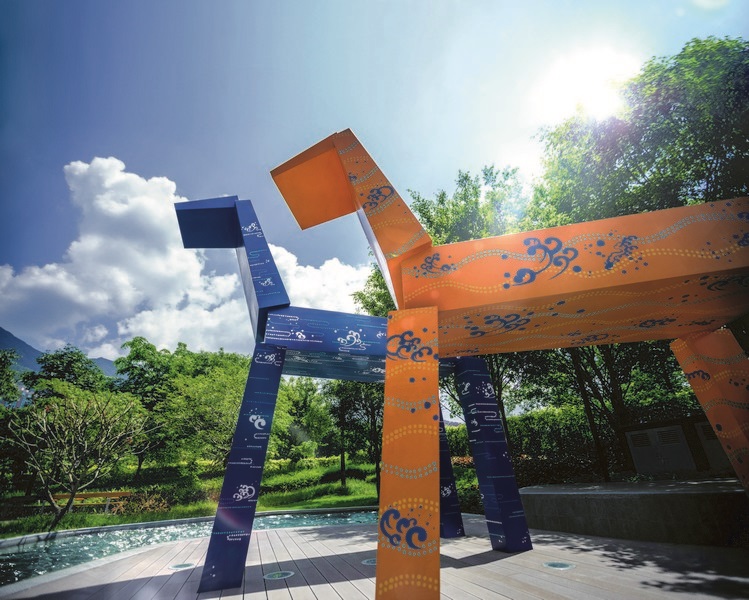 Green features are evident from the emphasis on the landscaping throughout the complex, to designing buildings using an innovative hybrid ventilation system to enhance energy, to 65 electric car charging stations.
Among the green awards for Double Cove is a provisional Platinum-rating BEAM (Hong Kong Building Environmental Assessment Method) for each of the three phases of the development. Double Cove is the first private residential development project in Hong Kong to gain a China Green Design Label, and achieved the highest 3-star rating from the China Green Building Council.
The landscaping too has drawn acclaim, with a Leisure and Cultural Services Department Gold Award for Best Landscape Award for Private Property Development 2014.
Henderson Deputy General Manager Richard C.L. Chong says the ideal buyer was a resident seeking a healthy lifestyle. "They choose their home because of our green features which are well-received by them," he says.
Home Is Where The Art Is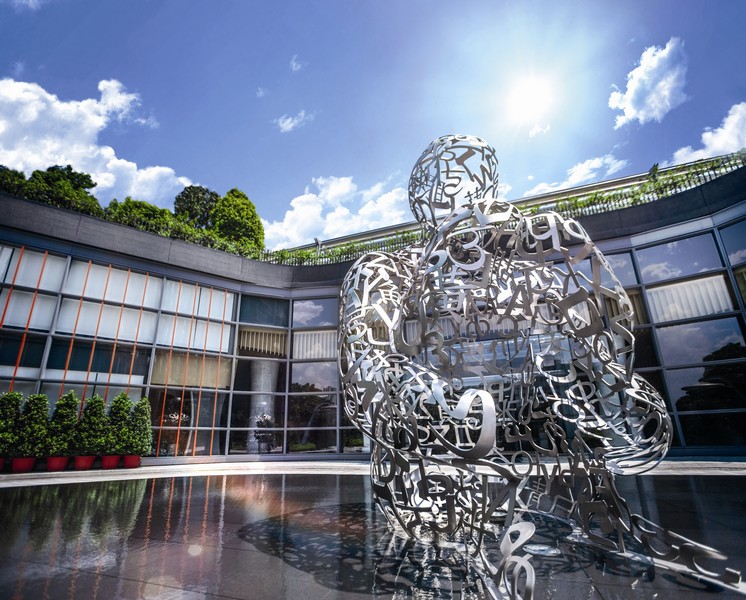 One of the most distinctive aspects of the Double Cove development is the collection of artworks found throughout the gardens and communal living spaces.
Artwork master planning consultant William Lim took his inspiration from the environment to create the theme, Symphony of Nature. Working with curator Eric Leung, HK$30 million of specially commissioned artworks take pride of place. The work seeks to articulate man's complex but symbiotic relationship to nature.
Artists include Spanish sculptor Jaume Plensa's Memoria, Chinese artist Yue Min Jun's Contemporary Terracotta Warriors No. 8 and Mok Yat San's In The Mood For Holidays.
Ng says each piece of art reinforces the company's commitment to high-quality living. "The artwork concept and implementation went along with the design development, rather than something being injected into the project as after-thoughts," he says.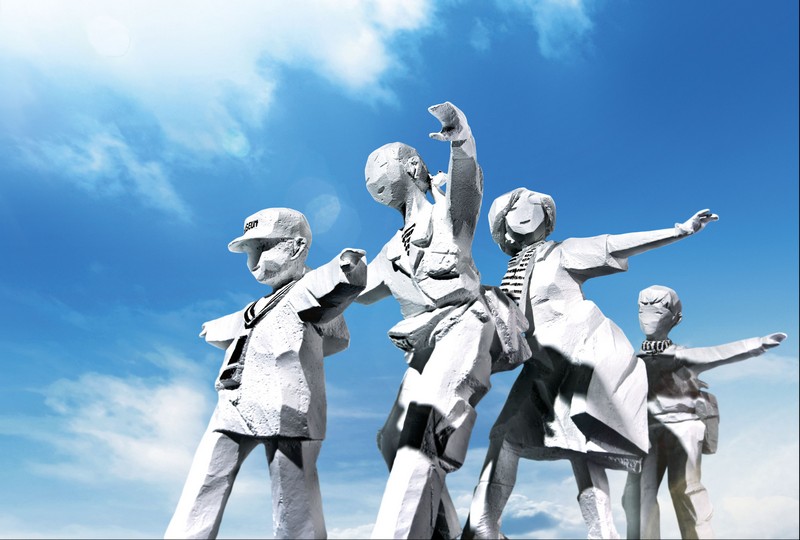 ---