With more than 25 years of innovation and service excellence, the architectural glass creations from this Hong Kong company bring functionality and fantasy to design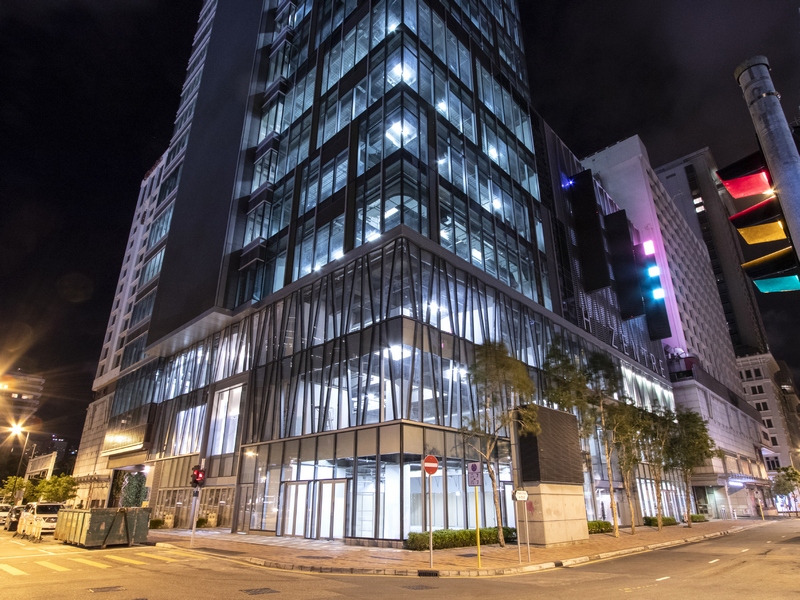 Beautiful and dreamlike, or cool and aloof, delicate looking and yet deceptively strong, glass is an important tool to convey drama in architecture. The material's lasting appeal comes from these complex and often competing characteristics. It defies belief that a "frozen liquid" can support a load, insulate and protect, while maintaining its aesthetic.
(按此瀏覽中文版)
Creating efficient, effective and engaging glass is a craft
Orientop Limited is an innovative architectural decorative glass supplier with a Hong Kong heritage. Since setting out in 1995, the company has completed more than 5,000 projects on five continents, and expanded its production to two factories in Mainland China and founded a subsidiary in Britain.
The company's sustained success comes from its focus on creating specialised, laminated decorative glass for Hong Kong's developers and architects. They have been involved in some of the most significant developments of the 21st century.
The company's biggest project to date is in Beijing's World Financial Center by Henderson Land Group and architect Cesar Pelli. The "Crystal Wall" by German artist Michael Hammers is a decorative element in the main lobbies of each of the development's twin towers.
There are some 1,200 "crystals", glass pyramids made up of diverse grades of glass, in the installations. Clouds of colour bloom through the work and many of the "shards" are streaked with golden strands to project the brilliance of the edges of crystals. To create the desired dazzling effect took sustained precision over the two years of the project.
And the most complex work to date? The 1,700-odd glass laminated pillars infused with LED lighting installed as the façade for Burberry in Pacific Place in Hong Kong. Each of the pillars is 3-metres long, extremely fragile and was made to an exacting visual standard.
Orientop Chief Executive Vitus Yiu says the company started producing bulletproof glass before evolving into laminated glass for the construction sector. Among the company's most popular products is Glasslam laminated glass. The product is available in any custom colour and stops 99 percent of ultraviolet radiation to protect furniture and fittings. With a 10-year warranty and no need for specialty cleaning, Glasslam is best suited to industrial, retail and larger residential developments.
"Glass can be an eco-friendly material that generates energy savings, can reduce carbon dioxide emissions and help create healthier buildings," says Yiu. "Glass is unique among construction materials for its ability to allow natural light to pass through it, but it can also be used to restrict energy from passing through it, reducing heat and light."
A report published by the Arup professional services firm's London headquarters argues for more glass to enter the recycling stream. Their research suggests that across the European Union, the correct recycling of waste glass from the construction sector would save 1.23 million tonnes of raw materials from heading to landfill.
Changing the business-as-usual operations of the European construction industry would reduce carbon emissions by more than 230,000 tonnes a year – the equivalent of the emissions from about 50,000 passenger vehicles, according to the United States' Environmental Protection Agency.
As remarkable as this fully recyclable material can be, when treated and processed, laminated glass will improve the energy efficiency of buildings.
While at once inspiring and efficient, Orientop creates products that are enduring. "Glass is incredibly durable and compares well with other construction materials such as wood, wallpaper and stone," says Yiu.
In the challenging times that we live in, its important to note that glass is easily maintained and kept clean. There's little that customers need to do in terms of maintenance or running repairs. In fact, one of the most popular uses of the company's products is for wall coverings in intensely busy areas of Hong Kong's MTR network and shopping malls.
This is also a product that looks good, with its lustre and faultless, smooth finish. "Our glass can be developed into tonnes of variations in colours, patterns and textures. We own and operate our factories in the Mainland and so have exclusive control of the process, and, importantly, there is no limitation on materials we can incorporate," says Yiu.
That flexibility translates into a comprehensive service offering. "We have developed internationally by remaining close to our customers and their needs. From conception, design, production and installation, the team provide a one-stop service," he says.
Alongside its more than 1,500 clients, Orientop has worked on projects of all scales. The restaurant and retail fit-outs in the company's portfolio have typically taken from three months to year – from first meeting to handover. For hotels and bigger buildings that might require extensive internal and external renovations, projects might take between two and three years. With a comprehensive product offering and experienced service team focused on meeting complex needs, Orientop creates glass that fulfils the complex functional and aesthetic requirements of its clients. "We strive to provide the best-quality products because fulfilling client needs is our ultimate goal," Yiu says.
For further details, please visit Orientop.