Kuala Lumpur, 27 August 2015 – Strong growth and support were recorded for South East Asia's most successful annual industry trade event – the 16th International Architecture, Interior Design and Building Exhibition, Malaysia (ARCHIDEX 15) and its co-located ECO-B (Eco Building & Design Exhibition).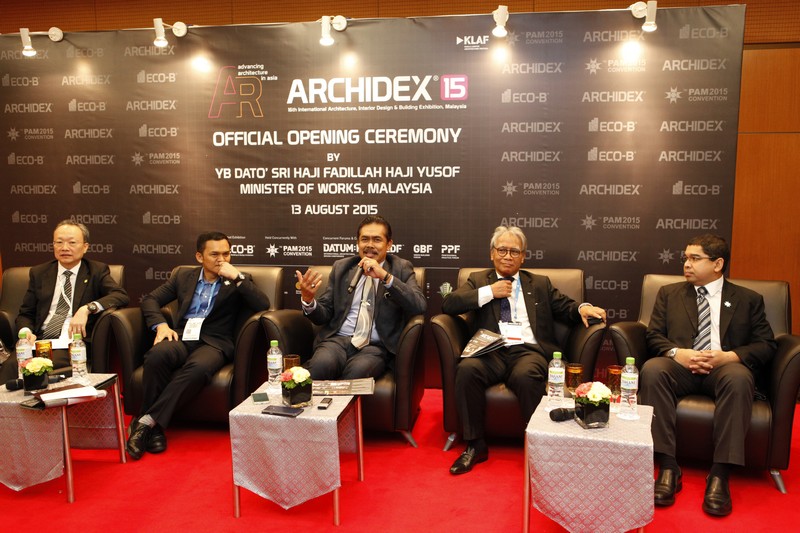 Held from 12 to 15 August at the Kuala Lumpur Convention Centre, Malaysia, the exhibition drew 550 local and international exhibitors with 1,300 booths, and 33,900 highly targeted industry professional and trade visitors from 70 countries that encompassed a total of 16,000 architects, interior designers, engineers and others. The volume of business transactions conducted over the show is expected to exceed well over RM1bil.
ARCHIDEX is jointly organised by the Malaysian Institute of Architects (Pertubuhan Akitek Malaysia or PAM) and C.I.S Network Sdn Bhd, a leading Malaysian trade and lifestyle exhibitions organiser.
Since its introduction in 2000, ARCHIDEX has enjoyed phenomenal success and steady growth through strategic planning and partnerships. It is widely recognised as a leading event that draws together South East Asia's fraternity of architects, interior designers, developers, urban planners, engineers, academicians, students and various related industry professionals.
"We are heartened to note that overall this year's ARCHIDEX has grown stronger and is influential platform for exhibitors to establish and expand their business and presence in Malaysia and the regional market.  We've received positive response from our exhibitors and our sponsors have expressed interest to return to sponsor again next year", said Dato' Vincent Lim, President of C.I.S Network Sdn Bhd.
ARCHIDEX is held concurrently with the annual Kuala Lumpur Architecture Festival (KLAF) and PAM Convention, which are regarded as an influential platform to showcase the works of emerging and established local and international architects and designers.
"ARCHIDEX 15 was a huge success as we saw a bigger crowd this year with many important meetings and forums held.  The PAM Convention which is held concurrently consistently brings together well established and avant garde architects and designers to share their work at DATUM:KL", said  PAM President Ar Mohd Zulhemlee An.
"ARCHIDEX is a multi-pronged event that benefits sustainable development, entrepreneurship, employment and wealth creation for many people in the region," added Board of Architects Malaysia President Ar Datuk Dr Amer Hamzah Md Yunus, in his capacity as Public Works Department Principal Director, who represented Works Minister Datuk Seri Hj Fadillah Hj Yusof during the ARCHIDEX 15 launch.
Strong support from industry players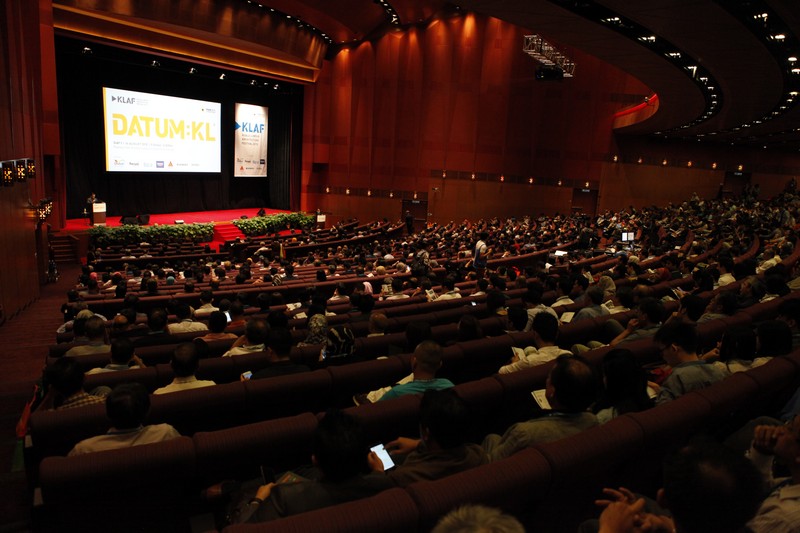 ARCHIDEX occupies a highly coveted position at the forefront of the region's robust architecture, design and building industry. Its successful brand name is also recognised as a popular gateway into the burgeoning South East Asian market and an ideal platform to launch innovative new collections.
Accordingly, ARCHIDEX 15 saw an increase of foreign participation from 19 countries – Austria, Australia, Belgium, China, France, Germany, Hong Kong, Indonesia, Japan, Korea, Malaysia, Netherlands, Singapore, Spain, Switzerland, Taiwan, Thailand, Turkey and the United States of America. Country Pavilions represented were from Austria, China, Germany, Singapore and USA.
"We seek out some of the most prominent platforms to showcase our beautiful, innovative collections and we decided to work with ARCHIDEX to strengthen Roca's presence in this region," said Josep Delicado, Managing Director of Roca Malaysia Sdn Bhd, which launched its highly anticipated collection of beautiful bathrooms designed by Italian stalwart Giorgio Armani at ARCHIDEX 15.
"Having participated in ARCHIDEX since 2006, it is as a key exhibition that brings not just architects and designers together, but also the right target group of clients which we are reaching out to," says TAK Products & Services Pte Ltd International Sales Manager Tony Chua.
Superior platform for architects and interior designers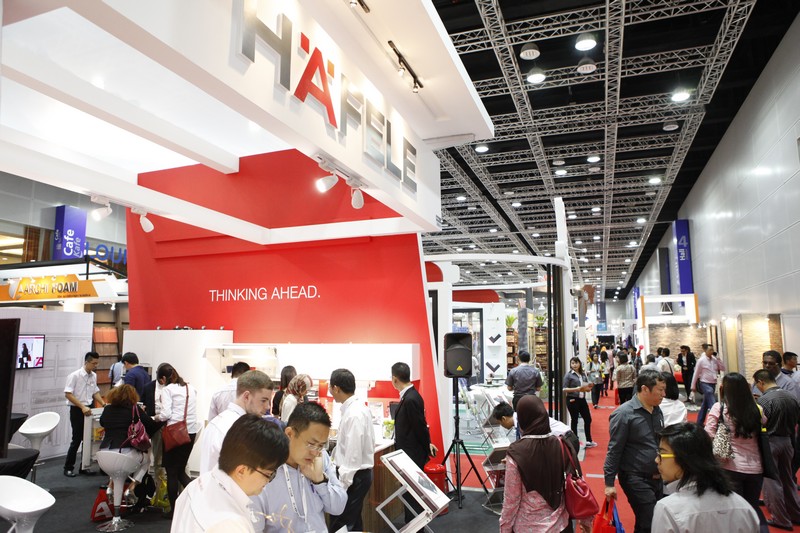 ARCHIDEX 15 was not only a highly visible and targeted marketplace for exhibitors, it was also a meeting point for the region's fraternity of architects, interior designers, urban designers, academicians and students who were attending the yearly PAM Convention/Kuala Lumpur Architecture Festival.
"Advancement in technology opens up new opportunities and approaches to designs.  Digital and communication technologies have also reshaped our lifestyle and practice.  The younger generation architects of the digital age are paving new trends and pushing boundaries in designs and deliveries.  Similarly, the importance of sustainability, climate change and energy efficient designs are the emerging benchmark in buildings. Therefore, I am sure the products and innovations that are exhibited here in ARCHIDEX will help guide the industry to a positive future" said Tan Sri Dato' Sri Ar. Esa Mohamed, President of International Union of Architects (UIA).
Hosted by PAM, the UIA Bureau Meeting was held at Kuala Lumpur Convention Centre on 11 August 2015, attended by 10 Bureau Members from 9 countries, ie : Costa Rica, France, Malaysia, Philippines, Spain, Sudan, Turkey, UK and USA. The UIA is the only international body that represents the architects globally. Its aim is to unite the world's architects to share progressive ideas in architecture, planning and the built environment that will benefit the world community.
New highlights introduced
In line with continuing efforts to bring to the forefront on innovative and excellent products for the market, this year's ARCHIDEX saw nominees by exhibitors competing for the New Product Awards and the Green Dot Awards that are a highly coveted industry recognition. The New Product Awards remains an acknowledgment for excellence in design and production, while the Green Dot Award is aimed at recognising exemplary environmental attributes of a product.
A highlight at ARCHIDEX this year was the introduction of the Advanced Materials section to allow architects and designers a first-hand glimpse of the latest technological breakthroughs and solutions available. This section showcased pre-selected New Product Awards and Green Dot Awards submission that were brilliant in innovations, technological development and cutting edge solutions for the industry.
The Premier Partner of ARCHIDEX 15 is Lamitak, while its Strategic Partners are Malaysia Mosaics Sdn Bhd, Roca Malaysia Sdn Bhd, Kian Interiors Sdn Bhd, Formica Malaysia Sdn Bhd, Akzo Nobel Paints Malaysia Sdn Bhd – Dulux, and Antah Schindler Sdn Bhd.
ARCHIDEX is endorsed by MATRADE and supported by the Malaysian Ministry of Works, Ministry of Tourism and Culture, the Malaysian Convention and Exhibition Bureau (MyCEB), and the Year of Festivals 2015 Celebrations.
ARCHIDEX 16 will return next year from 20 to 23 July 2016 at the Kuala Lumpur Convention Centre.