(4 September 2019, Bangkok) The Residences at Mandarin Oriental, Bangkok, have collaborated with award-winning interior designer Joyce Wang to create a property of distinction and refined sophistication.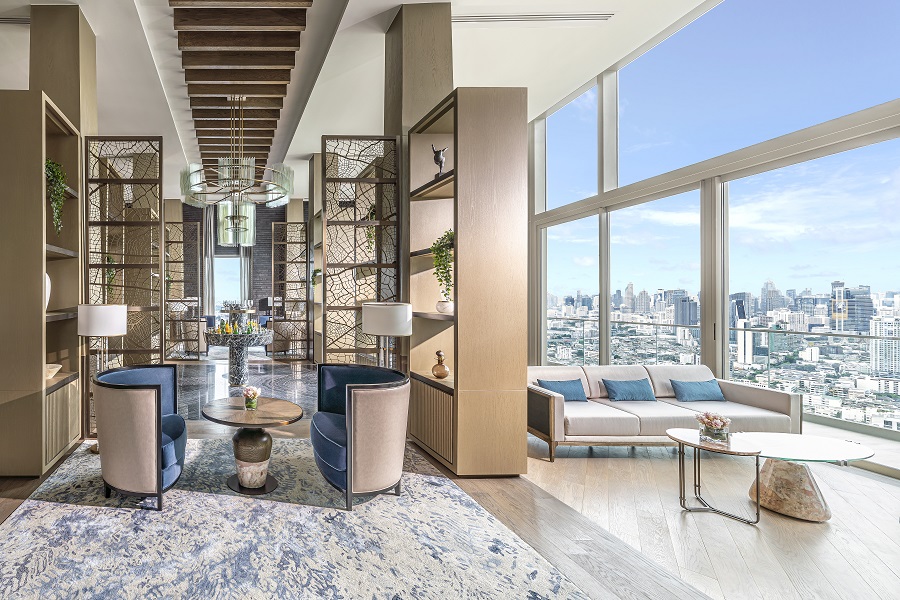 Operating from Hong Kong and London, Joyce Wang Studio has a global portfolio spanning luxury hotels, restaurants, and residences in London, Las Vegas, Vancouver, Shanghai, and Hong Kong. The Residences at Mandarin Oriental, Bangkok, mark Joyce Wang Studio's first project in Thailand's capital.
Joyce Wang Studio oversaw the design of the property's public areas and residences, creating a tranquil haven that celebrates its location. "The ultra-luxurious residences have been designed with influences derived from the natural landscape, as well as from the unique architecture of Bangkok," explains Wang. "We paid tribute to the sinuous form of the Chao Phraya River while referencing the building's architectural details."
Upon arrival, the lobby makes a remarkable first impression. Linear reception desks feature fanning metal grilles enclosed within Amazonia marble. A custom-embroidered artwork detailing the Chao Phraya river holds court, reinforcing a sense of place. Slate and marble accent walls transition residents from the urban environs of the city into the calm spaces of The Residences at Mandarin Oriental, Bangkok.
The exquisite curation of artwork reflects Joyce Wang Studio's attention to detail. An ode to the riverbed, a carved natural stone sculpture sits prominently in the lobby. Adorning the walls of the reception is an enamel artwork chiseled with precision to reveal golden threads, a reference to fisherman's netting.
Each apartment is designed with residents' privacy and lifestyles as a priority. Comprising two, three, and four-bedroom apartments, in addition to duplex penthouse units, The Residences at Mandarin Oriental, Bangkok, display luxurious finishes and bespoke detailing.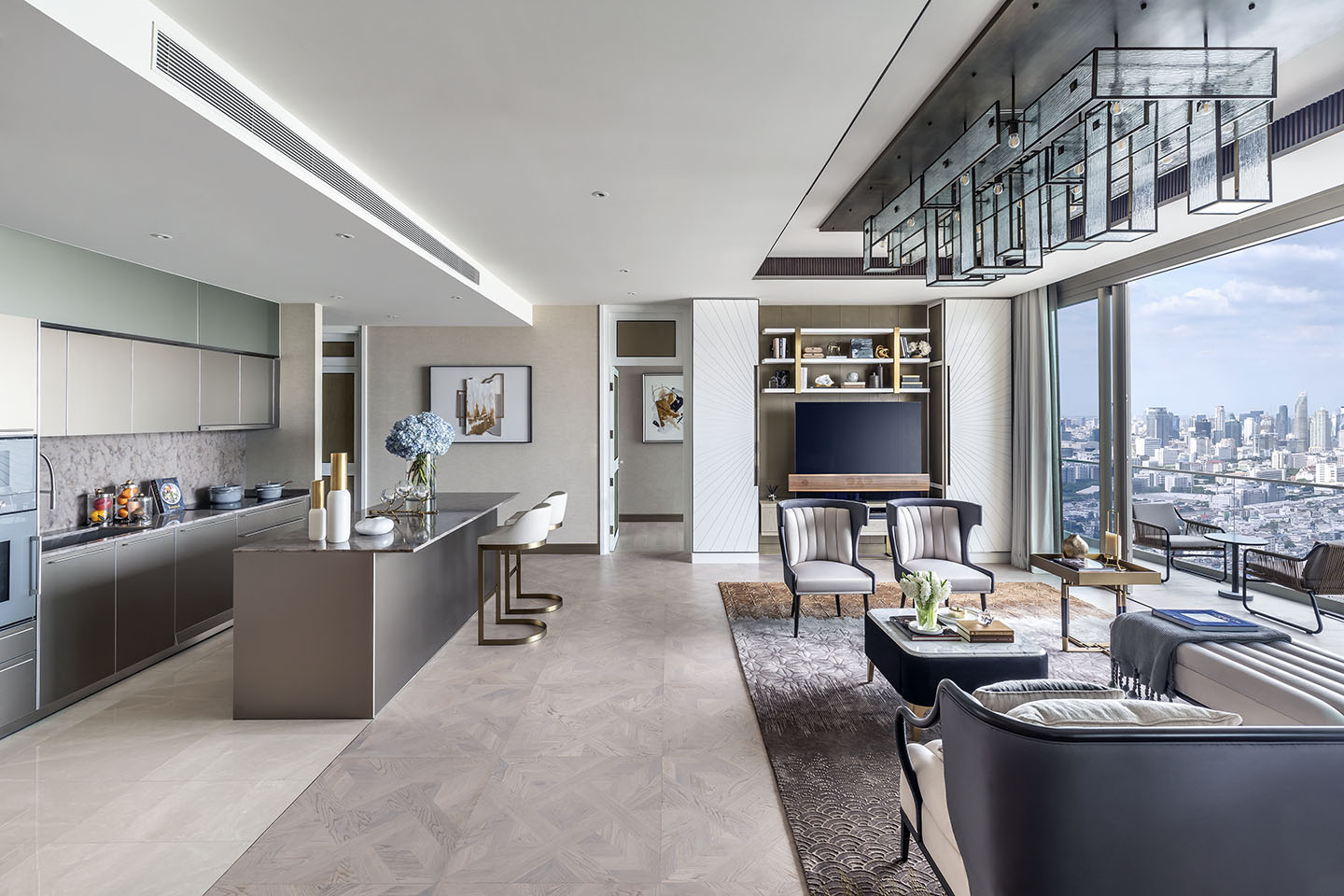 It was essential for the designer to foster a sense of community in the public spaces, and the Studio integrated this philosophy in subtle and measured ways. "We created areas that cater to both social and private moments," Wang states. The Ground Floor serves as the main point of contact for residents, guests, and staff alike. Joyce Wang Studio designed the floor as a social space, with lounges equipped with views of lush greenery. A communal pantry provides a natural space to converge for a morning coffee.
On the 4th Floor, suspended shelves housing a collection of objets d'art introduce a light-filled lounge with an open kitchen and dining room. Pivot doors with intricate fretwork provide the flexibility to connect or divide areas. Ensuring residents enjoy a premium lifestyle, the 5th floor features a state-of-the-art gym fitted with modern equipment and a golf simulator.
The jewel of The Residences' public spaces sits on the 36th Floor. Divided into intimate alcoves, the Sky Pavillion offers residents an extension of their living room, replete with a marble fountain for staging cocktails, gourmet snacks, and fresh juices. Working closely with the operations team, Joyce Wang Studio conceived a setting to optimize Mandarin Oriental's host of amenities.
Meanwhile, The Library contains an extensive selection of books and an island work bench with low-level table lamps. Accessible from the Sky Lounge through full height sliding walls, The Library is another space where residents can gather. Wang concludes: "The feeling of home and community is important in designing the residences and amenity areas. I wanted to create a luxurious space where moments of togetherness can be experienced."
For more information about The Residences at Mandarin Oriental, Bangkok please visit
www.moresidencesbangkok.com.