(16 July 2017, Hong Kong) The sales market was again active with seven en-bloc deals over HK$200 million transacted in Q2. The largest deal was the sale of 50% of the revitalized office at 133 Wai Yip Street in Kwun Tong for HK$1 billion for investment.
The sale of Hsin Chong Centre in Kwun Tong for HK$760 million also represented a rare en-bloc I/O transaction. Meanwhile Mr. Tang Shing Bor continued his spending spree by purchasing Possehl Building in Tsuen Wan for HK$450 million with an eye to potential redevelopment. With investment sentiment remaining robust and refurbishment / redevelopment potential still driving industrial demand, industrial prices increased by a further 3.7% in Q2/2017, and industrial yields continued to harden as a result.
Simon Smith, Head of Research and Consultancy, Savills said, "robust investment sentiment has seen industrial landlords firming up asking prices, which may lead to further price hikes over the remainder of the year."
Industrial's Leasing market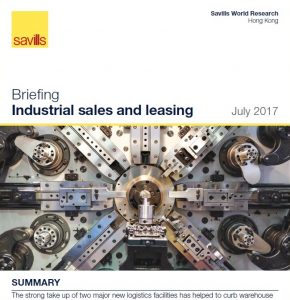 A number of relocations were noted in Q2/2017, mainly between modern warehouses in the Kwai Chung / Tsing Yi area due to the imminent completion of the China Merchant Logistics Centre in Tsing Yi, as well as some corporate consolidations. The largest movement during the quarter was the relocation of DKSH from HLC in Kwai Chung to take up the last whole floor (4/F, around 110,000 sq ft) in Mapletree Logistics Hub Tsing Yi, utilizing it as a cold storage facility. The newly completed logistics facility is now over 95% leased within 18 months of completion, at the expense of increased vacancy in more traditional modern facilities in Kwai Chung.
Another relocation within the same area (and in fact between the same landlord-owned buildings) that is going to take place will see Sagawa swapping its ATL space for around 100,000 sq ft in Interlink. ATL is currently undergoing extensive renovation to upgrade its facilities (including anti-dust floor paint) as well as undergoing a facelift to match newer modern counterparts.
Another potential relocation will see DB Schenker consolidating their logistics business from Tuen Mun to take up two floors (around 300,000 sq ft) in the soon-to-be-completed China Merchant Logistics Centre, which is close to their existing logistics facility on Tsing Tim Street in Tsing Yi.
Elsewhere in the market, a multinational logistics company relocated from Kowloon East to take up over 85,000 sq ft in Kerry Shatin Godown, reflecting the ongoing transformation of the Kowloon East district into CBD2 which is in turn forcing logistics operators out of the area.
"Looking ahead, recovering retail sales should revive some local logistics demand, though logistics operators are not yet in expansion mode," remarked James Siu, Head of Kowloon, Savills.
With both Mapletree and China Merchant's new warehouses in Tsing Yi almost fully occupied / committed, the threat of a supply overhang has receded, but landlords with tenants being lured to the new facilities are going to be faced with increasing vacancies over the next few months, some of whom may need to readjust their leasing strategies to attract tenants from elsewhere, mainly from traditional warehouses in transforming areas such as Kowloon East. While modern warehouse vacancies may remain relatively stable over the next few months, we expect vacancy in the overall market to continue to increase, with rents likely to remain stable or decline slightly.
Sales market sentiment is likely to remain robust with the focus of genuine industrial sales shifting to western Hong Kong, where most future logistics-related transport infrastructure is being built. We expect industrial prices to register 5% to 10% growth over the remainder of the year as a result.
For more information, please visit our websites: http://www.savills.com.hk