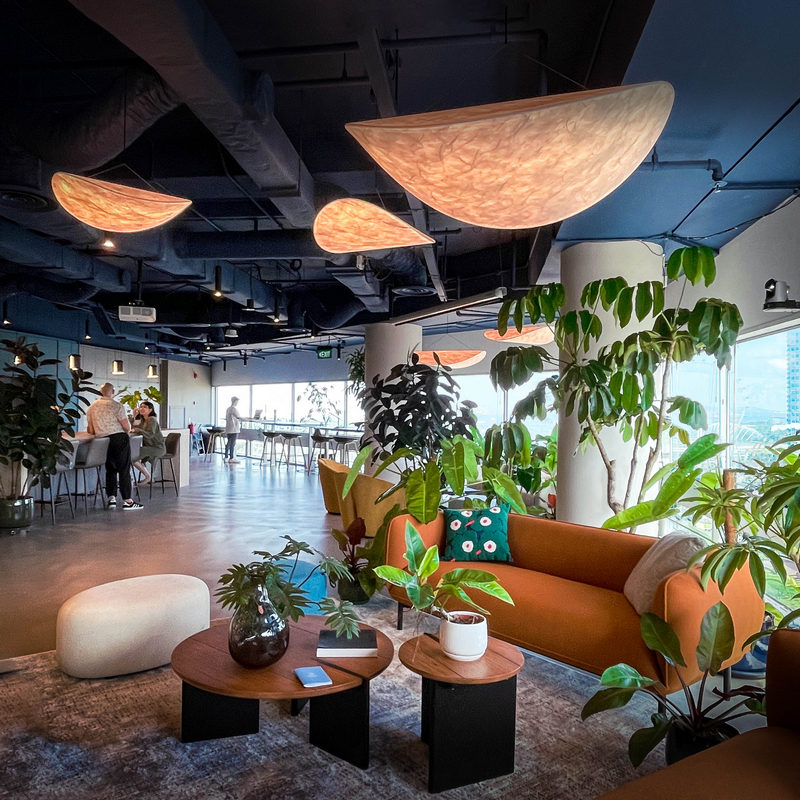 As cities evolve, so do perspectives on work and the workplace. Seizing this opportunity, we designed a people-centric environment that envisions the future of work.
(按此浏览中文版)
After nearly a decade at Anson Road, we recently relocated to a new Studio. The interior design team at Benoy and landscape architects at Uncommon Land embraced this chance to create an innovative workspace to complement a people-driven workplace strategy.
Our primary goal is to empower staff with flexibility and promote wellness, while boosting overall business productivity. The new space embodies our core values: innovative design, meaningful collaboration, and a commitment to excellence, all within an unbeatable location.
The new Singapore Studio, located on the 21st floor of The Gateway Singapore, offers breathtaking views of the vibrant downtown core and skyline. This Studio combines the collective expertise of Benoy and Uncommon Land.
The New Workplace: A Creative Hub in the Heart of the City
Stepping into the Studio, one is greeted by a generous, open galleria bathed in abundant natural light with lush greenery and plentiful seating. This area also serves as a proud showcase of our rich heritage, top industry awards, and iconic projects.
Inspired by the coziness of a home, the overall concept radiates a warm and welcoming ambiance.
Spanning approximately 536 sqm, the Studio's parallelogram-shaped floor space accommodates diverse functions – workstations, meeting and social spaces, acoustic pods, rest areas, and office facilities, all surrounded by abundant biophilia. Large windows flood the space with natural light while framing Singapore's captivating cityscape and sea views.
Dynamic Workspaces: Designed for Productivity and Collaboration
Designed with agile working principles at the forefront, the Studio offers flexible workspaces that cater to staff's needs while ensuring productive collaboration.
Distinct and designated zones cater to diverse work requirements and preferences:
• Quiet zones provide private and independent spaces with acoustic soundboards for deep focused tasks.
• Loud zones feature collaborative workspaces with ergonomic desks, comfortable sofas, and communal tables, encouraging spontaneous interactions and idea-sharing.
• Mixed zones combine workstations with adjacent collaboration tables for quick breakout sessions, fostering a dynamic workspace for agile teams and spontaneous learning opportunities.
The Studio's design supports productivity, team connection, and employee wellbeing, providing a versatile environment catering to all needs.
A Sanctuary of Generous Homely Comfort and Agile Work
In the ever-evolving realm of workspace design, the square footage allocation per person is undergoing a transformation.
Traditionally, a standard office space aimed for an average of 10 sqm per person, prioritizing spaciousness.
However, the contemporary workplace is pivoting toward enhanced space efficiency. Contemporary office setups, including co-working spaces, are adopting a more compact model, with a focus on approximately 5 to 6 sqm per person.
Our new Singapore Studio — which at present, houses close to 40 individuals — stands out with its generous commitment to personal comfort and a wholly collaborative workspace. Each user enjoys a generous 15 sqm of space, striking a perfect harmony between individual wellbeing and a thriving environment for productivity and collaboration.
We also implemented agile working policies, including 2‑day flexible arrangements, and designed 60% for desk capacity and 40% for non-workstation environments. This approach fosters a workplace that is both versatile and adaptable to cater to everyone's needs.
Additionally, our space is designed with flexibility, enabling us to add workstations for future growth and changing needs.
Our Studio's plans include accommodating up to 60 people, aligning with our commitment to promote collaboration and innovation, staying attuned to the evolving demands of the modern workforce and our clients.
The Loft: Fostering Creativity, Collaboration, and Wellbeing
"The Loft" stands out as a highlight in our Studio, boasting an open and inviting atmosphere perfect for events, informal meetings, and social gatherings, with the modern hanging light fixtures providing a warm and cozy ambiance, much like one's own living room. The large retractable projector screen adds versatility for events and presentations.
The adjacent full glass-walled boardroom provides a sense of openness, embodying a collaborative and transparent environment.
With a focus on creativity, collaboration, and wellbeing, ​"The Loft" encourages relaxed and informal gatherings that spark creativity during casual encounters. Ergonomic work desk solutions facing the stunning sea view offer flexibility between sitting and standing positions, promoting better posture and enhanced focus.
To prioritise staff wellbeing, the space can also accommodate physical activities, with the Studio providing in-house yoga mats for after-work exercise sessions.
"The Loft" further emphasises mindful eating, health, and wellness by offering a selection of fruits and low-sugar food options. Our dedicated eating spaces provide various seating types, creating an enriched dining experience for all. Attention is paid to ensuring hygiene through touchless water faucets and soap dispensers for a safe and healthy environment.
Embracing Environmental Sustainability
During the office relocation, we prioritised environmental sustainability by giving existing furniture and workstations a second life.
Furniture retained for use underwent professional deep cleaning and armchairs were reupholstered for a refreshed appearance and extended lifespan. We further minimised waste by donating usable office furniture and materials which would otherwise go to landfill.
For new furniture and furnishings, we sourced cradle-to-cradle materials and considered locally available materials in line with a low embodied carbon strategy. This included eco-friendly carpets made from recycled fibres which can be further recycled at the end of their life, promoting a circular approach to flooring.
Additionally, we carefully selected materials with the ​"Singapore Green Labelling Scheme" certification mark and specified low Volatile Organic Compounds (VOC).
To lower energy consumption, workstations are placed near the building's façade glazing for maximum daylight, with manual shading options as well as provision of task lighting.
In the pantry, we introduced a waste collection system with separate bins for landfill and recycling of paper and plastic, aligning with our company's ethos of promoting mindful and sustainable consumption practices.
Biophilic Design: Connecting with Nature
The Studio design thoughtfully incorporates biophilia to enhance aesthetics and psychological wellbeing, bringing nature indoors.
Various species of indoor plants and welcoming green walls at the entrance create a refreshing ambiance, fostering tranquillity and productivity while naturally purifying the air. Our trees and shrubs were sourced from local nurseries, selected for their resiliency in an indoor and relatively low light environment.
In an earlier in-house exercise at our previous office called ​"Adopt A Plant Campaign", the Uncommon Land team collected discarded plants, mostly listed on online ads, from ex-owners who had to give them away for various reasons.
These ​"rescued" plants were nursed back to health for volunteered adoption by our colleagues, fostering a strong human-nature connection. All of these ​"plant companions" also moved in with us into our new office.
In line with Singapore's ​'City in Nature' vision, our Studio transcends standard green wall solutions. Instead, it resembles a thriving forest ecosystem, boasting an impressive plant-to-people ratio of 16:1, equating to a total of 571 plants. This ratio signifies our commitment to fostering closer connections with nature and the staff's adopted plant companions.
Furthermore, it reflects our landscaping philosophy of treating nature as an equal partner, demonstrating our deep respect and connection to it. Our Studio is not just designed to incorporate nature – but meticulously crafted to make us feel like an integral part of it, working in harmony rather than isolation.
By integrating natural materials, patterns, vegetation, and natural light, the interior space brings nature to life, stimulating all the senses. Combined with lush biodiversity, this creates a rich and dynamic space for people to enjoy.
Embracing the Future: Benoy + Uncommon Land
Our new Singapore Studio signifies our commitment to excellence in crafting creatively inspiring, environmentally sustainable spaces that enrich lives.
This transformative milestone marks Benoy + Uncommon Land​'s dedication to shaping the world we live in and delivering integrated services with integrity and excellence to our people and clients regionally and globally.