Leading architecture and design firm Aedas demonstrates with their ambitious projects that the global and the local are not mutually exclusive when it comes to designs.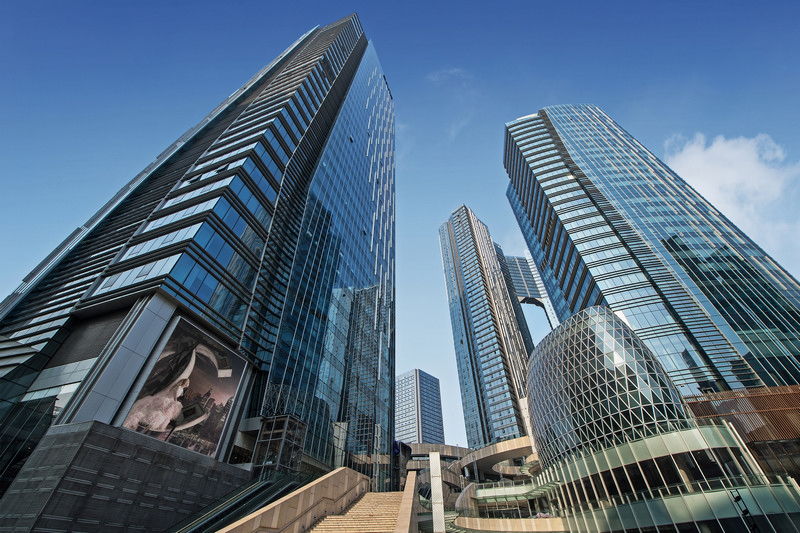 The design vision may be global, but the approach is hyperlocal – intuitive and mindful of the community and its customs. These are the hallmarks of the works of Aedas, one of the world's leading architecture and design practices.
Aedas now has a global network of 13 offices and more than 1,400 staff making it one of the largest architecture and design companies in the world. And while the company is responsible for some of the world's most notable designs, it commits to creating bespoke design solutions for its clients.
The firm is built on the belief that great design can only be delivered by people with a deep social and cultural understanding of the communities they are designing for. It recognises that while globalisation brings great benefits, it also brings the risk of greater homogeneity.
This is why Aedas' award-winning designs are distinctive for their high regard for the social and environmental differences of different cultures and communities. Their designs are also defined by recognising and incorporating the needs of global city citizens as developments become part of the fabric of a community's lifestyle.
Keith Griffiths, Chairman and Founder of Aedas, identified in a TEDx talk last month the demand by city dwellers for increasing vibrancy, efficiency and connectivity with the continuous emergence of technologies.
He predicted the cities of the future would consist of high-density city hubs built around the CBDs, over subway interchanges and major road intersections. He says the mix of different building types already existed in our cities – such as mixed-use complexes, elevated parks and public rooftops – but society needed to "join the dots" and develop live-work-recreate developments in areas of high connectivity across the city.
China's Promise
Mr Griffiths said established cities, such as London, were having a hard time adapting to new demands for flexibility, variety and convenience. But China presented an opportunity to create the cities of the future.
"It is serendipitous that China has the opportunity to create 21st century cities at this time of great change in our pattern of live, work and recreation," he said.
"With public spaces at multiple levels, elevated parks and bridge links as connectors, we are going to create exciting three-dimensional, connected spaces where people can enjoy all the happy choices and serendipity of a modern city life."
Aedas has undertaken a number of projects in China recently which demonstrate the company's commitment to creating structures that both acknowledge the requirements of a 21st century city while honouring the context of the site and the community.
Chengdu's Evergrande Huazhi Plaza, with its office facilities, St Regis Hotel, high-end residential units and large-scale shopping mall The ONE, is an example of Aedas's approach to large-scale mixed-use developments.
The design delivers a commercially viable public environment that co-exists harmoniously with its current surroundings. Located in the heart of Chengdu, the project is located on a 430,000 square metres site in the ancient city well recognised by the locals.
All buildings reveal elements of the natural landscape of Sichuan. Huanglong, literally yellow dragon, is a scenic spot in Sichuan province known for the colourful pools formed by calcite deposits. The design of the project drew inspirations from the natural terraced pools to give it a regional character, balance between form and function, and to create an urban oasis for within the vibrant city centre.
Similar to Evergrande Huazhi Plaza, the design of Hongqiao World Centre in Shanghai, Hengqin International Financial Center in Zhuhai and Xuzhou Suning Plaza in Xuzhou are all inspired by local and cultural elements to integrate the world-class architecture into the local context and create iconic landmarks.
Retail's Multiplicity
Aedas's retail designs have moved on from outdated concepts of shop fronts and large closed boxes to become major defining elements of our urban environments. Retail malls are now no longer about shopping, but are social and urban integrators.
With the rise of online shopping, people visit malls for a myriad of experiences, including a sensory one not offered online. As a result, malls have multiple functions and programs ranging from art galleries to sporting zones, transforming malls into all-day leisure destinations.
Aedas' approach to the retail mall experience is evidenced in a number of developments it is involved in throughout the mainland. These include Changsha's Changsha Hua Center Phase II Project which is inspired by the unique landscape of Zhangjiajie in Hunan province, a UNESCO World Heritage Site to create innovative office spaces and a shopping centre.
Chongqing Sincere Financial Center and Sincere Plaza is another project which combines office, commercial and leisure uses, while The Heart of Yiwu, an "Urban Living Plaza" in Yiwu integrates large-scale retail, dining and entertainment facilities into one urban complex.
Aedas applies the same global and local design principles to other building types as well. The office buildings for the Guangdong-Macau Traditional Chinese Medicine Technology Park in Zhuhai are inspired by the client's logo, Bravo PARK PLACE in Guangzhou reflects the story of the development – Aedas catered to the requirements of two owners in one unified composition, and Mongkok Residence in Hong Kong re-interprets the post-war, illegal iron balconies in the area.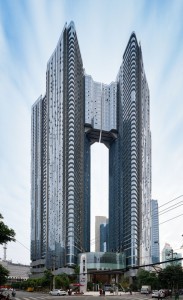 ---
Evergrande Huazhi Plaza
Location: Chengdu, China
Director: Ed Lam
Client: Evergrande Real Estate Group
Gross floor area: 432,000 sq.metres
Completion year: 2015
Evergrande Huazhi Plaza is a mixed-use development located at the heart of Chengdu, containing retail, office, hotel and residential elements. Shopping mall The ONE, super Grade A office Evergrande Huazhi Office Tower and six-star hotel The St. Regis Chengdu are already in operation. Four towers are located and oriented in a way to encourage movements and dynamics around the spine with maximised views. The façade design gives a distinct character to each of the towers yet unifies them in a harmonious way. The hotel tower on the east and office tower on the west form a gateway to the development and drive people flow to The ONE.
---
Chongqing Sincere Financial Center and Sincere Plaza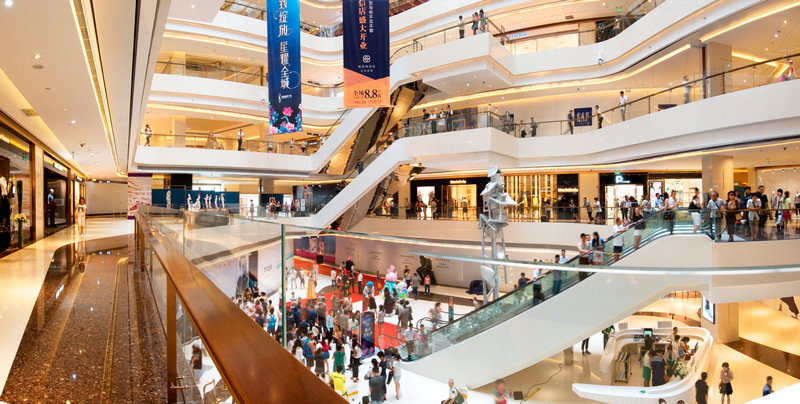 Location: Chongqing, China
Director: Ed Lam
Client: Chongqing Sincere Holding (Group) Co. Ltd
Gross floor area: 210,000 sq.metres
Completion year: 2015
Chongqing Sincere Financial Center and Sincere Plaza is located in the Jeifangbei business district, at the heart of Chongqing's downtown. The project is envisioned to respond to the natural context and drive the development of the district, creating an integral space that combines office, commerce and leisure uses.
Aedas always believes that great design can only be delivered by people with a deep social and cultural understanding of the communities they are designing for. This also becomes the vision of this project. The design is inspired by the twin rivers Changjiang and Jialingjiang as well as gorges of the Chongqing landscape, not only integrating the well known geographic beauty of the Mountain City but also revealing Chongqing people's traits of tenderness and determination. Such localised design with international and modern flairs blends in well with the urban planning of Chongqing and Wuyi Road.
The commercial podium consists of 6 storeys with 50,000 square metres, including a cinema with five theatres, boutiques of international brands, high-end restaurants and 800 parking lots. Both the roof top plaza and podium plaza are open to the public to provide urban greening space.
---
Hengqin International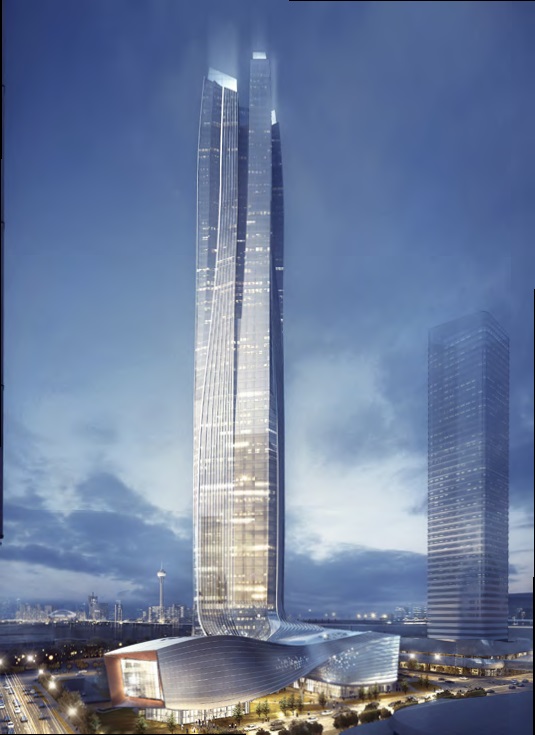 Financial Center
Location: Zhuhai, China
Director: Andy Wen
Client: Zhuhai Shizimen Central Business District Development Holdings Co., Ltd
Gross floor area: 218,955 sq.metres
Completion year: 2017
The Hengqin International Financial Center is located on the offshore financial island in Hengqin within Zhuhai's Shizimen central business district. The spirally rising volume resembles a flood dragon. The design of the property was inspired by the famous Nine Dragons painting from the Southern Sung Dynasty. From the exterior, the building looks like four towers converging into one building, symbolising the convergence of talent from Zhuhai, Macau, Hong Kong and Shenzhen at Hengqin.
---
Suning Plaza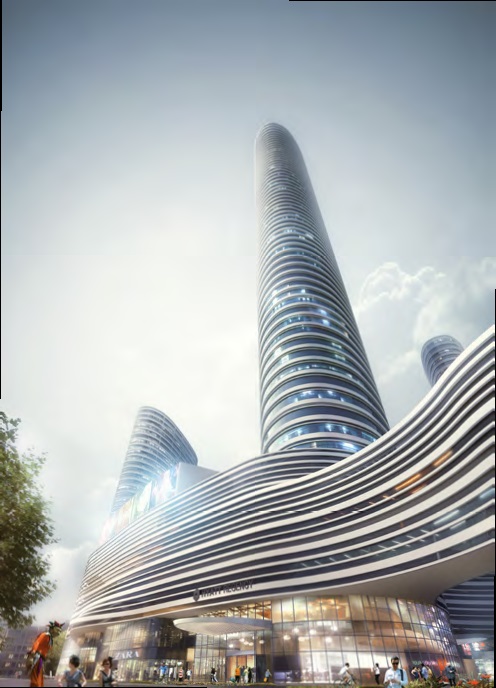 Location: Xuzhou, China
Director: Andy Wen
Client: Suning Real Estate Co., Ltd.
Gross floor area: 347,321 sq.metres
Completion year: 2016
Located in the heart of Xuzhou's commercial district, Xuzhou Suning Plaza is a commercial complex consisting of a high-end shopping mall, an office tower, a five-star hotel, and serviced apartments.
The design is composed by a series of curves to express a fluid and minimalist architectural language. In plan, the podium and the towers manifest a sense of continuity and mobility that enhances the commercial atmosphere. In elevation, emphasis is placed on the smooth transition between the elevating ring-shaped edges and the horizon; its linear formations facilitate the eye into an infinite, seamless trajectory.
---
Hongqiao World Centre
Location: Shanghai, China
Director: Wai Tang
Client: Greenland Group
Gross floor area: 172,000 sq.metres
Completion year: 2016
This mixed-use project is located next to the Shanghai's Qingpu Xujing Conference and Exhibition Center development. With around 180,000 square metres of floor area, this project consists of a five-star hotel, a shopping centre and a gallery. In response to the clover leaf concept of the adjacent conference and exhibition centre, the leaf-shaped buildings are organised coherently to direct circulations. Pedestrian bridges are designed to link all buildings and build an inter-connecting network. The hotel and shopping centre will work together to form a very welcoming entrance to the whole development. The gallery, the first building visitors will see coming out from the Qingpu Xujing Conference and Exhibition Center, is designed to be seductive with a strong visual impact.
---
Hong Leong City Center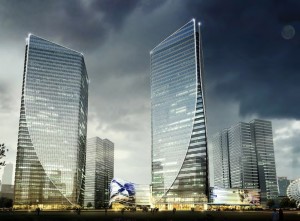 Location: Suzhou, China
Director: Andy Wen
Client: City Developments Limited
Gross floor area: 295,402 sq.metres
Completion year: 2016
The project site is located in the heart of Suzhou Industrial Park. It is one of the major phases for the development of the city, with surroundings offering fantastic views. The north side of the site is in close proximity to the green space under planning, while the south side faces Jinji Lake. The project consists of four functions: residential, office, hotel and retail in four super high-rises and a commercial podium.
---
Bravo PARK PLACE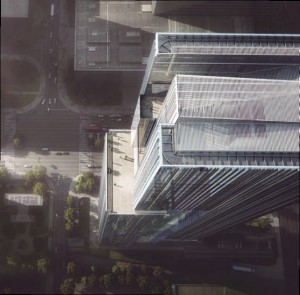 Location: Guangzhou, China
Director: Ken Wai
Client: Bravo Group
Gross floor area: 99,429 sq.metres
Completion year: 2016
Bravo PARK PLACE is divided into two main parts – the upper floors are offices and a corporate clubhouse with breathtaking views of the Guangzhou Tower and Zujiang River; the lower floors house serviced apartments, a clubhouse, restaurants and retail shops. The bespoke design allows the elevation to clearly reflect the distinctions between functions, and the whole composition is unified by a semi controlled random fenestration using vertical fins at regular intervals. The top portion of the building uses a simple but effective gesture that combines the observation deck with utility nodes, allowing views towards the Guangzhou Tower and a green space.
---
Changsha Hua Center Phase II Project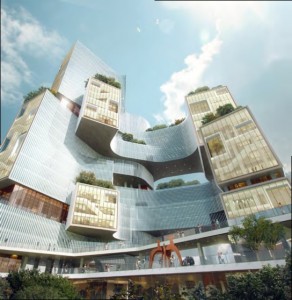 Location: Changsha, China
Director: Andy Wen
Client: Changsha Juyun Investment Co.,Ltd.
Gross floor area: 81,000 sq.metres
Completion year: 2018
Located in Jiefang West Road at the junction of Taiping Street and Pozi Street, the most popular destination of Changsha, this project is adjacent to Xiang River which runs through the city's famous icons, Orange Island and Yuelu Hill. Inspired by the unique landscape of Zhangjiajie, the UNESCO World Heritage site in Hunan province, this culture-oriented architecture accommodates innovative office space and state-of-the-art shopping centre that will become the most cutting-edge lifestyle centre in the town.
---
Location: Hong Kong, China
Director: Cary Lau
Client: Good Standing (Hong Kong) Ltd
Gross floor area: 5,514 sq.metres
Completion year: 2016
The design of Mongkok Residence drew inspirations from the city's post-war structures and sets an excellent example of contemporary interpretation of traditional architecture. In the early post-war years, it was common to create illegal iron balconies for residential units in Mongkok, a hyperdense neighbourhood in Hong Kong, to acquire the best possible view. Aedas reinterpreted these structures in a modern way, using irregular protrusions to create unobstructed views for each apartment.
---
Main Office Building, Macau Traditional Chinese Medicine Science and Tech Park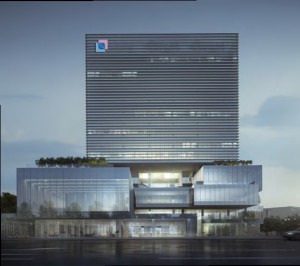 Location: Zhuhai, China
Director: Leo Liu
Client: Guangdong-Macau Traditional Chinese Medicine Technology Industrial Park Development Co., Ltd.
Gross floor area: 127,000 sq.metres
Completion year: 2017
Located at the Traditional Chinese Medicine Science and Technology Park within the New High-tech Business Park district in Zhuhai, the project consists of two towers representing the Chinese concepts of round Heaven and square Earth. The West building is rectilinear around an atrium with a powerful deconstruction of the lower floors creating shade, porosity and outdoor terraces. The East building flows gently around its twin atriums in counterpoint to its neighbour.