(6 September 2016, Bangkok, ) The new-age carrier Vietjet announced today it will make its 'domestic debut' in Thailand by launching three new internal routes in the Land of Smiles – Bangkok–Chiang Mai, Bangkok-Phuket, and Phuket-Chiang Rai – as well as one international route from Bangkok to Haiphong (Vietnam). The airline already operates direct routes from Bangkok to Ho Chi Minh City (HCMC) and Hanoi.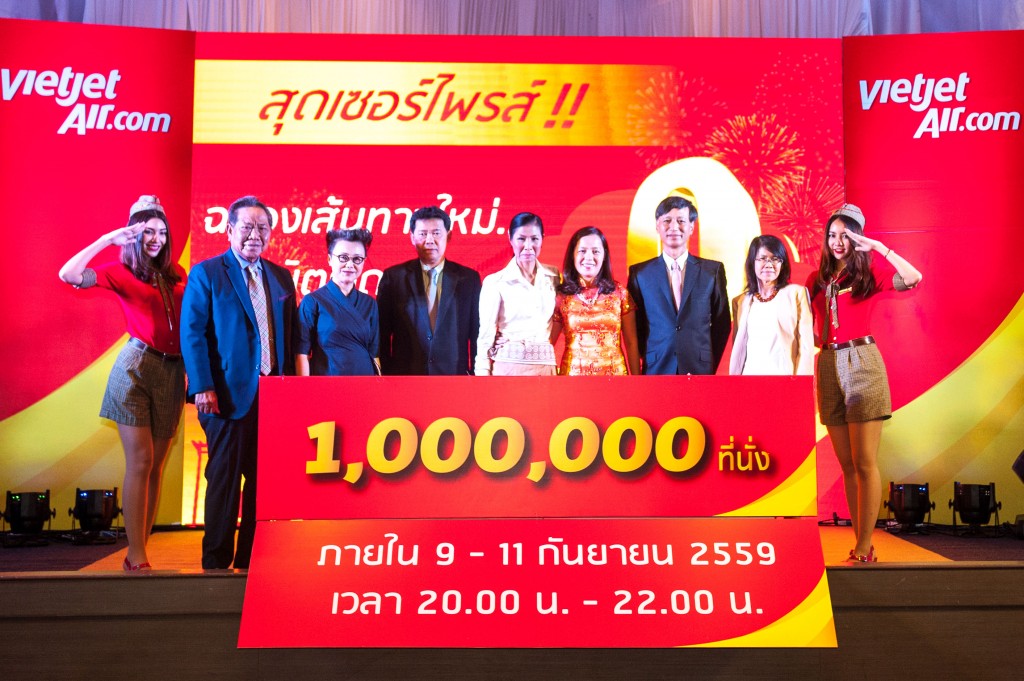 The airline also unveiled an exciting promotion campaign, "It's time to Vietjet" offering one million promotional air tickets priced from only 0Baht. The promotion runs from September 9 to September 11, 2016 from 8pm to 10pm each day only at www.vietjetair.com. The promotion is valid for all flights in Thailand, all domestic routes in Vietnam, and all international routes between Thailand and Vietnam. The travel period is from September 15 to December 31, 2016 (excluding public holidays).
Speaking at the announcement ceremony today, Tourism and Sports Minister, H.E. Mrs. Kobkarn Wattanavrangkul, said, "Vietjet's decision to invest in the future of Thai air travel with a dedicated domestic presence is a big market movement. It brings additional capacity to the low-cost flight sector in Thailand, and provides Thai people and global tourists the added benefit of greater affordable ticket choice and enhanced convenience. We have an ongoing commitment to improving bilateral relations between Thailand and Vietnam, and so this recent development gives a welcome boost to those efforts in line with the mission of TAT's Two Countries, One Destination program, which has been running since last year."
"I appreciate Vietjet for allowing one of its airplanes, an Airbus A320, to be painted with an Amazing Thailand livery. This advertisement in the sky is truly a wonderful gift for Thai tourism and we accept that with much gratitude. We are excited with Vietjet's joining Thai aviation market. As a new-age carrier, Vietjet is well known for being dynamic, friendly and lively, which is expected to bring such an new wave to Thailand's tourism industry, thus attract more tourists from Vietnam and around the world to our country, the land of smiles," she added.
Vietjet's Vice President, Madam Nguyen Thi Thuy Binh, said, "Three years ago, Thailand became Vietjet's first international destination. Thailand and Vietnam have shared a close relationship thanks to our similarities in culture, cuisine and character. There are now more than 300 Thai expats working in a variety of positions at Vietjet, which is also a driving force for us to further expand our flight network in Thailand today. We are committed to offering more air travel opportunities so Thai people can visit Vietnam and more Vietnamese people can visit Thailand's amazing destinations in the coming time. We develop our products not just so we can offer customers a safe, enjoyable flight but so we can also offer them a complete tourism service package, which eases travel for each and every passenger from the moment they book online. I would like to thank the Thai authorities and the people of Thailand for supporting us joining this market and so we can further contribute to the development of Thailand's tourism and trade."
Vietjet's Flight Information in Thailand: 
| | | | | |
| --- | --- | --- | --- | --- |
| | Routes | Frequency | Tickets available | First flight |
| 1 | Bangkok – Phuket | Daily | Now | Sep 15, 2016 |
| 2 | Phuket – Chiang Rai | Tue, Thu, Sat | Now | Sep 15, 2016 |
| 3 | Bangkok – Chiang Mai | Daily | Now | Sep 26, 2016 |
| 4 | Bangkok – Haiphong | Mon, Wed, Fri, Sun | Now | Nov 9, 2016 |
| 5 | Bangkok – Ho Chi Minh City | Daily | Now | Now |
| 6 | Bangkok – Hanoi | Daily | Now | Now |