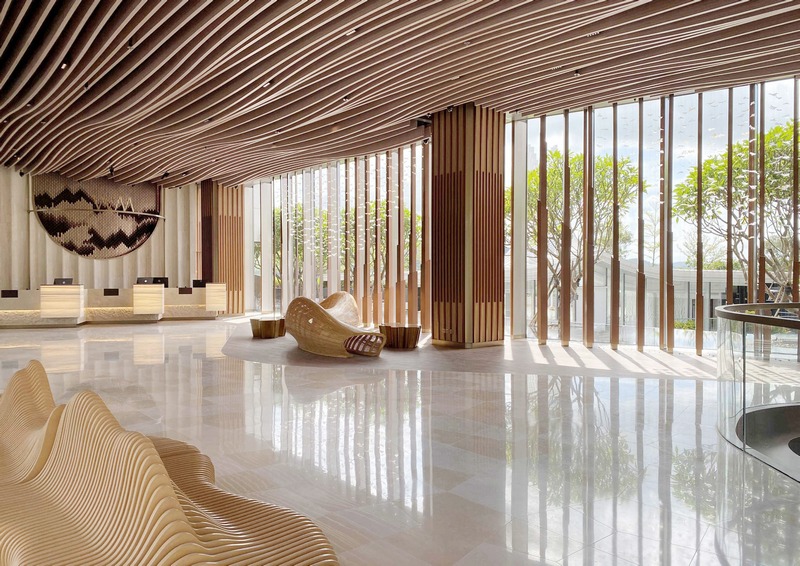 Alexander Wong Architects just made history by winning World's Best Interior Design Award at International Property Awards for the second time since their highest category of World's Best awards were first introduced in 2016.
(按此瀏覽中文版)
The company is honoured to have won Three Major Design Awards at this year's "International Property Awards 2023" held at the Savoy Hotel in London on Thursday 2nd February 2023 including the Pinnacle Award of "World's Best Interior Design" for WM Hotel in Sai Kung, Hong Kong. Alexander Wong Architects won World's Best Interior Design Award for "Carmen Futura" back in 2016 and therefore making them the only company who has won World's Best Interior Design Award twice. This year, World's Best Architecture Award is won by Foster + Partners for their design of ICD Brookfield Place in Dubai.
"International Property Awards 2023" is an International Design Award event with participants from Brazil to China; Singapore to Miami; South Africa to Qatar, recognizing those who have significant contributions towards Architecture, Interior Design and Real Estate Development over the previous year. It is highly regarded by the International Real Estate Industry Worldwide.
This year, Alexander Wong Architects has won Three Top Awards in Interior Design as follows:
"World's Best Interior Design" for "WM Hotel"
"Best International Hotel Interior" for "WM Hotel"
"Best Hotel Interior Asia Pacific" for "WM Hotel"
These International Awards reaffirm Alexander Wong Architects' leading position in the International field of Hotel Interior Design.
The International Property Awards is the largest competition of its type in the world since 1995. The summit covers the regions of Africa, Asia Pacific, Arabia, Canada, Caribbean, Central & South America, Europe, UK and USA, with participation from over 2,000 companies and 1,700 entries. Participants are judged by a highly experienced team of professionals of over 100 members who cover the whole range of property disciplines. The awards are given for the quality of design, construction and presentation of individual properties and property development, interiors, architecture and marketing – which ultimately determine the world's finest property, architectural and interior design companies. It has an annual total project value exceeding US$10 billion.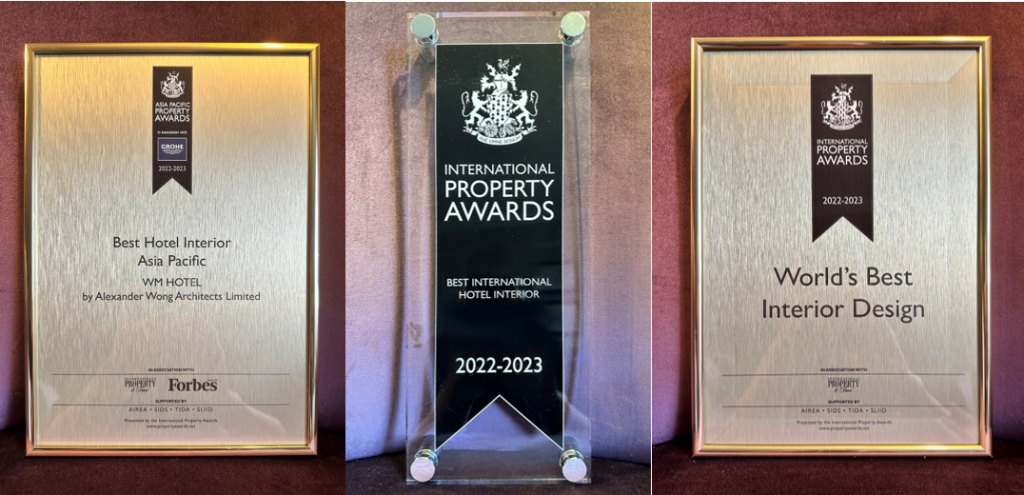 About WM Hotel Interiors
Perfectly nestled by the sea with breathtaking ocean views in Sai Kung, the Riviera of Hong Kong, the WM Hotel could possibly challenge some of the best resort hotels in Phuket and Bali. It features many ground-breaking designs. Starting with the stunning Hall of Arrival at the Lobby Natura where the hotel visitors do their check-ins, one immediately senses the beauty of nature through a palette of browns and bronzes against wood grain finishes and natural marble, onyx and a myriad of gentle curves. This Hall of Arrival is uninterrupted in its spatial continuity accentuated by the flowing ceiling of wood grain aluminium slats alluding to an abstract river floating in midair. Organic in form, large pieces of modern timber furniture sparsely fill the space in a Zen-like fashion with grace and harmony. Behind three glowing onyx reception desks, a special backdrop with countless bronze metallic plates shimmer, filling out an inverted arch framed by a classically fluted limestone wall. The arch as a leitmotif will reappear in the Pre-Function Area & Banquet Hall later on. The crowning glory is a unique display of the WM Hotel Logo floating above as partly inspired by the tiaras from beauty pageants. Incidentally, some of the events for the Miss Hong Kong 2021 Pageant was filmed at the WM Hotel last year.
Getting to the Pre-Function Area on the lower levels, one has to travel through a circular atrium via escalators crisscrossing downwards. Arriving at the Pre-function Area of the Banquet Hall and Salons-like Function Rooms, one notices the multi-directional half-arch columns supporting a uniquely undulating ceiling with hexagonal patterns. Entering the Banquet Hall through a series of giant arches, one reaches a huge space with a sequence of sparkling organic chandeliers hanging from above as well as crystal wall sconces mounted between the grand arches. The other Function Rooms are treated as a set of luxury Salons adorned with gold leafed ceiling details and raw silk wall panels above limestone wainscot. Inside the spacious hotel suites, many details inspired by the beauty of nature can be further discovered and explored.
Mr. Alexander Wong, Director & Founder of Alexander Wong Architects, reacts to the news, "I wish to thank International Property Awards for this great honour. Very special thanks to everyone at WM Hotel for their incredible support, including owners of WM Hotel, Mr. Raymond Chan, Ms. Meage Choy, Ms. Jenny Li of The Shaw Group, Mr. Benny Wong and every member of the Engineering Department at WM Hotel. Through our design philosophy to provide innovation, excitement & glamour for the WM Hotel without sacrificing functional needs, this Award is a wonderful confirmation of our Client's vision for the Hotel in this unique location in Sai Kung. We are delighted to have our original design recognized by the judging panel and will continue to raise the bar with all our future design endeavours."