A collaboration between a boutique architecture firm and a renowned chef have resulted in an award-winning restaurant design.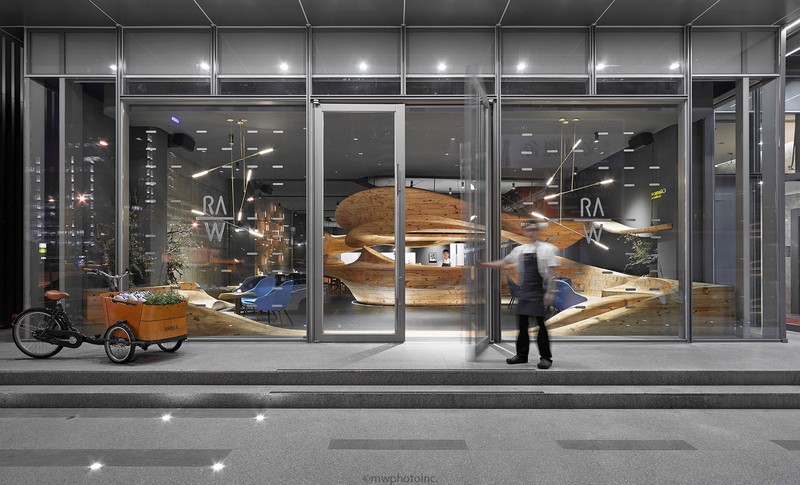 Taipei is fast gaining an international reputation for its uncommon fusion of gastronomy and design. There is no better embodiment of this than the mesmerising interior of Raw restaurant.
Singapore-based architectural firm Weijenberg has made striking use of wood in the interior to play on the visceral and primitive nature of the restaurant's name.
Diners enter the venue across a wooden path which transitions them away from the busy city streets into the restaurant's lounge in Taipei's culinary hub of Lequn Third Road in Zhongshan.
A soft angled, organically sculptured 65-metre long wooden structure greets guests and this merges into the main restaurant forming the centrepiece of Raw surrounding the central dining area.
The entire project is made in Taiwan, from the local Taiwanese Ash cut out of wooden blocks from techniques traditionally used in ship making. A long wine wall, containing storage units about 4.5 metres high and 18 metres long is made entirely with plantation-style louvers that are so common in Taiwan.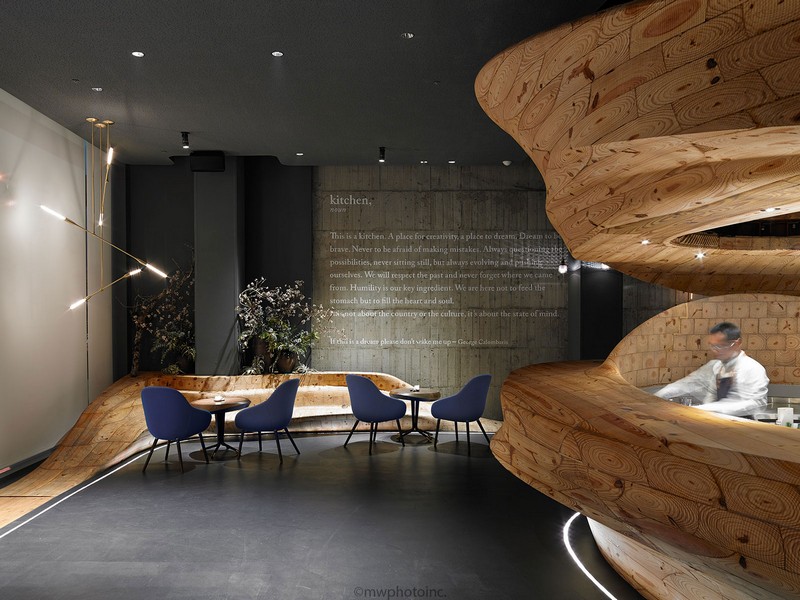 THE RIGHT INGREDIENTS
The design took life in late 2013 when Singaporean chef André Chiang started talks with Weijenberg founder Camiel Weijenberg about a new restaurant venture.
Weijenberg said the project brought two minds together with a mutual ambition to create something extraordinary. "André's artistic vision for food allowed Weijenberg to discuss the design on a much deeper level, and while André had specific ideas about the interior design, he also provided the creative freedom to actualise a new entity of restaurant," he says.
The 410 square metre restaurant seats 56 diners, including 16 in a partially secluded dining area. Weijenberg says his intention was to meld a fluid design with practicality.
"It was important not to have distinct partitions as we felt this 'boxy' approach would be restrictive for a highly creative chef," he said. "We made RAW intentionally interior borderless, yet we still needed to intertwine restaurant operations and functionality with design."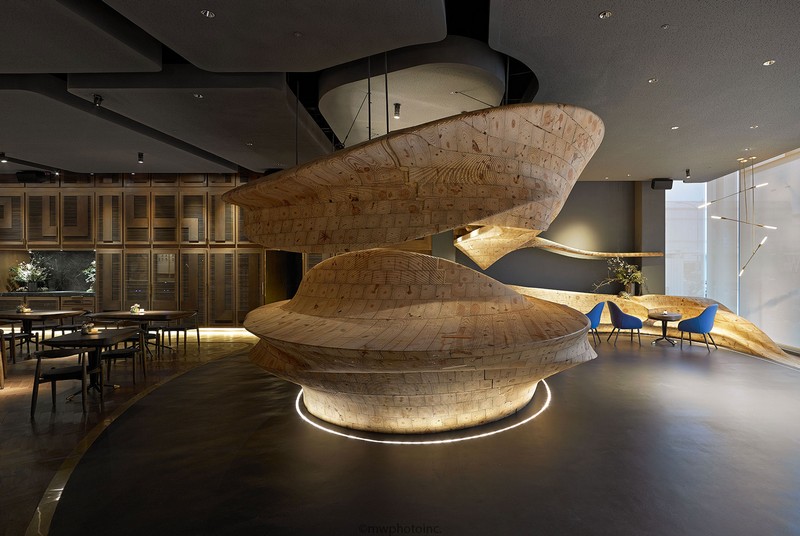 STRIKING CENTREPIECE
Weijenberg was formerly a carpenter before studying and working with Zaha Hadid Architects and Wilkinson Eyre Architects, and he utilised his affinity for wood working in the Taiwanese Ash used throughout the restaurant.
"The experience of André's food is intended to be intimate. This intimacy allowed us to use wood as our main medium in the restaurant in its pure state to encapsulate the customers within a wooden sculpture in a gentle manner," he said.
The centrepiece of the design is the curved, organic shaped wood sculpture. At 65 metres long, the structure had to be held in place with double anchor points on each node. Steel reinforcement through the interior of the piece and diagonal bracing help prevent excessive movement in the event of one of Taipei's relatively frequent earthquakes.
"The sculpture was designed by various computer software programs, 3D Rhinoceros and Grasshopper to create a machine cutting pattern," he says. "The Finite Element Method was used to calculate the load on the ceiling sculpture in the event of earthquakes."
In a demonstration of the practice's ability to merge modern and traditional approaches, the pieces of the sculpture were handcrafted by carpenters who assembled the work piece by piece. Most of the sculpture is purposeful, with storage, a wine island and a large counter by the entrance.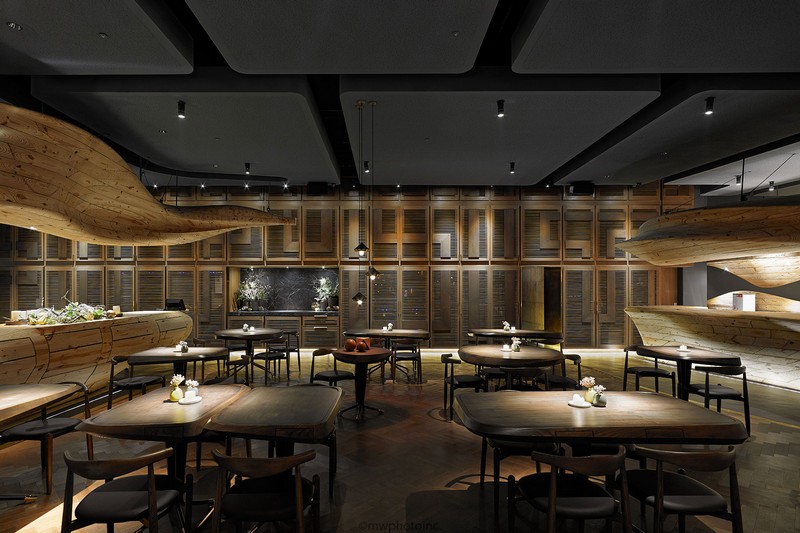 TABLE TALK
The interior design also aimed to create a unique dining experience once guests were seated, with the lighting used to create intimacy.
"The desired aesthetic was to create a close proximity between customer and food – table and chairs with lighting that would almost shine on the dishes only," Weijenberg says.
All the focus was to be on the food and its artistic presentation, which called for a main dining area that composed of colours and tones with a minimal feel. While the use of the Taiwanese Ash continued, Weijenberg ensured a different-shaped table top for each table to break up the space and prevent monotony and provide a clustered feel.
"It also creates the sense of variety as you can dine at Raw many times and never have the same seat or view," he said.
GOLD-PLATED DINING
The bold approach to the restaurant's design has so far claimed three awards and an honourable mention.
The restaurant won the Red Dot Award 2015 for Product Design and a Platinum A'Design Award 2015 for Interior Space and Exhibition Design. Weijenberg was also named Asia's Top Designer 2015 in the Singapore Design Awards and received an honourable mention in the Commercial Project category at the International Design Awards 2015.
In his summary of Weijenberg's entry, Red Dot president Peter Zec says there was an "uncompromising competency" and "considerable courage".