Hong Kong's Biggest Ever World Sustainable City Event Looks to the Next 20 Years
Runs from 5 to 7 June with around 1,800, sector experts, policy-makers, academics and industry leaders to attend
Aims to draw up actionable plans to tackle global climate change challenges in over 100 sessions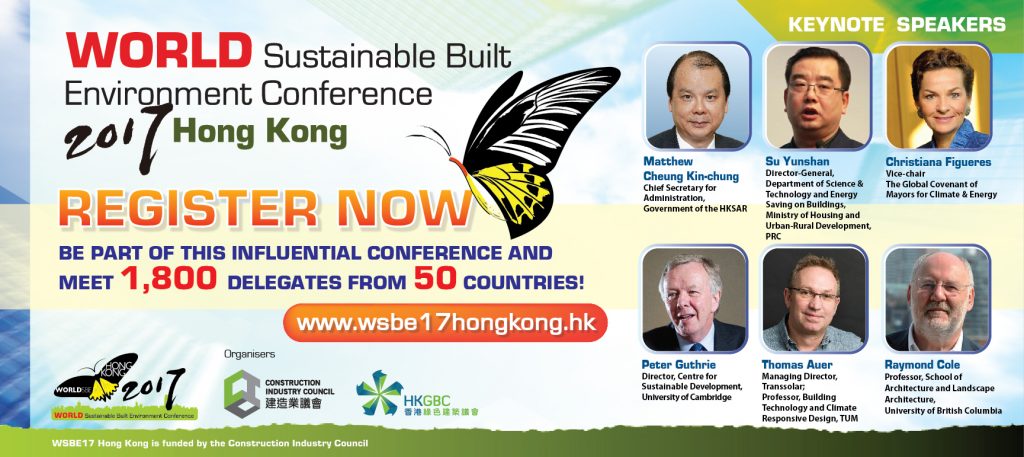 Eighteen hundred policy-makers, academics and industry leaders from more than 55 countries will gather in Hong Kong next month for the city's biggest ever conference on sustainable building and urban development, an event that will focus on sustainable liveable neighbourhoods against a backdrop of expanding megacities in Asia and other parts of the world, the conference organisers said today.
The World Sustainable Built Environment Conference 2017 Hong Kong (WSBE17 Hong Kong), running from 5 to 7 June and co-organised by the Construction Industry Council (CIC) and the Hong Kong Green Building Council (HKGBC), forms part of the HKSAR's 20th Anniversary celebrations. Entitled "Transforming Our Built Environment through Innovation and Integration: Putting Ideas into Action," the event will see presentations of ground-breaking research, business cases, as well as top findings from the regional conferences that took place in 20 cities worldwide during 2016.
While celebrating 20 years since the Handover, this event looks forward to the next 20 years, not just in Hong Kong but across Asia and with a global context. In Asia, the rapid urbanisation underscores the importance of sustainable built environments on various scales, particularly the rising trend of green and liveable neighbourhoods. For these, diverse considerations in terms of smart urban planning, building design, eco-friendly construction materials, connectivity, quality of life, and other sustainable infrastructure features are entailed.
Since 1997, the urban population in Mainland China has grown by around 400 million and now accounts for almost 60% of its population, up from about a third. The Pearl River Delta which includes Shenzhen, Guangzhou, Zuhai and Macau already has a combined population of almost 70 million. And it's not just China. High-density urban environments are also seen elsewhere in Asia, such as in Tokyo, Jakarta and New Delhi. Being the strategic gateway to China and the commercial epicenter of the world, Hong Kong is a perfect platform for experts from all regions to share their insights on this drastic urbanisation.
Paris Climate Agreement and Sustainable Development Goals high on agenda
Against this backdrop, the business implications of the Paris Climate Agreement and universal Sustainable Development Goals advocated by the United Nations are high up on the conference agenda. International climate change authority Christiana FIGUERES, Vice-Chair, Global Covenant of Mayors for Climate & Energy, and representatives of the UN Environment will facilitate dialogue with policy-makers to collaborate on business actions for a decarbonised economy. As well, there will be more than 450 world-class speakers delivering over 100 sessions discussing different industry practices and business case studies for actions towards a sustainable built environment.
Ir Conrad WONG, Chairman of the WSBE17 Hong Kong Organising Committee, said: "As a hub of global business, Hong Kong is an ideal location to invigorate business dialogue to address the urban environmental challenges around the world. The Conference is made up of hundreds of submissions from industry experts, academia, as well as commercial institutions as visionary business leaders see the opportunity to capitalise on sustainable building concepts. We expected that WSBE17 Hong Kong will create impactful action with the support of both the public and commercial sector. Pressing environmental issues also entail to vast business opportunities for the green building industry."
Cities committed to carbon reduction targets, drawing up technical plans
Cities around the world are committed to achieving their own carbon reduction targets set for 2030 or 2050, and are drawing up detailed technical plans for sustainable city development. Government and institutional representatives from Mainland China, Singapore, Germany, Sweden as well as Hong Kong will share visions of their future cities.
"We are honoured that Hong Kong is the host city of this year's conference to lead global action against climate change. The conference theme "Transforming Our Built Environment through Innovation and Integration: Putting Ideas into Action" suggests that the development of sustainable buildings has evolved from innovative designs of individual buildings to holistic urban planning that integrates different types of architectures, in order to put sustainable development concept into real actions," said Mr Eric MA, Secretary for Development, Government of the HKSAR.
"The Government is promoting "Smart City" concept at full strength with Kowloon East as a pilot area for developing a smart, low-carbon, sustainable and liveable community by the adoption of technologies in green city planning. We look forward to sharing views with the local and overseas experts during the conference for ushering in a new era of global sustainable built environment," Mr Ma continued.
The Hong Kong government's "Hong Kong's 2030+" urban development study is now in progress. It represents the government's vision, policy and strategy for the development of the city beyond 2030 that promotes low-carbon smart economy and living. Meanwhile, China pledged to peak its carbon dioxide emissions between 2025 and 2030 as a part of its commitment to the Paris agreement, and is already on track to beat this goal.
Conference to focus on innovative and practical solutions
With a focus on delivering practical solutions, the event will put a spotlight on innovation in climate responsive architecture. World-renowned climate engineering companies and research institutes will discuss topics such as how they adopt sophisticated analytic tools and smart technologies to modify a building or urban environment in response to changes in the surrounding environment.
"Over the years, we have incubated different zero-carbon building concepts around the Hong Kong cityscape. And we know that, in a compact and highly urbanised city like Hong Kong, indoor activities account for 90% of electricity consumption. This brings both challenges and opportunities for sustainable city development. Innovative building and design concepts have great potential resolve urban challenges by enhancing resource management and energy use efficiency," said Mr CHAN Ka-kui, Chairman of Construction Industry Council. WSBE17 Hong Kong is funded by the CIC.
"BEAM Plus certified green buildings in Hong Kong saved over 300,000 tonnes of carbon emissions annually, equivalent to 14 million trees planted. Buildings are designed to provide better living and environment for the people. A series of community activities will take place during the conference aiming to promote low-carbon lifestyle and behavioural change. We believe smarter building designs and greener building management together with the concerted efforts of the community will keep us on track in reducing carbon emission per capita by a maximum of 36% to 3.8 tonnes by 2030 from the level in 2005," said Sr Bay WONG, Chairman of Hong Kong Green Building Council.
The reduction target was set by the Hong Kong Climate Action Plan 2030+ and published in January 2017. BEAM Plus is a locally developed green building assessment scheme established in 2010, tailor-made for the high-rise, high density built environment of sub-tropical climate in Hong Kong.
Note: Please click here to see the full agenda of the conference.