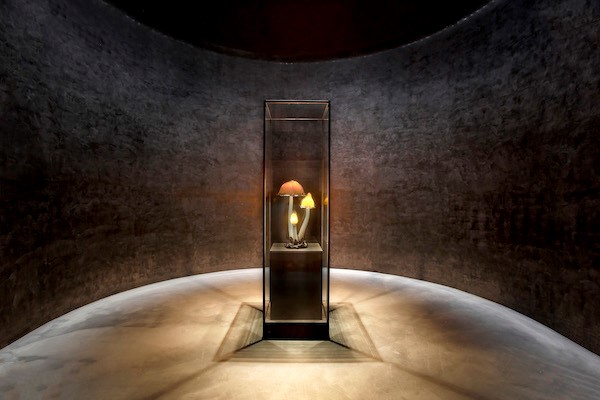 Image credit: Yoonsung Choi, Jeongyoun Hong, Mathias Kromann RodeAmsterdam, the Netherlands: Yumin Art Nouveau Collection, a poetic glass exhibition in Phoenix Jeju in the South Korean peninsula, has been named as the World Interior of the Year for 2018. The project, conceived by Danish practice JAC STUDIOS, has beaten over 70 finalists across ten categories to be named the World Interior of the Year.
Yumin Art Noveau Collection is a permanent exhibition of delicate glass produced in the Art Nouveau movement between 1870s to 1940s by French artist Émile Gallé, one of the major forces in the French Art Nouveau moment; as well as works by leaders in the decorative glass-making field – brothers Auguste and Antonin Daum.
JAC STUDIOS worked closely with Art Nouveau experts including Didier Laugault from Chambre Nationale des Expert Specialises to create an exhibition using glass as the principle material to transform the interiors and welcome areas of the Genius Loci – a building by celebrated Japanese architect Tadao Ando (Pritzker Prize and RIBA Royal Gold Medal winner).
Located on Phoenix Island in Seopjikoji, a coastal town dominated by Volcano Hallasan, the dialogue between this powerful landscape and the exposed concrete of the Tadao Ando building creates an elegant yet sombre setting for the exhibition.
Johan Carlsson, founder of JAC STUDIOS said: "The architecture by Tadao Ando plays a magnificent setting for the exhibition. The architecture is in itself a piece of art and visitors cannot avoid being touched by its beauty. The new museum is respectful but also challenges the context of the architecture."
"The introduction to the exhibition begins from the approach to the Yumin Museum. The signage on the facade reflects the horizon of the sea" he adds.
The INSIDE World Interior of the Year award was judged by INSIDE festival's 2018 super-jurors – Tom Alexander, Director at Aukett Swanke; Christopher Brandon, Managing Director at Perkins + Will; Nigel Coates, Director at Nigel Coates; Päivi Meuronen, Interior Architect at JKMM Architects; Lyndon Neri, Founding Partner at Neri&Hu Design; and Vesna Petresin, Visiting Fellow at Goldsmiths, University of London. Judges were impressed with "its crafted sensitivity, to both the building and the Gallé glass to which the museum it is dedicated to".
The award was presented tonight at the finale of INSIDE World Festival of Interiors, a gala dinner held at the historic Beurs van Berlage, a 19th century former commodities exchanged designed by architect Hendrik Petrus Berlage. INSIDE World Festival of Interiors is co-located with the World Festival of Architecture and together they form the largest celebration of contemporary architecture and design in the world. The festival will reconvene in 2019 in RAI Amsterdam once again for its 12th edition.
For more details on the WAF and INSIDE Awards and the festival please visit: www.insidefestival.com, www.worldarchitecturefestival.com #WAF18 #INSIDE18 @Insidefestival @worldarchfest