A beacon of the Zhujiang New Town master plan is a multiuse complex that not only makes everyday life a breeze for its users, but is also an environmental marvel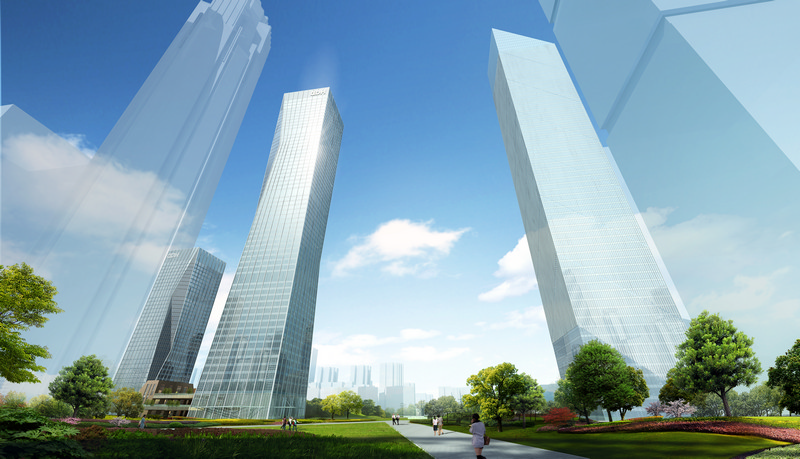 Boasting two striking towers that offer an evolving perspective as one moves around them, the Zhujiang Plaza is a beacon of the Zhujiang New Town master plan conceived for the city of Guangzhou. Designed by Arquitectonica in conjunction with Guangdong Holdings Limited, the complex fits perfectly within its immediate surroundings and integrates seamlessly into the city of Guangzhou. Created with a heavy emphasis on open space and, in turn, on being as environmentally friendly as possible, the multi-use facility primarily caters to office workers and retail, while also offering multiple areas for civic and cultural use. The Zhujiang Plaza is an asset to the city of Guangzhou and its economy and has been designed in a way that its users are ensured an enriching experience. Through the smart use of greenery and a landscaped urban ribbon, hectic city living seems a lifetime away.
Something for everyone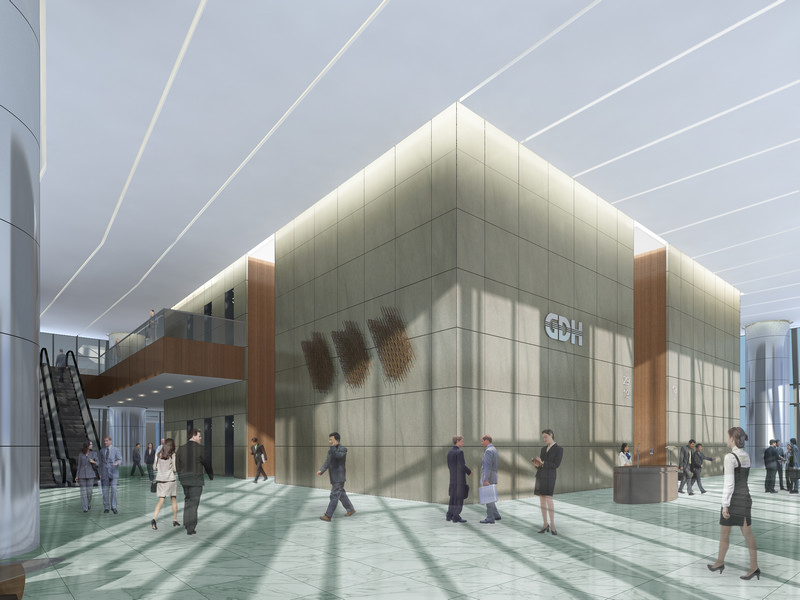 A mixed-use project with 234,704sqm of office and retail space, one of Zhujiang Plaza's towers contains 58 storeys tall and the other 37. The open retail concept of the plaza delivers an alfresco experience unrivalled within central Guangzhou, with a series of cultural and commercial pavilions positioned on an urban ribbon connecting the two office towers.
The complex offers parking for 1,300 cars and an elevated pedestrian walkway linking the buildings to their surrounds, as well as easy access to the metro. The beautifully landscaped ribbon connects vertically up and down at various points, with the upper level leading to a picturesque sky garden where visitors can wine and dine with an unrivalled view of the evening sky.
According to ARQ's Managing Director Peter Brannan, Zhujiang Plaza is a trailblazer for the area and will create a pathway for many similar constructions to follow. "This is an office and retail development that brings leisure and working experiences together in a harmonious space and I think ZJP is representative of the sorts of developments we will see as the region develops," he says. "This is especially true where projects are located at transportation junctures within the cities themselves and transport hubs connecting to other cities and regions."
Healthy growth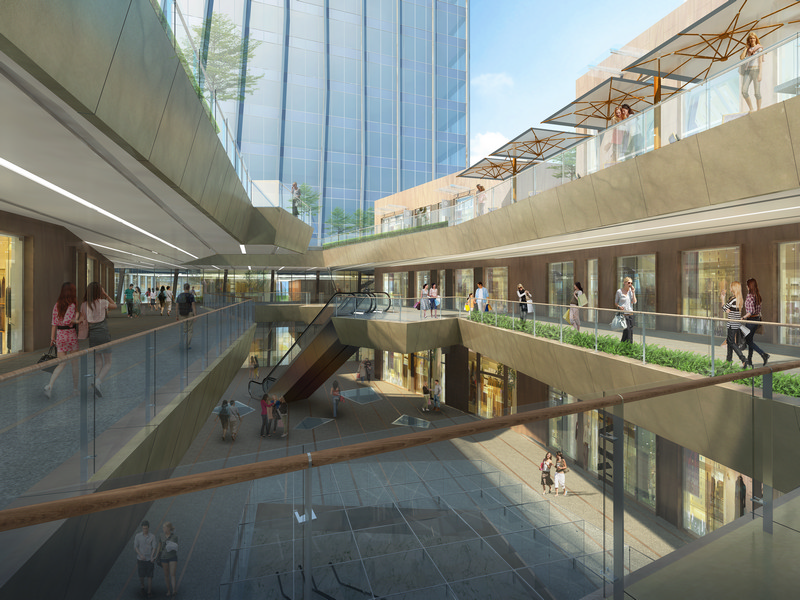 ARQ and GDH are expecting continued growth of high-quality mixed-use developments as the economy continues to grow within the Pearl River Delta and are determined to contribute to the quality of the city with their developments.
The Zhujiang Plaza was created with an emphasis on open space with the environment at the forefront of all decisions. "Integrated with the surrounding greenery, the design of Zhujiang Plaza is fully planned for public open space," a GDH spokesperson says. "It provides a platform and space for public activities. To contribute to the cities public transport construction, we initiated some areas on the B1 and B2 levels for public transport."
According to Brannan, the popular enclosed retail mall concept is shunned and air conditioned spaces are minimised to conserve energy. "Open air public circulation and garden spaces are emphasised," he says. "There is a healthy demand from residents and visitors to enjoy open air spaces in beautifully landscaped settings."
Nature's space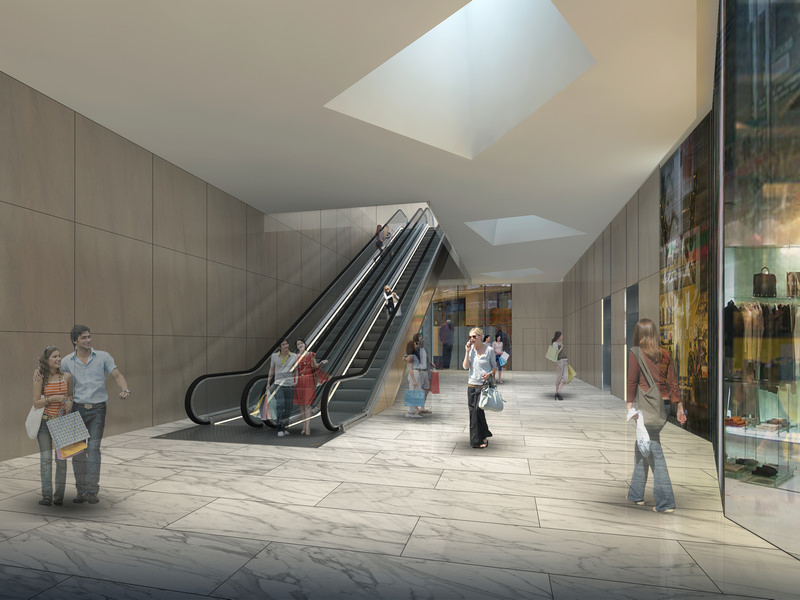 By featuring such a convenient link to public transportation facilities and adjacent buildings, plots and facilities, it is hoped Zhujiang Plaza will become a hub for not only office and retail space but for social occasions and the like as well.
"The process creates public open spaces for civic and cultural use and development, (such as) exercise, music, drama, children's play areas," Brannan says. The mixture of water, trees, flora and fauna is reminiscent of contemplative spaces in Chinese culture and philosophy."
While working on this project, ARQ noticed a desire for buildings that are at one with their surrounds and allow their users an instant escape from the hustle and bustle of city life. "There is growing demand for a softer connection between buildings and where they meet the ground," Brannan says.
"Looking down from a tall office tower, and one's place of work, onto a landscaped garden is a healthy and pleasant prospect. Walking through bucolic sky gardens on the way to work, at lunchtime and on the way home adds a sense of natural relaxation. Any opportunity to be with nature has a healthy impact: the sound of water, birds singing, butterflies and insects proliferating, observing flowers and fauna blooming at different times of the season, and so forth, all add to our connection to the earth."
The softer landfall is achieved through the use of a mixture of dark, metallic tones, which root the pavilions to the ground like seams of bronze ore emerging from the earth.
Green ribbon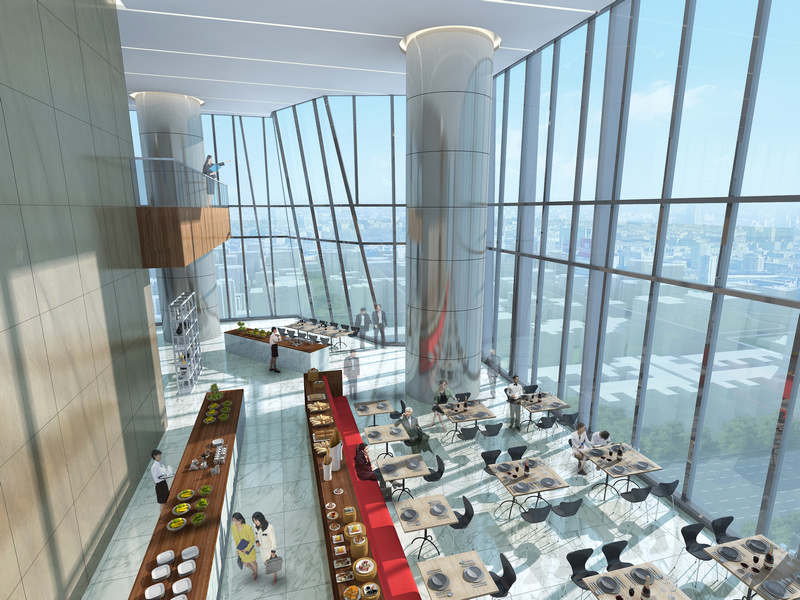 A major emphasis in the construction of the Zhujiang Plaza was the role it would play in the greater green ribbon park that runs the length of the district. The green ribbons are designed as a metaphor for the Pearl River Delta and ARQ have carried on their functions within the plaza complex. "The landscape gardens and sky gardens connect to the green ribbon park that runs the length of the district all the way down to the river," Brannan says. "Take a walk across the street to this ribbon garden and pause within it for a few moments. You will be surprised at the immediate quiet that descends. The city has achieved a remarkable thing here. It partly inspired us to extend this atmosphere to the ZJP plot. Imagine if this 'green ribbon' can be laced through the city? The health and wellbeing of all citizens and visitors would be greatly improved. We aspire to these goals by designing for pedestrian use of city spaces between our buildings."
GDH is hopeful that the Zhujiang Plaza is only the beginning of its long-term plan to contribute both economically and socially to the city of Guangzhou. "GDH is dedicated to promoting the economic development in Pearl River Delta area," a spokesperson says.
"The Zhujiang Plaza development stands in the beginning of the new axis in Guangzhou which is strategically important for Guangzhou development. It will become the headquarters of GDH. As a local well-known state-owned enterprise, we hope the GDH headquarters in Guangzhou new axis will inject new vitality and enhance the value of Guangzhou."