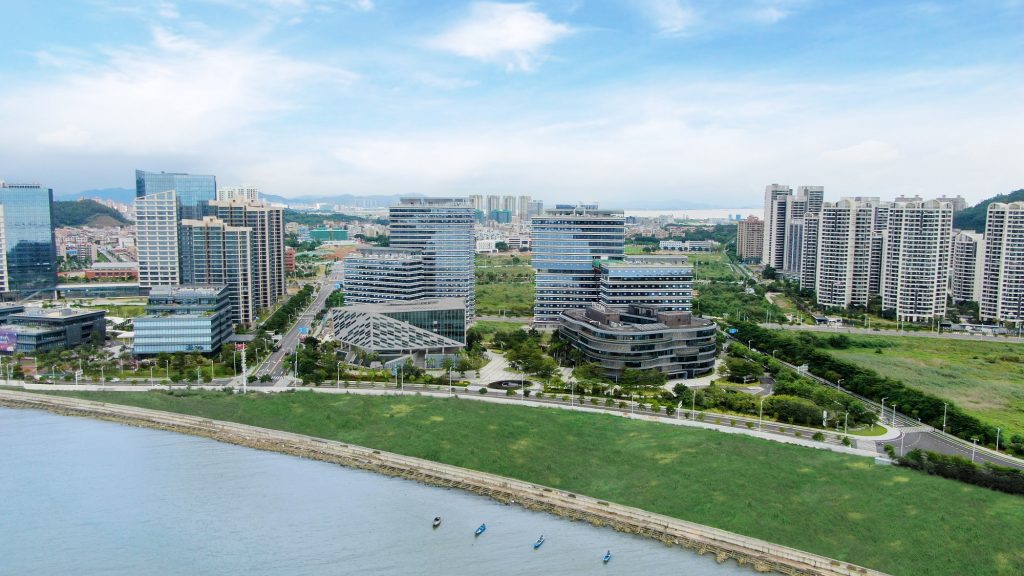 International architecture practice 10 Design completes Gaoxin Hi-Tech Commercial Hub, a circa 54,400sqm office development located along the shoreline of Tangjia Bay in the Zhuhai High-Tech Zone, China.
Huafa Group's brief for the development was to conceive a design concept which encourages aprofessional and personal experience for entrepreneurs and employees who aspire to a live/work lifestyle. This typology of commercial development is to greatly enhance the social and economic benefits for the high tech start-ups intended to invest in this new district.
Ted Givens, Design Partner of 10 Design comments:
"The buildings are structured as two pairs of split volumes of different heights and orientation, greatly maximising views to the water and naturally weaving open areas and public spaces throughout the development. With a split side core configuration, the scheme supports better natural light, ventilation and community spaces for smaller scale office units."
The development also features a large outdoor room covered by a community roof garden and fitness area. A series of plazas and covered public spaces provide extra space for office occupants to gather and interact. There is covered dining space which activates the public realm and can be enjoyed by occupants throughout the week.
Miriam Auyeung, COO and Project Partner at 10 Design adds: "Designing spaces which foster new talent and innovation was a central concept to the project. Occupiers have a wide spectrum of unit sizes to choose from, ranging from the smallest 55sqm unit up to the entire pair of towers, which are made easily accessible by the design of the connecting floors. We paid particular attention to creating a scheme that was flexible for occupiers, enabling companies to future proof their workplace should they want to scale rapidly."
Project Data
Name Gaoxin Hi-Tech Commercial Hub
Location Zhuhai, China
Client Huafa Group
Scope by 10 Design Architecture, Masterplanning, CGI
Type Office
Site Area 19,500sqm
GFA 54,400sqm
Status Built 2021
10 Design Team
Design Partner | Ted Givens
Project Partner | Miriam Auyeung (COO)
Architecture | Sonja Stoffels, Gwyneth Choi, Adam Wang, Frisly Colop Morales, Wang Yang, Xuan He
CGI | Jon Martin, Yasser Salomon, Laura Simonsen
Consultants
10 Design – Lead Design Architect
Architectural Design and Research Institute of Guangdong Province – Local Architect, Façade Consultant
KMCM – Landscape Consultant
STRONG Lighting Design Consultant co., ltd China – Lighting Consultant