The 2016 Macao International Environmental Co-operation Forum and Exhibition (2016MIECF), with its lineup of an international conference, exhibition, business matching and networking activities, is the key platform to promote environmental co-operation between Macao, the Pan-Pearl River Delta Region of Mainland China (PPRD Region), Asia-Pacific, Europe, Portuguese-Speaking countries and beyond.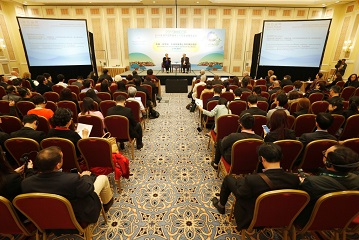 2016MIECF will be held on 31st March to 2nd April, don't miss the opportunity to expand your business!
2016MIECF Main Theme: Green Economy – Opportunities for Waste Management
Disposing of waste in an environmentally-friendly manner is crucial to business, it also gives rise to a plethora of business opportunities. Thus, apart from welcoming participation from various green industries, 2016MIECF will adopt the theme "Green Economy – Opportunities for Waste Management", and invite specialists and academics to share their techniques and experience in controlling waste streams.
Keynote Speaker: Pioneer in Circular Economy
2016MIECF is pleased to announce our distinguished Keynote Speaker Professor Dr. h.c. Walter R. Stahel, the pioneer in Circular Economy and inventor of the "Cradle-to-Cradle" and "Performance Economy" concepts.
The organisers encourage the global industries to take an active role in this international event and to have a depth understanding of the waste issues, and by taking this opportunity to establish a strong network.
Hot Topics at 2016MIECF Green Forum
International experts at the Green Forum will discuss the opportunities and challenges in waste management, including business strategies for manufacturing and waste management sectors, green hospitality, and solutions for construction and demolition waste. Register online to secure your seat at the conference!
For Green Forum program and registration, please visit: www.macaomiecf.com/miecf2016/en
2016MIECF confirmed exhibitors include (in alphabetical order):
Airestec, AnRich Environmental Technology, Ao Lung Electric Machinery Development, Associated Engineers Limited, Bona AB/ Bonkit Wooden Floor Care, Brighson, CESL Asia, CET OPTO, China Water Industry Group, Chu Wah Dvlp (HK) , Donasonic, EcoAmingo Engenharia, Enviro Process Technologies, Envac, Hinomaru Sangyo (HK), Kashun Environmental Protection Technology, Legend Globe Investment, Masterhold Int'l Co., Ltd, Megaman (HK) Electrical & Lighting, Nam Kwong Natural Gas, Powerz Enterprises, Robin Energy, Seve Studio, Siemens, Taiwan Tang Hua, Tongfang Co., Ltd, Ufon Nano-Chemical Corp., Zhonghang City Sanitation, and more….
For more information about 2016MIECF, please visit www.macaomiecf.com/miecf2016/en for the latest updates.