(4 August 2022, Hong Kong) The 2022 Hong Kong Shenzhen Bi-city Biennale of Urbanism/Architecture (Hong Kong) (the Biennale) will open on 27 August in celebration of the 25th anniversary of the establishment of the Hong Kong Special Administrative Region (HKSAR).
(按此瀏覽中文版)
Organised by The Hong Kong Institute of Architects Biennale Foundation, in conjunction with The Hong Kong Institute of Architects (HKIA), Hong Kong Institute of Planners (HKIP) and the Hong Kong Designers Association (HKDA), and sponsored by Create Hong Kong (CreateHK) of the HKSAR Government, the Biennale is jointly curated by a group of six emerging architectural graduates namely Ms Fei MUI, an American licensed architect who has practised in different parts of the world; Mr Alfred HO who is an architectural designer passionate about urban research, conservation, and community design; Ms LO Wan Ki, Wiki who specialises in transdisciplinary theatre and art and curatorship; Ms Erica CHUI, who is proficient in heritage conservation; Mr Nicky WONG who is an architect keen on heritage and history of Hong Kong; and Ms Carla LUNG, a conservation architect who actively participates in a wide range of heritage conservation projects.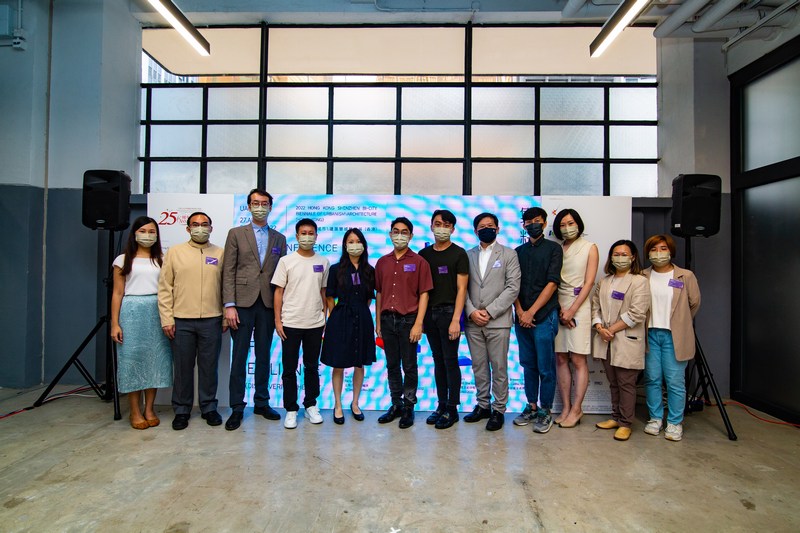 With the theme "Seeds of Resilience – Re(dis)covering The City", the Biennale features over 50 exhibitors advocating different issues in urbanism, architecture and built environment to imagine and envision new interpretations of coexistence and balance in trying times through the lens of Architecture. By reflecting on the concept of "seeds" — the minuscule energy pods, that are nevertheless capable of preserving their lifeforce through endless difficulties – the curators hope that everyone in the city will be encouraged to witness the growth of these "seeds" through the Biennale, be inspired, and generate new visions for the future.
The Biennale will be held from 27 August (Saturday) to 26 November (Saturday) 2022 with Hong Kong and Shenzhen parts. Creative works and cross-disciplinary exhibits will first be featured at the North Point (East) Ferry Pier, the Central Market and the Star Ferry Piers (Central and Tsim Sha Tsui). While the Shenzhen part will start later at the Jinwei Brewery Industrial Heritage Renewal District in Luohu. Echoing the theme of the Biennale, the curators aim to generate an extraordinary journey of urbanism routed through scattered yet familiar locations for the participants.
Local and overseas exhibitors of the Biennale have come from a wide spectrum of fields ranging from science, art, education, design, community, architecture, conservation, to imaging. They have reimagined a resilient city, and "planted" a blueprint for harmonious sustainable urban development under four sub-themes namely "Bottom-up", "Co-habitation", and "Human Nature Symbiosis" and a "Living Manifesto". Physical and virtual content include installation art, interactive design, cross-media creation, and virtual technology will be presented in the Biennale. A series of engaging community programmes such as workshops, symposiums, guided tours ,and film screening, etc. will also take place during the exhibition period.
Bottom-up – Community & Social Design
When both our city and its built environment are aging, bottom-up design may be an ideal way to avoid conflict when changes have to be made. But how might they be implemented in reality, and not just for show? How could such an implementation redefine the role of architects and planners? Could bottom-up dialogues be a way to push heritage conservation forward?
Key Exhibits:
The work "#Streetopia" created by Street Reset presents the concept that streets are the fabric of the city and everyday life and invites every street "user" to rethink about the ideal form of "street".
Hong Kong Cleaners DIY Lab, through the work "Cleaner DIY Tools", showcases how cleaners can make practical and durable working tools at their own expense for social good. While praising their creativity and craftsmanship, the challenging situation faced by cleaners should be recognised.
Designed by the Playright Children's Play Association, "Designing Play Space is NOT Child's Play (or is it?)" makes use of stair slides, models, and panels to invite a reconsideration of the concept of "PLAY" through the eyes of children, and thus stimulate conversations between serious professional designers and their playful "inner child".
Co-habitation – Diversity, and Inclusion
Hong Kong takes pride in being an accepting city. But how well do we co-habit with non-mainstream populations, such as the underprivileged, people with disabilities, LGBTQ communities, the elderly, and ethnic minorities?
Key Exhibits:
Is Hong Kong a liveable city for everyone? In the research work "Housing is a Verb – Building Domesticity in Transience" by the Make Room Community uses camping beds and sleeping bags as the main medium to evaluate what the Transitional Housing Scheme has achieved, through the lens of the residents who were moved from Subdivided Units to Transitional Housing projects, thereby promoting the creation of collective resilience among the inadequately housed.
The "Inflatable Chapel" designed by the Napp Studio & Architects is a portable, reusable, personal and spontaneous spiritual space for domestic workers. The work vividly resonates with the policy of the vaccine bubble and social distancing implemented in Hong Kong.
Human Nature Symbiosis – Sustainable Planning
With the global pandemic crisis, cities are less bustling, and more people are moving out to relatively affordable and more liveable areas. This becomes an opportunity to review how planning should be done, which is also an opportunity to rethink the symbiotic relationship between "urban & rural", "contemporary & historical", and "human & nature" to achieve a truly liveable and sustainable way of planning Hong Kong with respect for nature and traditional culture.
Key Exhibits:
The experimental project "Bee Hotel Signage" created collectively by Aron TSANG, Rosalia LEUNG and Outdoor Wildlife Learning Hong Kong (OWLHK) addresses the need to make humans and other beings more equal to make the city more biologically diverse and inclusive.
The key project, called the "A Local Bamboo Experiment", is themed on rural conservation and set up at the North Point Pier. Exhibitor The Common Map has formulated restoration proposals for revitalising the 360-year-old Hakka village of Mui Tsz Lam in Sha Tau Kok. By gathering the knowledge, technology, experience, and creativity of the research team, residents, participating students and volunteers, the work explores the relationship between human and nature, and uses local materials such as bamboo, broken construction materials and plant-based dyes for creating and curating a database of rural resources.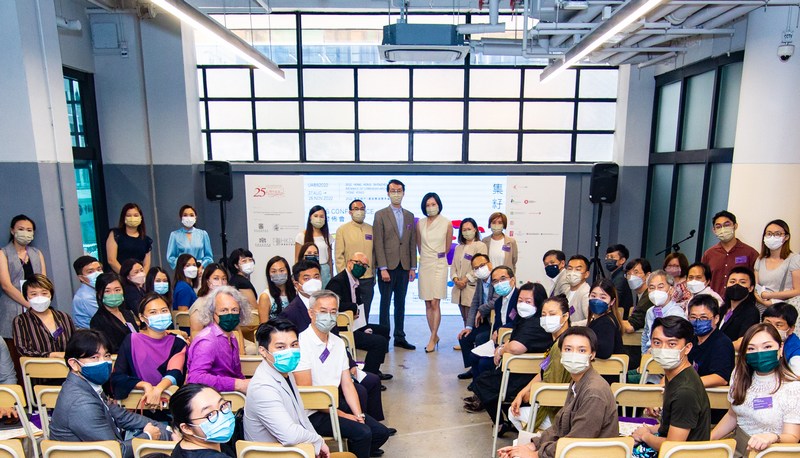 Living Manifesto – Alternative Living & Low Carbon Living
Pursuing a sustainable low-carbon life to protect the environment is the living manifesto of many individuals and even countries. In the face of the global pandemic crisis, single-use disposable items and massive amounts of shipping and packing materials have been widely used for hygiene and personal protection. This prompts us to reflect on how we can continue to challenge the status quo and stay true to our beliefs of living more resilient and sustainable lives.
Key Exhibits:
Exploring urban planning, "WEEDsilience" located at the Star Ferry Pier at Central Pier No. 7 is designed by Ivy WONG Hiu Yan and Benni PONG Yu Lin. By emphasising the resilience of "weeds", which are often associated with negative impressions and overlooked, the exhibitor intends to build up knowledge and experience of urban wildernesses, the unnoticed nature in our everyday life, and explore co-existence with multispecies in a hyper-dense urban landscape.
The exhibit "A Reminder to Look at the Harbour", curated by the creative collective "When in Doubt", has transformed a part of a Star Ferry into a static space for rest, reflection, and immersive urban observation, as well as a space for dialogue, hiking, talks, and salons with spatial and aesthetic enjoyment. (Showcased in Press Conference)
Visit UABB via,
uabbhk.org / facebook.com/uabbhk / instagram.com/uabbhk