Green design is not only about tangible considerations of building performance and energy use. At Aedas, it means an integrated design approach to maximise environmental, socio-economic and cultural sustainability, inducing sustainable values andbenefits to the communities and places that architects design for in real human terms.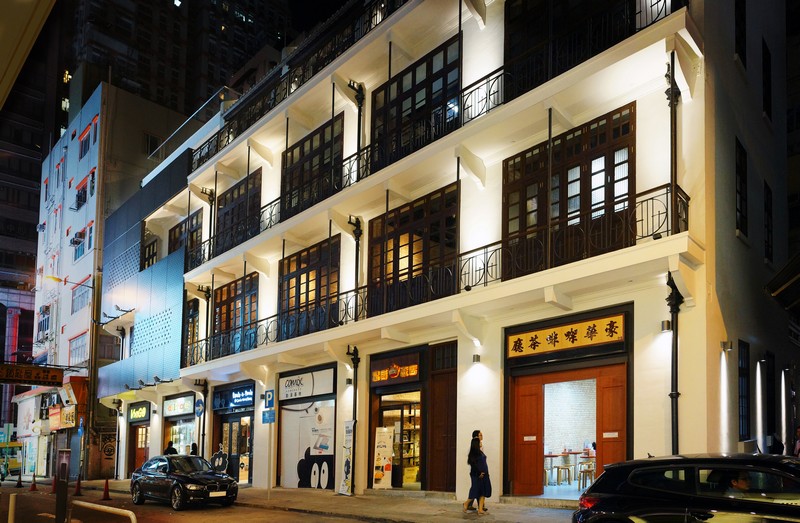 "Doing less damage is not enough," said Dr Benny Chow, Director of Sustainability at Aedas.  The rapid urbanisation in China causes great concerns on the impact of both indoor and outdoor environments in terms of sustaining the ecosystem and safeguarding human health.  To achieve positive developmental force designers must perform comprehensive studies on the local climate and site context in which the projects are located.  Such study is much beneficial in the early design stage.
Aedas has imposed an internal environmental checklist procedure to make sure that all project teams have full awareness and understanding to develop an environmental and sustainability design (ESD) strategy and an action list from concept design, schematic design, detailed design, documentation, tendering, construction, and all the ways through to the post occupancy stage.  For example during the concept design stage, designers will prepare an ESD document together with clients and key members of the design teams.  Research and analysis on local climate, traffic, natural resource availability and renewable energy potential will also be conducted with engineers and consultants from various work streams.
"Integrative design is the Green DNA of Aedas", added Dr Chow. "We integrate various environmental findings into concept design, development of built forms, orientation with regard to sun and wind, as well as exploration of energy efficient options for architectural, structural and MEP design."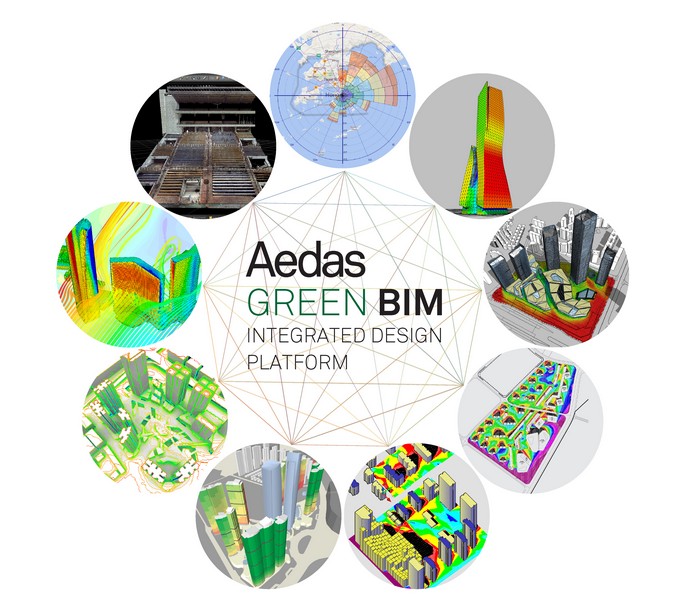 Aedas also has an in-house Green BIM platform to provide designers a full range of climate / performance database and analysis tools to look at design alternatives during the early design stage. It consists of nine packages, namely Climate Analysis, Solar Heat Gain Simulation, Open Space Sunlight Access Simulation, Sunshine Regulation Simulation, Sunshine GFA Optimization, View Vantage™ visual quality analysis tool, Daylight Access Simulation, CFD Wind Environment Simulation and 3D Laser Scan BIM Survey.
"Every project is unique and different in terms of site constraints and design solutions," said Dr Chow.  "Aedas' Green BIM platform provides us an ideal and functional platform to link up sustainable design strategies with building performance." This unique platform serves as the core to support the integrated design approach for all Aedas projects and as a requirement in the internal design review process.
At Aedas, designers consider an energy improvement strategy as an overall process, i.e. to holistically consider about the green system instead of taking individual items into account separately.  Many research studies find that the increased costs of green features / energy efficient measures are balanced by long-term savings.  The initial costs of green features will be paid back over time.  "The earlier the integrated process begins during the design stage, the more savings will be generated," added Dr Chow.
For example, the architect can select a more costly, high performance glazing system for the building envelope for the MEP designer to use a smaller, cheaper heating, ventilation, and air-conditioning system. This allows the building to be more energy efficient at a lower initial cost.
A lot of people believe that green building developments will cost much more compared to the conventional buildings. However, international studies reveal the opposite.  The key goals of sustainable developments are to reduce energy cost and improve indoor environmental quality.  A closer attention will tell you that costs and benefits will be balanced in the long run.  Unfortunately, in most cases people are comparing the green buildings with deluxe finishing and impressive interior design against the minimal code-compliant baseline buildings.
The striking golden bronze dragon wrapping around Hotel Indigo Hong Kong Island roots the building into the culture and traditions of Asia. This extraordinary design by Max Connop, Member of the Board of Aedas International best explains the benefits of the integrated design approach.
Located in a high density urban context of Wan Chai, Hong Kong, the initial massing concept for the hotel was analysed using a solar/lighting programme. The orientation of the principle volume and the shading effect of the neighbouring buildings created a distinct pattern of sun and shade on the elevation. The designer utilised this valuable information to create a unique external shading device to the hotel that would provide selective and intelligent screening only to where the building needs most. The resulting pattern created a distinct sweep around the building, which Aedas expressed through the application of burnished bronze solar fins to the outside of the crisp glazed facade. The resultant form resembled the image of a dragon wrapping the building. "The integrated design approach identified an excellent opportunity for designing a climatic responsive facade concept," concluded Dr Chow.
In addition, double glazed Low-e glass is adopted for the curtain wall of the hotel to minimise solar heat gain, which in turns reduces the need for air conditioning. Although Hong Kong is under sub-tropical climate, natural ventilation can be introduced during spring and autumn. By providing operable windows at lobbies and guest rooms, as well as full width folding doors at the all-day dining venue and tea house, energy used for air conditioning is greatly reduced.
Heritage conservation becomes a key agenda item in urban generation. The Revitalisation Project at Mallory Street/Burrows Street, Wan Chai, designed by Project Design Director Edward Leung, is an excellent project case study to demonstrate how to preserve historic buildings, upgrade them to meet current building regulations, and revitalise them into a community-based art and cultural centre (as concluded from public consultation).
This project retains architectural heritage, revitalises our old district, and adapts to suit viable public use for this generation and the next. Holistic sustainable approaches include (1) adaptation of urban historic infrastructure, include block / lane pattern and traditional street store mix, fabric to sustain harmonious streetscape; (2) salvaging historic components (timber stair, tiled roof, railings, floor tiles), strengthened, and re-assembled for public use; (3) transmitting traditional craftsmanship (brickwork repairs and carpentries), yet teaching new skills to integrate with modern technologies; (4) designing pre-fixtures and collaborating with users to enable fit-out and long term maintenance without disruption of historic fabric; (5) creating a hub for community cultural exchange in a dense urban cityscape.
The design team put a lot of efforts in exercising innovative restoration techniques.  It clearly demonstrated that innovative methods can integrate traditional construction techniques with modern technologies to preserve and upgrade historic buildings so that they comply with contemporary standards and building regulations. For instance, the traditional double-pan double-roll Chinese tiled roof was re-assembled to conceal steel and rainwater gutters so that it comply with modern standards. Modern thermal insulation and a waterproof layer were also placed at the bottom of the roll-tiles and pan-tiles respectively.
Private residence THR 350 on the Hong Kong Island, designed by Ken Wai, Member of the Board of Aedas International, has a sculptural staircase. Laminated glass with energy efficient and printable interlayer is used for both the staircase and skylight. As the staircase is delicately designed with its many diverse curved surfaces, each glass panel was pre-fabricated in the factory before being delivered and installed on site to minimise disturbance on site and to the surrounding.
Besides, the use of bronze anodized aluminium imposed a very stringent and demanding requirement to the contractor as well as the fabrication process. Through the successful implementation of an environmentally sustainable site formation structure, cost was saved and a higher budget for the best finish for the façade was therefore allowed.
Solar heat gain analysis was carried out to inform the design team the strategy on optimizing the building envelope design in the early design stage. The south facade and west facade are mainly cladded with metal panels to reduce heat gain.
Computational fluid dynamics (CFD) technology was also used to evaluate the micro climate of the surrounding urban context.  The design of the building has been optimised to enhance natural ventilation.  The project is located on a sloping site predominated by southwestern summer prevailing wind coming down from the slope.  The study identified that there is a concern about the natural ventilation on the podium level.  The design team then explored different design options to mitigate the issue and came up with a better solution.
Also designed by Ken Wai is the Bravo Group Pazhou Mixed-use Project in Guangzhou. The client envisioned an iconic landmark in the developing central business district that reflects Guangzhou's position as the South China capital of trade and commerce.
Building envelope design is one of the key factors which determine building energy consumption. In Guangzhou, space cooling and lighting consume most energy during the building life cycles. To reduce energy use, the envelope and external shading have been carefully designed to minimise heat gain and maximise daylight penetration.
To reduce the solar heat gain while enhancing the overall facade aesthetics, vertical fins were introduced. The simulation results demonstrate a 20-23% solar heat gain reduction simply with the fins!  Vertical fins are also effective to block low angle sunlight in the early morning and late afternoon so that indoor visual comfort can be maintained.
Wind corridors have also been carefully crafted to enhance the airflow on the pedestrian level.  Wind channels and downdraft effects are estimated with the assistance of CFD technology. Hence, people can enjoy the open space environment with wind comfort in summer that greatly promotes use of outdoor space.
"ViewVantage™, an in-house software package developed by Aedas, greatly enhance view control and quantify the visual quality with a scientific framework", added Dr Chow.  This software identifies valuable viewing object(s) in the vicinity of the development with the inputs from clients, design teams and local site visits, including sea, ocean, mountains, major landmarks, parks or even firework events, etc. It also quantifies the view accessibility index (view value) on every single residential unit / office space towards the targeted valuable viewing object(s). Moreover, it compares the overall view quality performance of various design schemes by integrating all the weighted contributes of view quality index from each marked office units.
Bravo Group Pazhou Mixed-use Project is one of the excellent examples on how the overall visual quality can be fully optimised by the adjustments of disposition and orientation of the towers in early design stage!
With the help of technologies, architects can build beyond green and achieve sustainability goals by using an integrated design approach and applying strategies in the real world settings.