As climate change is acknowledged around the world and countries increasingly seek new solutions that can be applied across both built and natural environments, the new Global Change Institute (GCI) at the University of Queensland's St. Lucia campus in Brisbane places Australia firmly at the forefront of sustainable design and practices.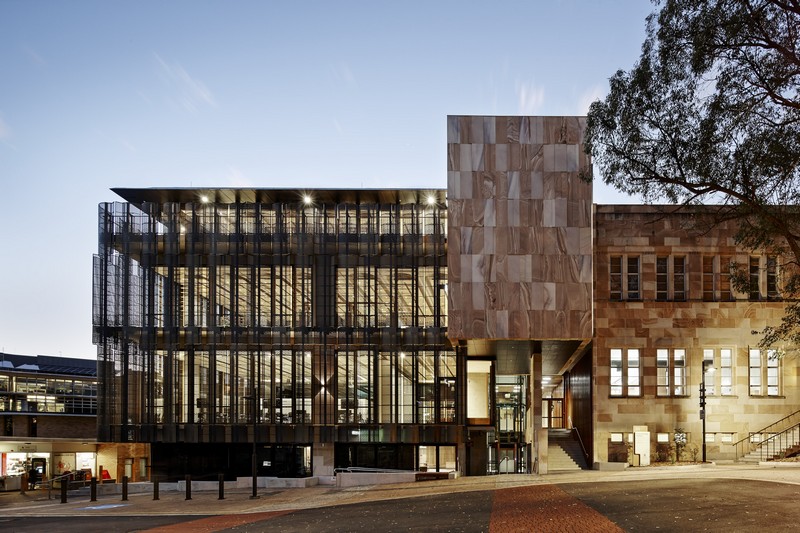 Referred to as a 'Living Building', GCI has been recognised with a Six Star Green Star – Education Design v1 rating from the Green Building Council of Australia. This is the second accolade for the GCI building after it was ranked 34th in a list of the world's 50 most impressive environmentally friendly university buildings.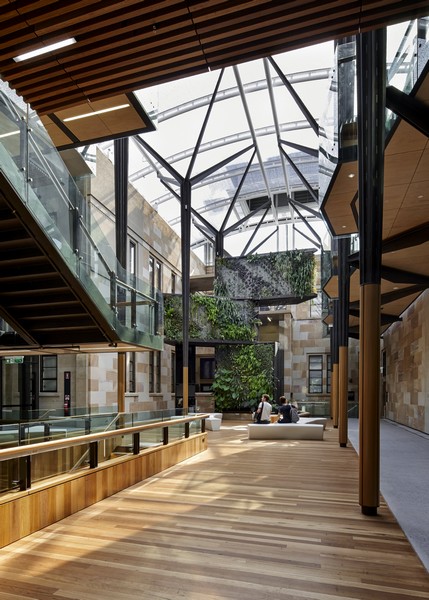 Designed by HASSELL in collaboration with Bligh Tanner, Arup and Medland Metropolis,GCI is a $32 million building that meets the world's most advanced levels of sustainability, demonstrates sustainable technological research and pilots innovative sustainable building solutions, working with the natural environment and operating as a zero-energy and carbon neutral workplace.
HASSELL Principal, Mark Roehrs, who led the design team, said the GCI building and the use of geopolymer concrete embodied new potential for sustainable design and construction. "GCI has presented an opportunity to use an innovative technology that has the potential to revolutionise the construction industry towards a low carbon future."
The building is also a live research site and pilot of innovative sustainable building solutions and University of Queensland aims to use GCI to support the improvement of design and construction techniques allowing for the operation of more efficient buildings in sub-tropical climates.
It is also the first building in the world to utilise cement-free concrete for suspended construction. The application of the geopolymer concrete in the GCI was initiated by Hassell, Wagners and Bligh Tanner and also won top honours at the 2013 BPN Sustainability Awards.
While many of the building's features are unique to GCI, there are also attributes that could be easily implemented into any new structure, such as the use of rainwater in the building, which is a practical example of how GCI is having a positive impact on the environment and moving from a focus on consumption to contribution.
Earth Friendly Concrete
Earth Friendly Concrete (EFC) is a Wagners brand name for their commercial form of geopolymer concrete, which the 33 precast floor beams in the new GCI building are made from and uses a geopolymer precast concrete that replaces cement with fly ash in the mix.
"Geopolymer concrete has an alluring design potential," states Roehrs, "Not only is it a low-carbon alternative to traditional Portland cement, but it is extremely durable and dries to an attractive off-white colour that allowed us to celebrate the use of this innovative product in the building as a visible sculptural component."
Comprising sand, aggregate and a binder that contains ground granulated blast furnace slag, a waste product from steel production, and fly ash, a waste product from coal fired power generation, EFC contains no normal Portland cement. This allows it to have very low CO2 emissions as compared to normal Portland cement-based concrete.
The precast panels with cast in hydronic pipes also play an integral part of the building's low energy and passive cooling modes. As well as being more environmentally friendly, the panels have faster curing times, which also contributed to lowered production costs.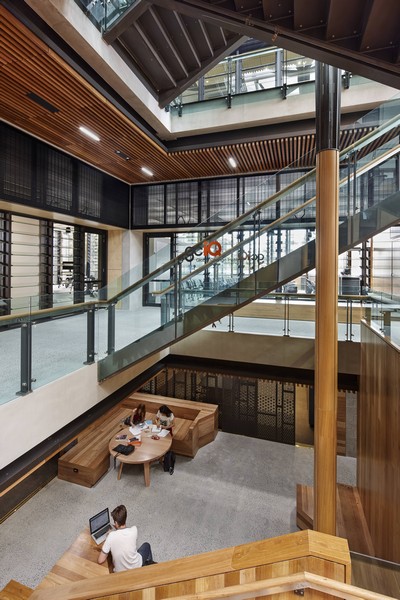 The different chemistry of the binder also means that the suspended geopolymer floor panels experience low shrinkage, low heat of reaction which avoids the possibility of thermal cracking, 30 per cent higher flexural tensile strength than normal concrete, and higher durability than normal concrete.
"We've pushed the geopolymer concrete's properties by exposing the precast panels and making them a key structural design element as well as an integral part of the building's low energy operation," continues Roehrs. "The precast floor panels have internal coils to allow hydronic cooling of the thermal mass at night, to optimise the building's comfort control."
"Geopolymer concrete also saves 7-8 tonnes of CO2 per 10 tonnes of concrete when compared to Portland cement and can be recycled at the end of its life cycle."
"Along with the other sustainable design features in this carbon neutral and zero energy building, geopolymer concrete will potentially contribute towards a low carbon future for design and construction. It's also an excellent example of architects working with engineers to bring about a new product and exploit its design potential."
Prior to the construction of GCI, geopolymer has only been used in trials for ground bearing pavements, masonry blocks and other low level structural applications.
The innovative and pioneering use of geopolymer concrete on the project has been awarded two innovation points in the Green Building Council assessment for Greenstar rating, with the Institute itself a 6 star Green Star registered building.
Heating and cooling
GCI will also be naturally ventilated for most of the year and generate and store all its own power onsite through renewable solar energy sources that are pollution-free. All excess power will also be delivered back to the national grid.
The building features an operable sun shading system that tracks the sun and protects the glass louvres which encourage natural ventilation. The air flows across occupied spaces to the central atrium which acts as the building's lungs, discharging warm air through its thermal chimney. The translucent ETFE atrium roof allows natural light into the interior while insulating from the sun's heat. Optimal natural lighting is supported by environmentally-friendly LED lighting.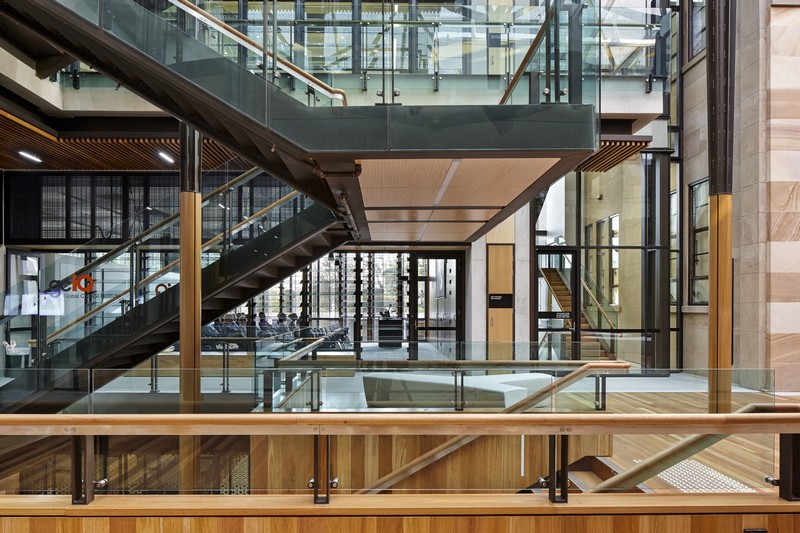 Environmentally conscious material selection
GCI's zero carbon footprint can also be attributed to Hassell's environmentally conscious material selection.
The building recruits an operable sun shading system that tracks the sun's movement and adjusts the building's glass louvres to encourage efficient natural ventilation that is dependent on the time of day.
The air flow encouraged by the tracking louvres then runs through the building's working spaces and is directed to the central atrium, which discharges all warm air through its thermal chimney.
The project's hydronic cooling system is also advanced, with the entire building being cooled with chilled rainwater that is flushed through the exposed sculptural precast floor panels. This water comes from the 60,000 litre rain storage tank that services the hydronic cooling system, as well as the kitchen and shower.
Optimal natural lighting is also supported by environmentally-friendly LED lighting, while a green wall, bush tucker garden and bio-retention basin further add to the building's green credentials.