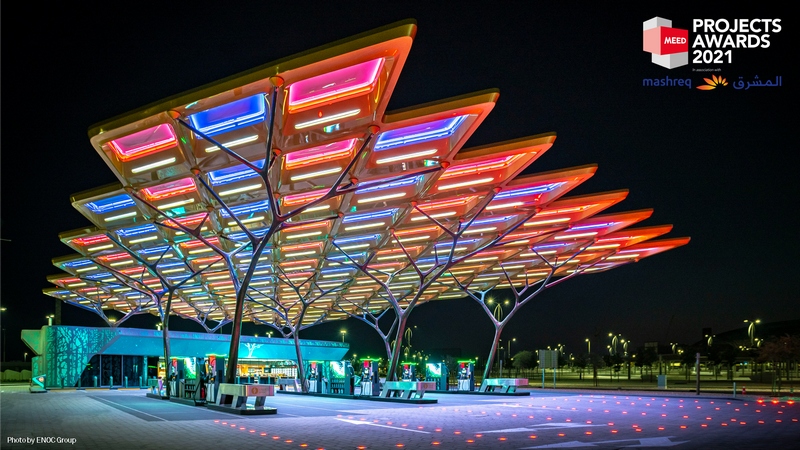 ENOC Future Station wins three awards, MENA Small Project of the Year, Bronze Sustainability Medal and the National Oil and Gas Project of the Year, at the MEED Projects Awards this year.
ENOC Future Station is a Petrol Station of the Future located at the Dubai Expo 2020 Site. With sustainability as its primary goal, the project employs principles from bio-mimicry, designing and producing materials that are modelled on biological entities. The service station received the LEED platinum certification —world's first station to receive such honor —validating its performance on metrics such as energy savings, water efficiency, CO2 emissions, etc.
As a true pioneer in fuel retail, it is also the first station in the region to incorporate an on-grid wind turbine for power generation and carbon fibre in the construction of its canopy. An approach which traffics into the past as well as the future, the design nods at nature as well as local historical context, by taking the Ghaf Tree as the Canopy's inspiration. As an endemic species, the Ghaf is a symbol of sustainability, linking the past to the present and providing a perfect basis for design of an innovative, futuristic and sustainable petrol station.
MEED Projects Awards celebrates the best that the MENA projects industry has to offer. MEED's aim is to support the development of the region by supporting this crucially important sector.