(8 August 2016, Hong Kong) Despite recent signs of slowing office rents and elevated use of incentives and concessions to both office and residential tenants in New York, the Big Apple now ranks as the world's most expensive city in which to accommodate staff. This is well ahead of Hong Kong and London and almost twice the price of nearest US rival San Francisco, according to the Savills Live-Work Index which compares total housing and office rental costs on a per capita basis in leading world cities.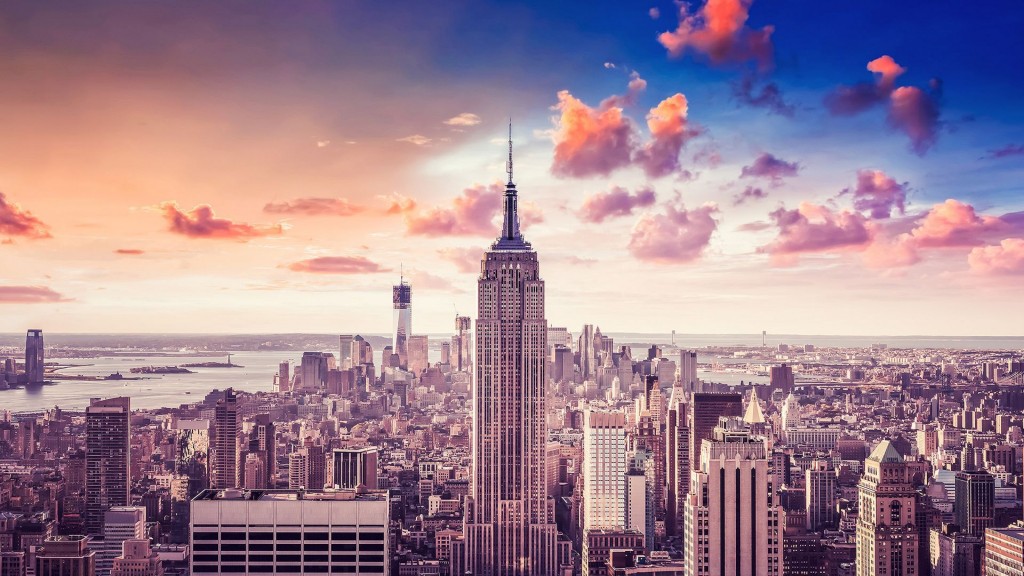 For the last two and a half years, the international real estate advisor says, London has held top spot, reflecting the strength of its economy and high demand for space from a wide variety of occupiers, but the impact of currency falls post EU referendum has made London very much more competitive on the world stage, reducing occupation costs in dollar terms by -11 per cent since the beginning of 2016.
Weakening financial sector office rents are behind local currency live-work costs levelling out in London during the first half of the year, but this translates into a -11 per cent reduction in total occupation costs when dollar – sterling currency movements are taken into account since December 2015.
Meanwhile, rents for both residential and office properties in New York rose slightly in the early part of the year and, although office rental growth is now weakening, overall accommodation costs, in local currency, rose 2 per cent in H1.  The total annual cost per employee of living and working accommodation in New York is now put at $1
14,010 by Savills research.  Hong Kong is just ahead of London's $100,141 at $100,984.
Currency moves change global competitiveness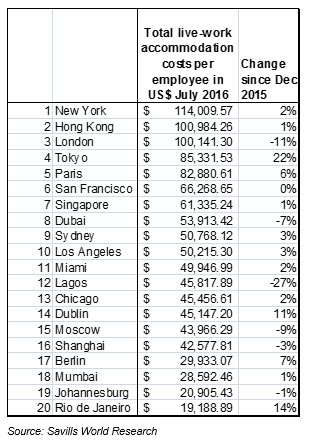 The swings in world currencies since Britain's vote to leave the EU have helped to change an already dynamic range of market movements across cities to an extremely varied one. Tokyo saw the biggest increase in dollar terms as rent rises, particularly in prime residential and creative office sectors, were amplified by significant strengthening in the Yen.
Even greater amplification has been seen in Rio de Janeiro where challenging economic conditions have damaged real estate occupier demand and rent levels but been accompanied, perhaps surprisingly, by strength in the Real. This means that overall Live-work costs have fallen by -5 per cent in local currency but increased by 14 per cent in dollar terms.
At the other extreme, Lagos has seen both a downward movement in office rents (-20%) and the effect of currency devaluation by the government (-30%). The amplification effect here significantly improves the city's affordability for dollar-denominated companies.
European story
Further down the world city league table of costs, the European cities have shown mostly modest rental growth in local currencies but the strengthening of the Euro since December has made them slightly more expensive in dollar terms.
The exception is Dublin which has seen an overall live-work increase of 6 per cent in Euro terms, fuelled primarily by a big bounce in office rents from low post-GFC levels, and especially in the creative/tech sector. This compares to a 3 rent rise in Berlin and 1 per cent in Paris.
Despite their small size, both Berlin and Dublin look very good value to businesses looking to locate within a large and prosperous economic region.  Annual accommodation costs in these cities are among the lowest in the Savills live-work index and comparable to Mumbai and Lagos.
Oil price impact
Dubai, Lagos and Moscow have all seen rent falls in both office and residential accommodation as a result of falling occupier demand in economies closely affected by oil price and businesses related to oil.  Real estate markets in Dubai and Moscow are denominated in US dollars or related currencies so have not been affected by currency movements against the dollar. By contrast, Lagos now looks 27 per cent more affordable for international occupiers.
Yolande Barnes, director, Savills world research comments: "Office-based businesses operating in major world cities will spend around one-third of their total operating costs on accommodation through a combination of commercial rents, paid directly to landlords, and demands on salaries created by the cost of employees' living accommodation. Fluctuations in these costs will therefore have a significant bearing on how competitive a city is to employers."