(11 April 2016, Hong Kong) The built environment sector must do more to make real estate assets work harder to stimulate sustainable growth.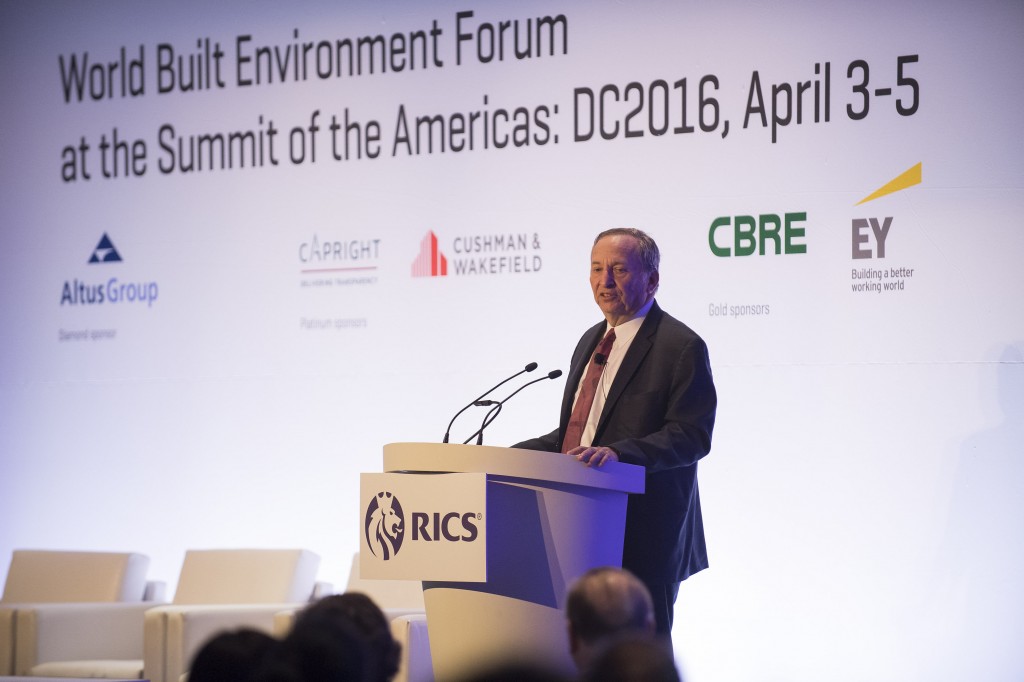 This was the message from Dr. Lawrence Summers, former United States Secretary of the Treasury under US President Bill Clinton and former chair of President Barack Obama's National Council of Economic Advisers. He delivered the opening address at the first RICS World Built Environment Forum* in Washington DC on 4 April 2016.
Dr. Summers underlined the built environment's central role in ensuring sustainable growth. He expected historically low interest rates and high levels of saving rates, combined with low rates of investment to continue for some time. But "we are underinvesting in energy efficiency" he says despite the very significant threat posed by climate change. The nations represented at last year's climate summit in Paris "did more than expected" but not yet enough, says Dr. Summers.
Dr. Summers argued that governments were "missing an opportunity" to invest in much-needed infrastructure renewal. He cited political and investor doubts that projects will be delivered on time and within budget as an important factor in underinvestment. This is a key area where built environment sector professionals could make a significant contribution.
He also pointed out that sector professionals are well-positioned to boost market confidence, trust and transparency through professional standards, financial innovation and appropriate levels of regulation as long as they are able to take a longer-term view.
Given the importance of investment capital flows, Dr. Summers expects future inter-governmental trade agreements to be less about access to markets and more about responsible business practices, notably transparency, ethics, and measures against corruption and money laundering.
RICS Chief Executive Officer, Sean Tompkins says that Dr. Summers struck the right chord by challenging the built environment sector to think of the broader responsibility to the global economy.
"Dr. Summers touched on key issues that are crucial to our sector and our profession. Transparency, ethics, and sustainability are all priorities for RICS as a leader and regulator of professionals around the world. We are working with others to develop international standards to promote market transparency and ethics for the property sector. Dr. Summers threw down the gauntlet for us to work in the interest of more sustainable growth in our sector. We are eager to pick up that gauntlet." RICS Chief Executive Officer, Sean Tompkins
The RICS Economics team has analysed a number of key themes that emerged from Dr. Summers' remarks and have crafted a response on what this means for professionals and the sector more broadly. Read RICS Senior Economist Jeff Matsu's response here.