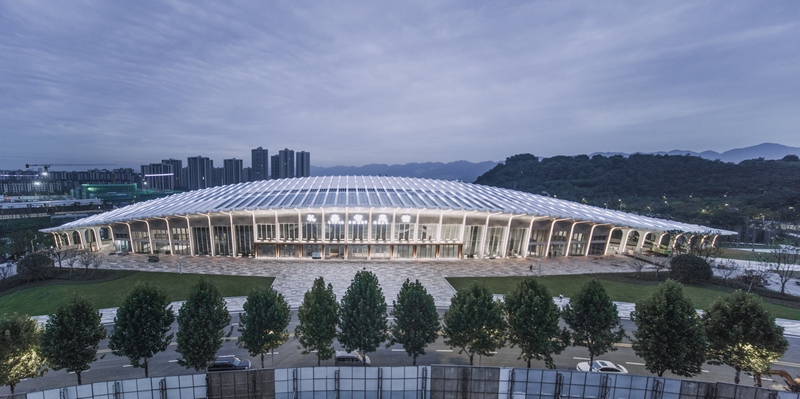 Sitting at the Lijia Intelligent Park in the municipality of Chongqing, the 15,000 square meters Lijia Smart Hall is expected to become a central stage for the annual Smart China Expo, a professional event to encourage global exchanges of smart technologies and smart industry.Envisioning an iconic architecture piece that both lives up to its role and is fully integrated with surrounding lavish vegetation, the Gensler team developed the design focusing on eight principles—simplicity, relevance, timeless, distinction, scalability, technology, experience, and connectivity.
Inspired by the ambient of Chongqing—a city well-known for its hilly landscape, mist experience, and two major rivers running through, the whole architecture geometry features an organic and fluid style which coexists harmoniously with its environment.
One essential element contributing to the architecture style is Y-bar, a design system allowing flexibility to be adopted for various architecture elements including structure, roofing panels, ventilation systems, façade glazing, sky lights, light fixtures, and drainage system, offering a consistent aesthetic appeal throughout and lifting the large volume program in a graceful way.
Such a design language is retained in interior design, which is also done by Gensler. While following a more traditional Chinese style as requested by the client, the interior design team manages to create a holistic impression by weaving the Y-bar element into interior wall and center core design. Unique landscape of Chongqing is encoded into details such as gate patterns and decorative glass.To program the geometrically complex architecture form in a highly efficient and accurate way, the architecture team introduces customized parametric design. Instead of updating each design element individually by a designer, parametric algorithms would automatically update all associated updates whenever a project-specific value is modified. This enables a huge advantage in standardizing building components during fabrication and construction.
The team furthers its efforts in innovation by applying Ultra-High Performance Concrete (UHPC) for façade cladding. The sustainable and flexible material allows the team to control the finish to a rustic white sculptural quality, which minimizes building heat gain via solar radiation and reduces energy demand on HVAC system to keep the building cool during summer season.
Skylight and high glazing ratio bring plentiful natural light into the building throughout the day, creating a transparent space that is visually connected to the natural setting while reducing operation energy consumption. The well-lit pre-function zone serves as a pleasant relief for visitors between different sessions of events and forums.
Looking from afar, Lijia Smart Hall rests like a cloud by the lakeside in the park. Coincidently, the name of the lake is Baiyun, which means white cloud in Chinese. Instead of a gigantic composition towering over its environment, Gensler's design for Lijia Smart Hall achieved a real organic architecture that celebrates and is in conversation with nature.
Architecture: Gensler
Interior: Gensler
Client: Chongqing Lian Iiang New Area Development & Investment Group
Constructed Area: 12,500㎡
Site Area: 20,000㎡
Location: Chongqing, China
Photography: Blackstation