(1 September 2017, Hong Kong) The Construction Industry Council (CIC) today released the Guidelines on Planking Arrangement for Providing Working Platforms on Bamboo Scaffolds (Version 2) (Guidelines). The requirements for working platforms on bamboo scaffolds are updated with good practices to further strengthen and improve work safety on bamboo scaffolds.
(中文简体版请按此)
Several key areas are revised in the Guidelines:
(a) The definition of "closely spaced bamboo scaffold" is added;
(b) The requirements for working platforms on bamboo scaffold, roles and responsibilities of main contractors and subcontractors are updated; and
(c) Illustrations of "Closely Spaced Bamboo Scaffold and Suggested Erection Standard", "Proper Working Platform for Closely Spaced Bamboo Scaffold", "Details of Ties/Struts Arrangement of Closely Spaced Bamboo Scaffold" and "Access and Egress Openings from the Structure to Closely Spaced Bamboo Scaffold, Erection of Additional Members as Foot-holds and Scaffolding Access and Egress Openings in Off-set Pattern" are added to further supplement the updated content.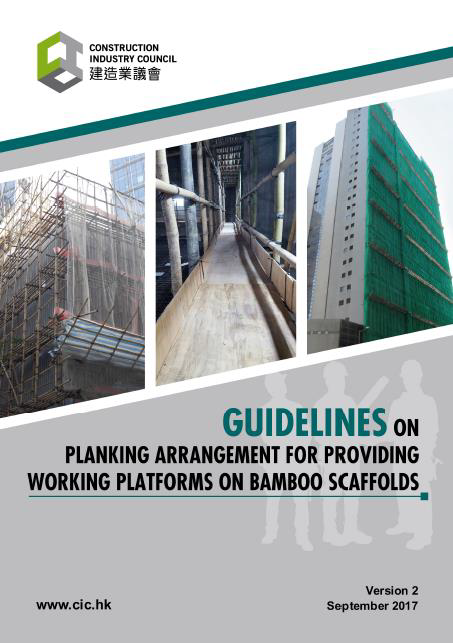 In line with the new requirements of planking arrangement for providing working platforms on bamboo scaffolds, the Labour Department (LD) also revised and issued today its Code of Practice for Bamboo Scaffolding Safety (CoP) which provides construction contractors with practical guidance on how to comply with the requirements set out in the occupational safety and health legislation regarding safety at work involving the erection, alteration, dismantling and use of bamboo scaffolds so as to significantly reduce the risk of falling while workers are working on the scaffolds. LD will make reference to the Guidelines when enforcing safety legislation relating to the use of bamboo scaffolds for work-at-height.
"Safety of construction personnel is of paramount importance to our industry. CIC and relevant industry stakeholders have been working closely to review and set out good practices to further enhance work safety on bamboo scaffolds, including the use of closely spaced bamboo scaffolds ." Ir Albert CHENG, Executive Director of CIC said.
"With the adoption of closely spaced bamboo scaffold design, the distance between ledgers for each scaffold layer will be reduced. This helps reduce the risk of workers falling from height when laying planking on or removing planking from bamboo scaffolds." Ms. Ada FUNG, Chairperson of the Committee on Construction Safety of CIC added.
The Guidelines on Planking Arrangement for Providing Working Platforms on Bamboo Scaffolds (Version 2) can be download from CIC's website: www.cic.hk