(9 January 2018, Bangkok) LED Expo Thailand 2018 is all set for its new edition on LED technology, products & lighting. Organized jointly by MEX Exhibition Pvt. Ltd. and IMPACT Exhibition Management Co., Ltd., the Expo is scheduled from 10-12 May 2018 at Challenger 1, IMPACT Exhibition Center, Bangkok, Thailand. It is a dynamic hub for LED and lighting companies to assemble, promote, discuss, transact, partner and gain insights on neighboring markets. Each year the Show brings innovative, engaging and informative additions for its exhibitors to showcase under a specific segment and attract focused buyers.
This time, in LED Expo, hundreds of architectural and interior design companies; construction companies; electricity boards; government agencies and state enterprises; industrial estates and manufacturing companies; LED and lighting dealers/distributors/importers/manufacturers; LEED certifiers; lighting specifiers; etc., will be coming together to find out latest information regarding the most updated innovations in the LED world. Besides attending exhibition, the participants would get the opportunity to attend International LED Summit, which the organizers have decided to take to the next level with iLight Connect.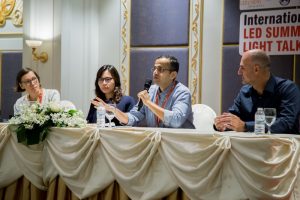 iLIGHT CONNECT: INTERNATIONAL LED SUMMIT
The theme for this year's Summit is iLight Connect that recognizes the current and emerging lighting control protocols and incredible design possibilities, while reinforcing the increasing need for the players in the design, engineering and building professions to be connected in terms of inter-disciplinary communication.
The Summit will be based on case studies, discussions over the latest trends, innovations and technology in both interior and exterior rifts. A panel discussion will host the influences and issues that designers, owners and operators come across when it comes to implementing the LED technology.
Discrete speakers will throw some light on the opportunities that LED provide us today which we did not have in past. The main focus will be on 'Future of LED' along with other contemporary issues such as smart lighting and loT. All these are grouped under four separate heads to be addressed under four different sessions:
IoT and the Future of Lighting
Smart lighting – opportunities and constraints
Lighting festivals – beyond the wow factor
Hotel value creation through lighting design
Distinguished Speakers:
Each invited speaker has been selected by IAC based on their expertise, practical experience and reputation in their particular field of professional lighting design, education or research.
Bill Bensley, Bensley Architecture Interior Design Landscape, Bangkok/Bali
Prof. Maria Joao Pinto Coelho, Lisbon, Portugal
Lear Hsieh, Principal of MS Design and President of CLDA, Taiwan
Dr. Acharawan Chutarat, BioArchitek/KMUTT
Johan Moritz, Malmo, Sweden
Kjell Hult, Alingsås, Sweden
Arjan de Boer, Singapore
Martin Klaasen, Martin Klaasen Lighting Design, Singapore/Australia
Presentations in the Summit will be of the interest to delegates from various facets including architects; interior designers; urban planners; city officials; property developers; government agencies; operators and owners; engineers; representatives of design/engineering associations; and many more from the lighting industry.
For more details, please contact Ms. Panvisut Buranakarn at +66 (0) 2833-5328, Email:
[email protected]. Visit the website at www.ledexpothailand.com or,
get in touch via the official line account: @ledexpo.