What are the common themes in the new wave of hotels sitting on today's drawing boards for 2020 delivery? With the International Air Transport Association predicting air travel to double to 7.2 billion journeys by 2035, discerning travellers on the rise and home stay experiences receiving greater billing, forecasting the direction that future hotels are likely to take is a complex issue.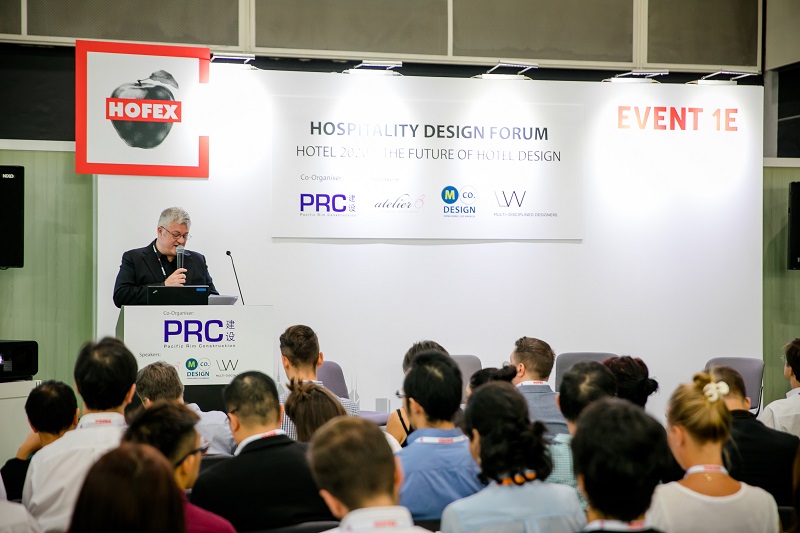 As curators of Asia Pacific's design dialogue, ROF Media recently brought together three key innovators from the hospitality design sector to share their insights into projects currently on their drawing boards scheduled for completion by 2020.
Held in conjunction with HOFEX, the seminar drew a close-knit and engaged crowd of over 60 professionals and enthusiasts keen to learn about the mixture of elements, applications and considerations now being employed for future use.
Pending the conclusion of each speaker's presentation and an on stage discussion hosted by ROF Editor and Publisher Mike Staley, eight common themes running within the practice of each designer and their studios were identified. Delivered through both the tangible and intangible, these themes are ones predicted to exist in future hotels, regardless of the length or cost of a guest stay. While all are vastly different in terms of application and fruition, all seek to surpass guest satisfaction and forge a reputation for a hotel that is not just an address, but a distinctive lifestyle brand and experience.
NGO PARTNERSHIPS, THE NEW PARTNERS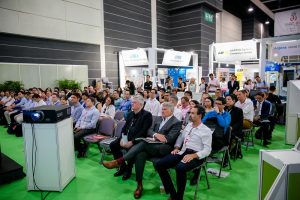 Operating on new sites and within different cultures, there were calls to work alongside non-government organisations. While previously developers and designers have placed emphasis on forging connections with stakeholders backed by jurisdiction and monetary power, the NGO exists as a body to receive equal, if not greater consideration. Referencing his work on a series of upcoming eco-resorts in Sri Lanka, Myklebust explained: "Through partnering with those already embedded within the community, existing connections can be leveraged, philanthropic programs executed and returns to those who need it increased – it is profit driven by passion and meaning."
A RETURN TO SIMPLICITY & AN AUTHENTICITY THAT SATISFIES
Exploring the age-old mantra of good style being eternal, Battisby noted that "We must look back to look forward", particularly with greater emphasis being given to real comfort. The 2020 hotel, it seems, marks a return to simplicity – an approach best found in mid-century and Scandinavian design and similar to the Danish ritual of the hygge – the concept of enjoying life's simple pleasures graciously in the company of friends and family. These hotels are being designed as a place to provide people with a break away from their own home and the stresses of everyday life.
FUTURE PALETTES & MATERIALS
Referencing Isle Crawford reflecting upon her Cathay Pacific lounges, Battisby reasoned that while previously there was a tendency to think of luxury "as the abstract applied in broad strokes", this approach fails to cater to human need, and does not in reality live up to the expectations derived from the artists' impression.. The new palette for hospitality spaces however takes its cue from colour, shape and texture and the muted colours of Scandinavian design. In 2020 and beyond, expect aged introductions of colour, matt finishes and flowing feminine shapes.
SEAMLESS CONNECTION
Say goodbye to remote controls adorned with buttons that confuse and the bother of looking up codes for connections, control access and more. The IT within the 2020 hotel is set for seamless flow. As best summarised by Bourquin, "Great technology will always be present, although now it is visible in limited proportions."
SPACES OF FUNCTION & CONNECTION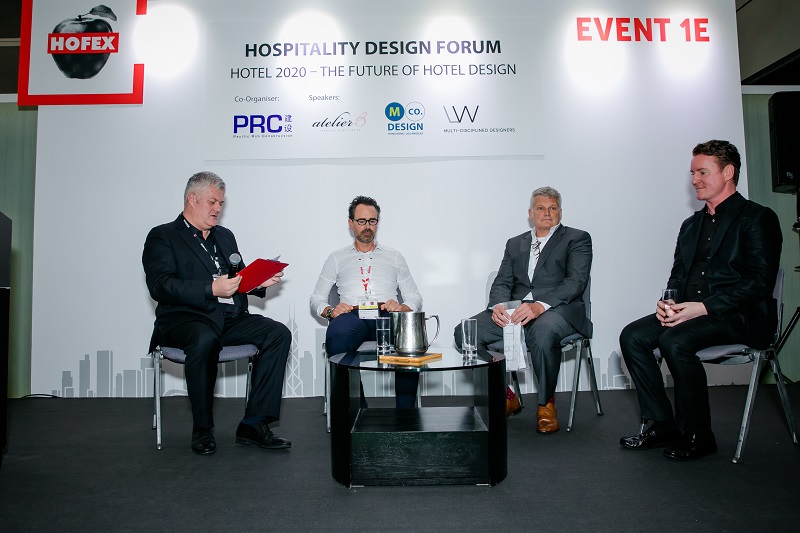 Whether it's a lobby or a function room, over segregating spaces according to specific use, the 2020 hotel is being created to contain public spaces that overlap and blur boundaries. The lobby transitions from being a place of administration to a social space, one possibly coupled with a boutique bar and placed elsewhere in the hotel, rather than the typical entrance.
THE BED
Expect bedding to change in the hotel rooms of 2020. No longer dependant upon classic configurations and the ingrained wants of previous travel parties, it's not just about doubles, queens or kings. In a nod to the dormitories of old, bunk beds will make a triumphant return, subsequently providing families and larger parties with greater economical choice. Look out for capsule accommodation outside the confines of the capsule hotel.
THE NEW CONCIERGE
Battisby predicts that we can expect traditional concierge to be transformed to a curated and edited experience – one not bound to the front desk. Referencing the LM100 initiative put forth by Le Méridien, international shapers from the worlds of art, architecture, cuisine, design and fashion, will be the curators of the new guest experience.
SUSTAINABLY SOURCED AMENITIES
Offering non-descript and mass produced products to guests is out, while menus and amenities sourced locally and from artisanal brands are in. Think mini bars filled with varietals from local vineyards, cheeses from regional dairies and more. In the bathroom, look forward to soaps, shampoos and creams packed with natural benefits rather than synthetic chemicals.
---
"Scott Myklebust, Founding Principal and Design Director, M Co Design Scott Myklebust has over 23 years of international experience in designing large scale mixed-use, entertainment, and hospitality projects. Committed to uniquely conceived and crafted projects, Myklebust's hands-on approach is reflected in numerous developments, including the award-winning Bellagio Resort Hotel in Las Vegas. He is currently engaged in designing several hospitality initiatives in China, Sri Lanka and Myanmar."
"Frederic Bourquin, Director, Atelier B Before establishing Atelier B in 1997, Frederic Bourquin worked for a number of international firms both in Europe and Hong Kong. Bourquin and his team currently create and implement luxury projects across Asia, Europe and America, striving to deliver unique solutions to those seeking a highly intimate and personal experience."
"Adrian Battisby, Associate Director, LW Interiors Hong Kong With over twenty years design experience in hospitality projects in the United Kingdom, the Middle East and Asia, Adrian Battisby currently leads LW Hong Kong as Associate Director, where he is charged with overseeing the firm's design footprint across the APAC region. Battisby has worked with some of the world's most iconic hospitality brands, including Hyatt, IHG, Accor Fairmont, Emirates Airlines, Marriott Starwood, Rotana, Hilton and Four Seasons."