(25 October 2022, Dubai) International multidisciplinary engineering consultancy Cundall, has designed a first-of-its-kind indoor rollercoaster that has been awarded the Guinness World Record for the fastest vertical launch. The Storm sees riders hurtling indoors at a top speed of 77km per hour along a 670-metre track that twists throughout the building.
Standing 50 metres tall, The Storm is a feat of engineering excellence, that pushes the boundaries of all aspects of engineering design. Both the primary structure and the track itself are inter-connected, integrating the building and the rollercoaster, which required a level of precision far beyond regular construction. As the Lead Design Consultants, Cundall was challenged to solve many unique geometric challenges through applied digital engineering tools.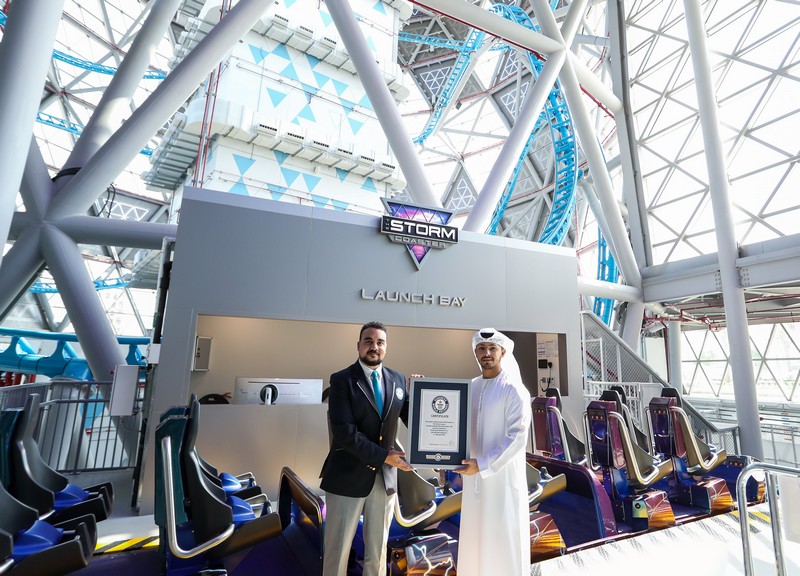 Commenting on the design Calum Perey, Principal Engineer said:
"We used extensive parametric modelling across all disciplines to optimise the building design. By integrating models covering multiple disciplines, we were able to create an efficient building focused on maximising guest experience. Parametric models were used to optimise the design, reducing both cost and embodied carbon, position geometry in non-traditional spaces, interface 3D models across multiple software platforms and architecturally shape the building whilst adhering to specific ride requirements."
Innovative building service solutions include a specialised power system to propel the coaster 50 metres vertically in 5 seconds with a vertical magnetic launch system. Over 4km of LED's were programmed to create a customisable thematic show, synced with the coaster.
Lee French, Partner and Operations Director MENA at Cundall commented:
"This is a unique and ambitious project in many ways and an extremely exciting one from a construction, theming, and end user experience perspective. This iconic project pushed us to truly challenge ourselves and showcase the power of digital engineering, creating a world-first for Emaar Entertainment."
Cundall worked in close collaboration with Intamin, Thinkwell, Holovis, JLL and ALEC to make this record-breaking project a success.
For more information about Cundall, please go to www.cundall.com.