23 March 2016 (Hong Kong) – Knight Frank and Holdways have published the latest China Retail Property Market Watch 2H 2015 report.  In 2015, the total value of retail sales in China reached RMB30.1 trillion.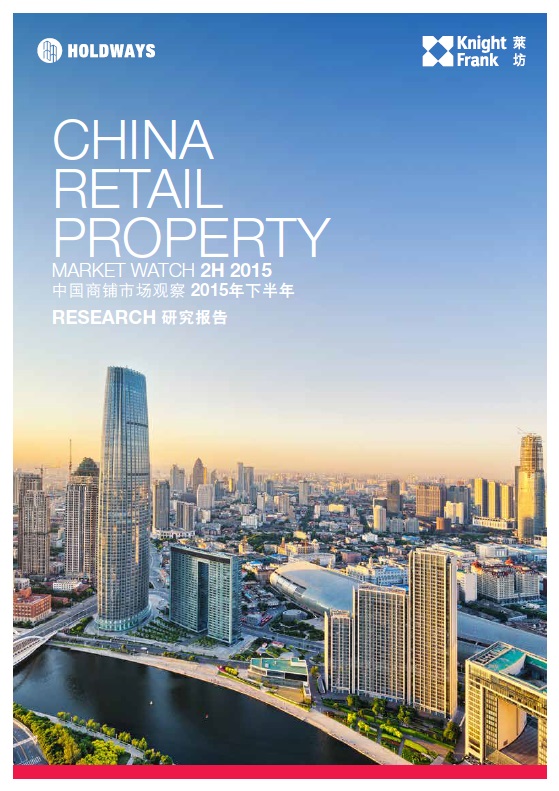 During the second half of 2015, Beijing recorded the highest retail sales value among China's major cities, followed by Shanghai. Meanwhile, retail sales in Hangzhou grew at the fastest pace (23.5% year on year), followed by Chengdu (19.1%) and Shanghai (15.2%).
High-end and luxury retailers remained cautious in China's retail market, amidst the country's slowing economy, the ongoing anti-corruption policy, the impact of online sales and increasing overseas spending by China's middle class.
Facing increasing challenges from e-commerce, traditional bricks-and-mortar retailers are adding experimental elements to their centres, transitioning from traditional models.
Looking ahead,David Ji, Director, Head of Research & Consultancy of Greater China at Knight Frank expects light luxury, fast fashion and other mid-tier retailers continue to enter or expand in China, while high-end brands will focus on adjusting their store networks. Rents are expected to drop with many shopping centres coming online. In the coming year, shopping centre supply will remain abundant in tier-one cities, particularly in emerging and non-core areas, such as the Hongqiao CBD in Shanghai and the Baoan, Longgang and Longhua Districts in Shenzhen. In second-tier cities, a massive amount of new supply is expected to come online in both core and emerging retail districts. Downward rental adjustments are expected in both first-tier and major second-tier cities as a result.