Located within Beijing's 2nd Ring Road at 2 Xinyuan Nanlu, the Yan Club in the Kunlun Hotel, opened in the spring and is already attracting an international 'in crowd' of the capital's young elite, with the majority of its customers being entrepreneurs, executives,  celebrities and artists. 
Designed by Bilkey Llinas Design (BLD) and hotelier, noted Chinese author Mr Lui, also known as Hai Yan, the Yan Club was constructed within the rear gardens of the Kunlun Hotel in an area of the city with few open gardens. Therefore a decision was made to find a way to better appreciate and utilize the unique back-yard space that existed on the recently renovated hotel property. The Yan Club was built to meander along the garden, not to supplant it, but to find a way to better appreciate the unique outdoor space.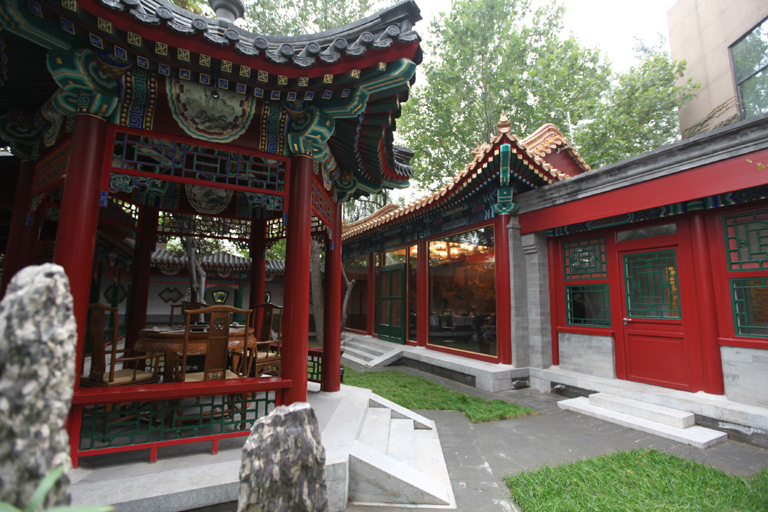 "Working with Mr Lui was an exceptional and rewarding experience," Says Oscar Llinas, principal and co-founder of Bilkey Llinas Design. "Mr Lui is a person who thinks outside the envelope and we were given carte blanche to interpret his vision for the Yan Club combining his concepts and ideas with our creative knowledge and experience to deliver a venue that brings Beijing's nightlife to the next level of luxury and entertainment."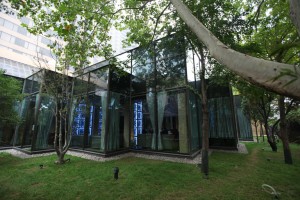 The eponymous club is also a play on words, evoking not just the owner's name but also the connection with the stonework used throughout the club (having the same Chinese character as Yan's name) and formed part of the design foundation for BLD's sensitive and inspiring design.  
Entering the Yan Club conjures the impression of venturing into a luxurious enchanted garden.   
The more than 20 separate spaces form a maze of luxurious VIP rooms and intimate lounge areas which include private lounges and semi private booths, al fresco garden terraces and the open bar areas where a band plays live music.  Large windows face onto the gardens and many of the spaces open with glass French doors.  Yan Club is a series of different experiences, all pulled together with the indoor-outdoor magical garden theme.   
"We wanted the Yan Club to be full of surprises, so we used classical Chinese elements in an unexpected way, stated Llinas. "Examples include the chandeliers at the entrance which are shaped like traditional Chinese paper lanterns, but they are made of crystal to add unexpected 'bling'. Many of the walls throughout are covered with cast concrete moulded tiles. The pattern is a traditional Chinese Buddhist pattern – however, the tiles are applied irregularly to give more of a rustic, earthy feeling."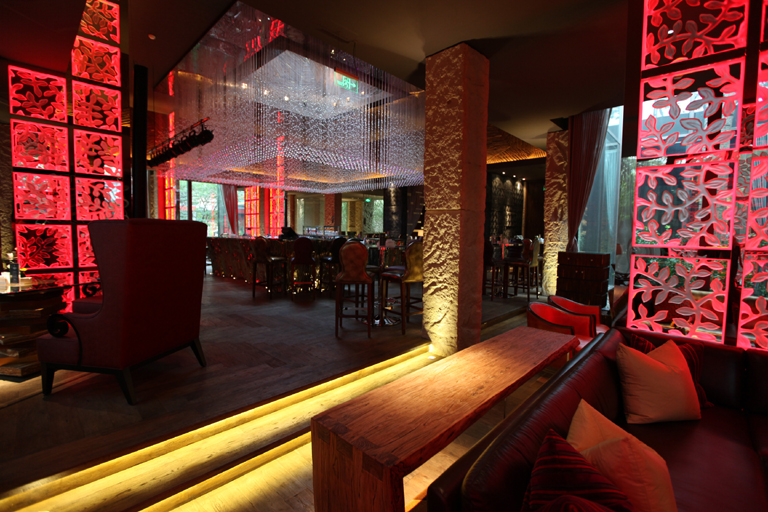 "There are also Xian style terracotta warriors but in bright red for an unexpected twist. Traditional Chinese round-back chairs but manufactured in chrome with black and white spotted cow skin for the seat. Bamboo has long been appreciated in Chinese art, so we created rough wooden plank walls with open light troughs to mimic random stalks of bamboo. These all draw upon Chinese traditional elements, but are done in a modern and playful way." 
BLD expanded the enchanted theme by enhancing the references to nature with motifs throughout the club, represented in modern materials and which are exemplified in the magnificent central bar supported by a golden tree trunk with a multitude of fibre-optic light crystals overhead representing the firmament of the night sky.  Organic shapes and patterns in conjunction with rough masonry finishes are used to bring natural elements to the indoor spaces.  BLD also used untreated wooden plank walls with light troughs emitting shafts of light in random directions to conjure up the imagery of stalks of bamboo in a forest.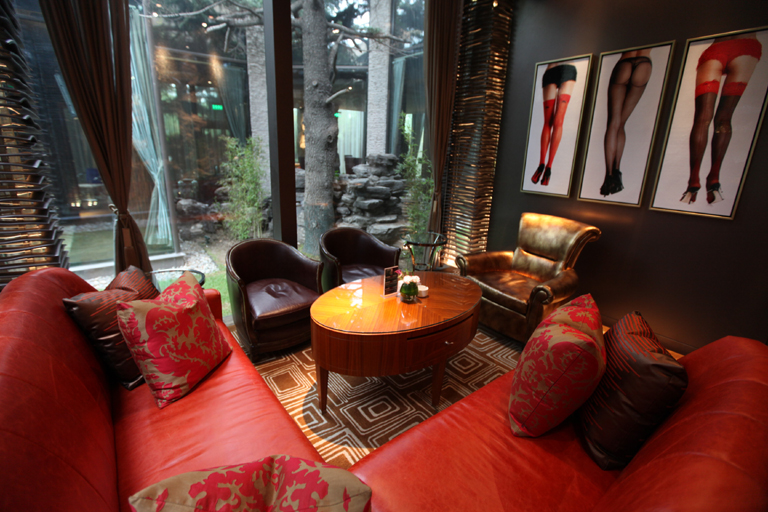 A series of suggestive pictures exhibiting women's backsides are found throughout the club. "The Yan Club is a nightclub entertainment venue, so we wanted to have a sense of sexy, edgy playfulness. We appreciated the unexpected focus of the photos – instead of a full body image, zeroing in on the backsides just adds a charming, unique twist that makes the image more playful, pop art and less porn," laughs Llinas.
There are so many unique spaces in Yan Club. Clearly a decision was made to make this large space more intimate by dividing it. Instead of one big space that has been divided, the Yan Club is a series of interconnected, high-ceilinged, large glass boxes. This architecture creates a pathway of unique spaces that together create a larger club. There was an overriding reason for the space which can accommodate over 300 patrons, to be created with intimate spaces.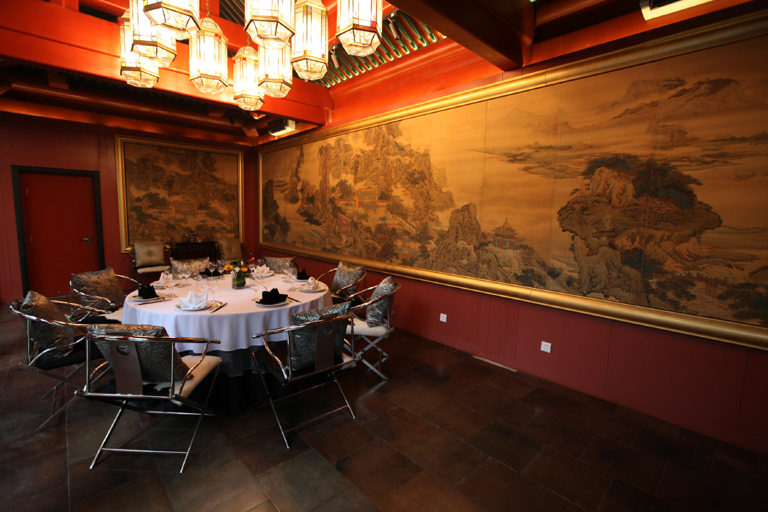 "Privacy is a very important aspect of design trends in China today – from spas, to restaurants, Chinese clients like private spaces. Privacy has become synonymous with VIP, exclusivity and luxury. This aspect of the design helps to attract the desired clientele." 
"The garden itself creates a unique opportunity. The building wraps along the garden, creating a meandering interior space which naturally gives opportunities to create intimate nooks along the path.  This also fits with the enchanted garden theme of the Yan Club. As a visitor meanders through the many unique spaces of the Yan Club, they come across unexpected elements of the design, giving the clientele the opportunity to "stop and smell the roses" along the way."
The club's design juxtaposes East and West, adding to the guest's sense of adventure. Traditional Chinese round-backed armchairs and Xi'an terracotta warriors mix with over-scaled sumptuous European embossed and embroidered leather armchairs.  The furnishings are luxurious and comfortable, playfully contrasting with the undressed natural finishes. Many of the seat designs are Euro-Western influenced incorporating traditional tufted leather European patterned fabrics and over-scaled sumptuous European embossed and embroidered leather armchairs. There are also Italian/French style tufted fabric wall panels and large wine racks used as decorative space dividers.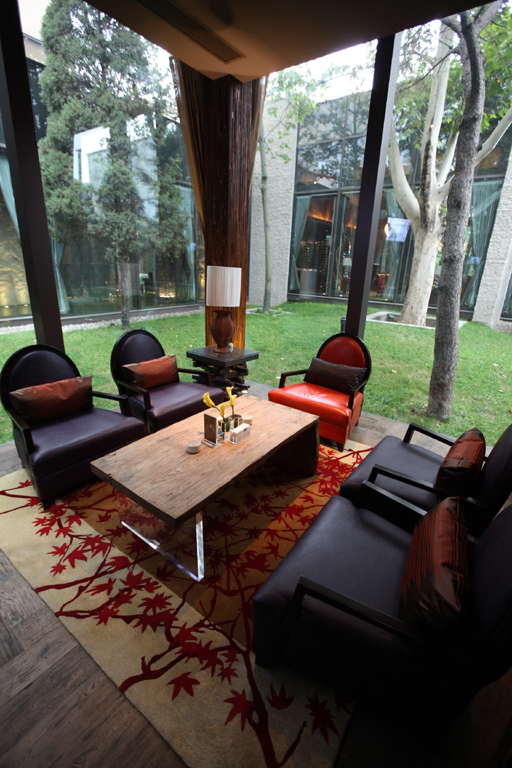 The Yan Club is a unique experience among Beijing's nightclubs, offering multiple visual and relaxation experiences seamlessly partnered with the fresh air of the gardens and with inspired design to appeal to the eclectic tastes of local and international patrons. Clearly BLD's designers wanted to conjure a strong emotional reaction for clients entering the Yan Club.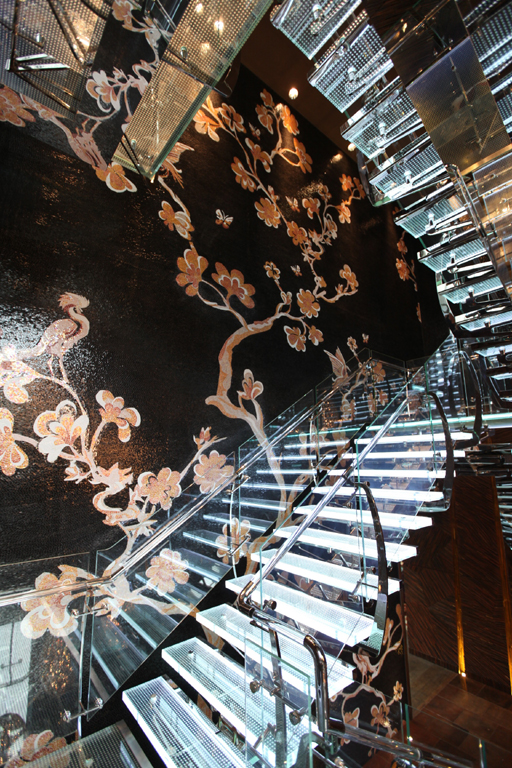 "On first entering the Yan Club, we wanted the design to elicit excited anticipation of what the night will bring. The Yan Club is designed for exploration, adventure, excitement, fun… It is full of contrasts and surprises. It's energetic and chilled, sophisticated, but down to earth, natural but electric. So we hope that each visit brings new and unexpected adventures. We want frequent repeat patrons to still feel curious and excited by what their next visit to the Yan Club will bring," concluded an obviously satisfied Llinas.
BLD comprises a talented team of approximately 100 designers and architects in West Palm Beach, Hong Kong and Guangzhou. To ensure the most exacting outcome and timely completion they are dedicated to selecting only projects that they can give their complete attention to delivering outstanding design to their clients that ultimately lead to memorable guest experiences. The Yan Club in Beijing is a fitting example in their impressive portfolio.
More information at www.bilkeyllinas.com