J Lee Rofkind and Dennis Selinger met roughly 15 years ago working on the Hyatt in Hangzhou (Rofkind as Design Director for Hyatt International and Selinger as landscape architect). Both designers agree that they hit it off immediately with shared design sensibilities and over time have become good business friends and office partners.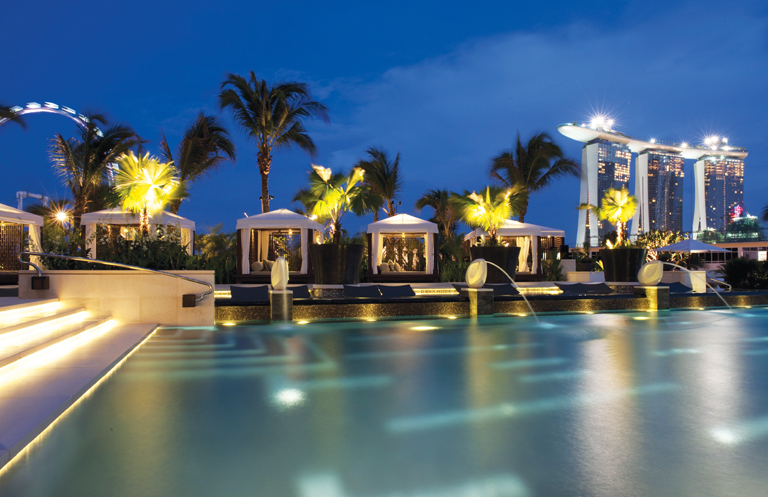 J Lee Rofkind is Founder and Creative Director of BUZ Design Consultants Ltd. BUZ Design is a creative design firm with international experience working primarily on hotel and resort interiors. Dennis Selinger is the Founder and Director of
St. Legére Design International Ltd., established to create the highest quality in landscape architectural services. Their companies, BUZ Design and St. Legére share the 7th floor of a harbour facing office building in Hong Kong's Western District.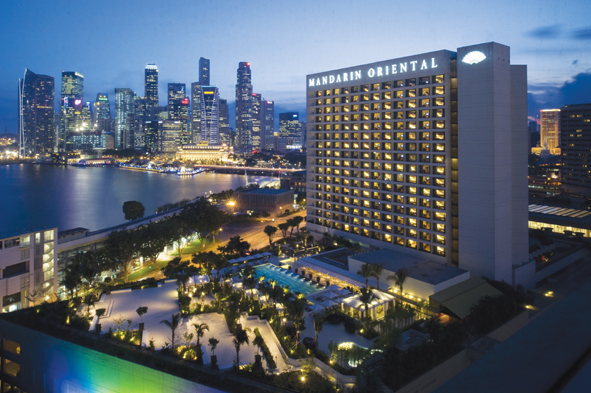 Recently, on behalf of their respective businesses, Rofkind and Selinger began work on a vast renovation of the pool facilities at Singapore's Mandarin Oriental Hotel. After being commissioned on this project, Rofkind felt that the expertise of St. Legére combined with her own firm would be a perfect consultant partnership for this project. Rofkind explains, "Typically, my work ends at the door and his begins. I am inside; he is outside. We would talk about such things as the paving matching the flooring and what is the view from the lobby. However, for this project our collaboration extended through every aspect of the design."  
Upon assessment of the original plans and site inspection of the hotel's outdoor space, one finds a highly generic, rectangular pool design. When the hotel was originally built, the developers understood the need to have a pool on the property. However, given the standard rectangular pool design, it seems the pool was included as a necessity rather than as an opportunity to create a destination. Selinger expounds, "They originally had a standard rectangular pool and funky free-form planters. It wasn't much. You really couldn't use this space for functions: corporate parties, wedding parties or banquets. There wasn't value as a venue to market. It was dated and not well planned. It was a sad space."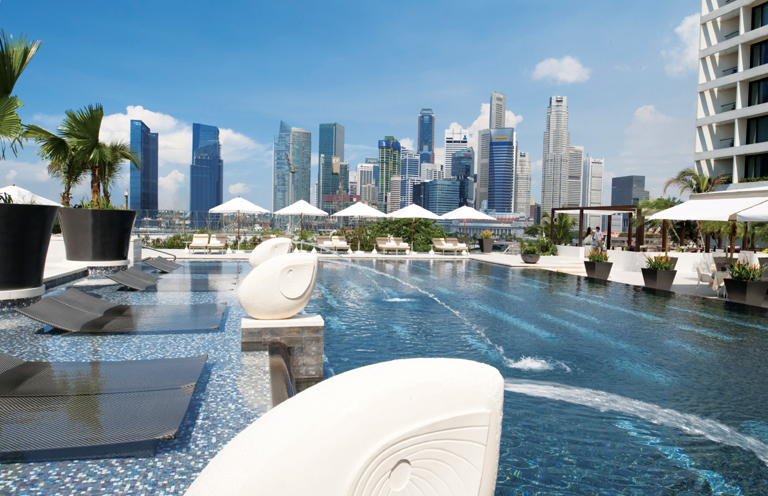 The concept for the new pool was to create a modern, sophisticated recreational space that would be enhanced for typical daily use, in addition to providing a distinctive venue for special large functions (up to 300 pax). In keeping with their ideals and history, both designers were dedicated to creating a fresh modern design for this space and not follow the generic Balinese style endemic in Asia. When closely examining the overarching flaws of the original pool design, the designers felt that changing the tile or selecting new chairs would not drastically improve the pool. The space needed a complete overhaul.  
An initial challenge was the shape of the pool; the shape was generic and lacklustre and located on a roof over movie theatres. In order to combat the awkward pool shape and structural challenges; Rofkind and Selinger came up with some unique solutions. The team decided to build platforms at different heights or levels, thus creating naturally divided spaces and various points of interest. They were then able to use planting that appeared to be a part of the environment rather than standard raised planters.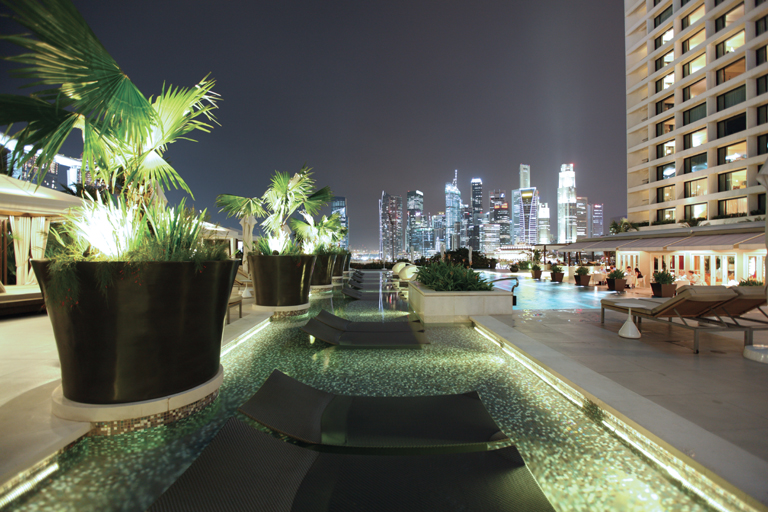 Perhaps the most stunning improvement was made by reducing the pool depth (and decreasing the weight on the roof) and raising the overall pool deck height which allowed the creation of a wet deck and waterfalls. This created the illusion of a much larger and interestingly shaped pool.
Found on the wet deck are a number of barely submerged lounge chairs, which are very popular in the hot Singapore sun. Additionally, the design team changed the placement of the pool steps and the depth in a variety of areas to make the pool more functionally organized for bathers and lap swimmers.  
The team added cabanas, service bar and space for an outside lounge. In true luxurious style, all cabanas have cooling fans and call buttons for staff, as well as power, iPod and data outlets for use of electronic devices. An extra large cabana was designed to function as a living area or as a semi – private dining room overlooking the pool. Another shaded lounge area was created near the existing restaurant, with stunning views of the city for pre dinner cocktails or simple lounging. A porcelain tile was carefully selected for its qualities as both non-slick and stain resistant. Dark purple and silver glass mosaics were used to line the pool, which surprisingly reflect back in a deep turquoise colour. 
Finally, the design required lane markers on the bottom of the pool as hotel patrons often use it for lap swimming. Instead of painting the standard, campus-style stripes on the bottom of the pool, the design team instead used a LED-lit, dotted lines that are both interesting and functional.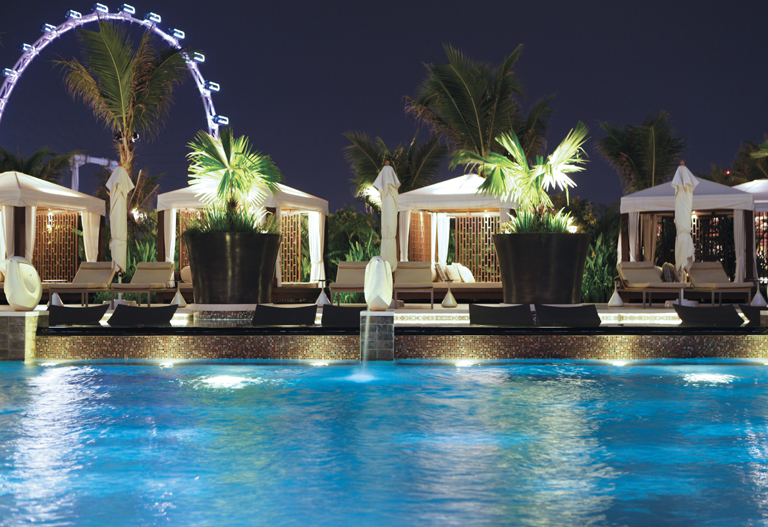 In societies where purchasing power converges with modern marketing practices, there are valuable lessons to learn from this project's success. The restaurant adjacent to the newly designed pool deck was originally in the plans to be renovated. However, on account of the increased traffic from the pool remodelling, restaurant revenues have doubled, thus developers have decided to postpone the renovation.  
Additionally, one could imagine the continuously changing process by which hotels are chosen, and subsequently booked. This process, once an activity of keeping a mental database of past stays and verbal recommendations, is now organized and presents us with more options than ever before. It is not surprising to know that over 50 per cent of hotel reservations are made online; a number that is sure to be far greater in the near future. More than ever the consumer has options; they have carefully organised, graded, scored, reviewed and photographed options. Unlike years past, a consumer who is debating hotel options is likely to view photos of the property before making their booking. In this way, well-landscaped pools and exquisitely designed outside areas play an essential role in online marketing campaigns.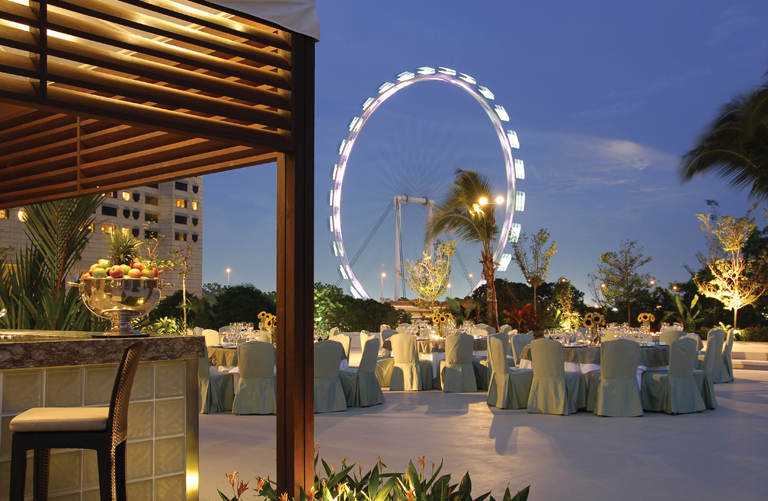 Selinger explains, "More and more, developers are realizing the power of these outdoor spaces to create new revenue streams. Developers are realizing how important landscape and interior is to a project's overall success. A lot of it is subconscious; it is the feeling you get when you come in." 
It is interesting to note that The Mandarin Oriental Singapore is next door to another luxury hotel. The new Mandarin pool can be viewed from a number of the other hotel's guestrooms. Recently, an unnamed pop star was staying in the other hotel and viewed the Mandarin Oriental Pool from her window. Mistaking the pool for a part of her hotel's property, she asked the concierge for directions to the deck. After being shown a different pool, she was disappointed and asked if she could kindly enjoy the one she had seen from her window; he obliged, as did the Mandarin Oriental, arrangements were made and all was well. However, next time the singer came to Singapore, rumour has it that she stayed in the Mandarin Oriental.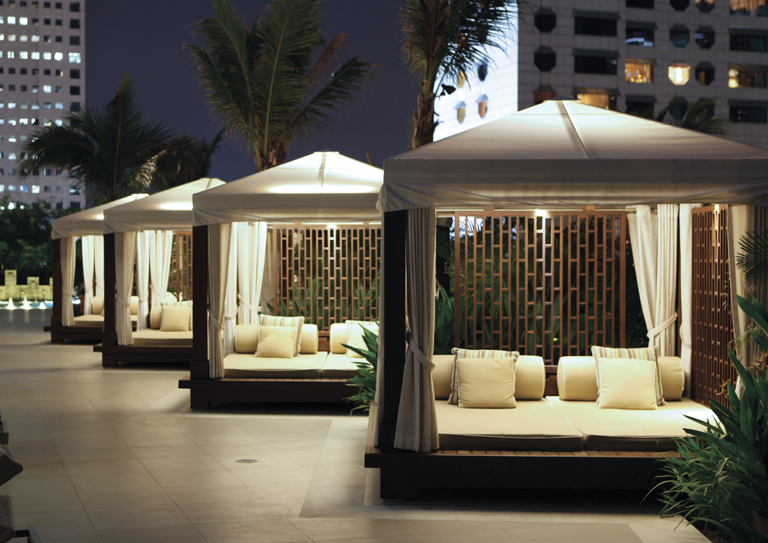 When meeting with J Lee Rofkind and Dennis Selinger it is immediately apparent that they collaborate very well together. There is ease in their relationship that is uncommonly seen in business partnerships. When hiring their respective firms, as partners, you are getting more than two elite level design firms. Rather, you are hiring a ready built relationship, which increases the power of decision-making, efficiency and the enjoyment of your business relationship. Sure, many businesses have preferred vendors and subcontractors they can use to supplement their particular expertise. However, those relationships are often forced; many times there are communication lags, money lost to middlemen and uncomfortable disputes. The relationship between Rofkind and Selinger is somewhat different; this relationship is real and honest.  
When asked what the essence of their company and personal design philosophy were, even their responses mirror one another:  
Rofkind says, "We have no two projects that are exactly alike and that is why every project demands a unique design. We take everything into account: local culture, market, image and company branding, budget and sustainability." 
Selinger echoes that sentiment, "For me it is the level of detail and the quality; it is not just a quick wash of design that we pull out of a drawer to use on your project. It is about taking the time to consider all aspects of the project and creating a unique design." 
St. Legére is on the cutting edge of creative design solutions in the industry of Landscape Architecture, Theme Designing and Site Planning. With a list of completed landmark projects and 25 years of field experience,
Selinger enlists the "design studio" method, where each project is afforded the attention and consideration required to ensure a high level of design quality. St. Legére is proud to have worked on Wynn Resort in Macau, the Ayana Resort and Spa in Bali, the new Four Seasons Hotel and Residences in Pudong, Shanghai, as well as a large number of luxury hotel and residential projects within Hong Kong and throughout Asia.  
Also, a very personalized design firm; BUZ Design has been delivering the highest quality custom designs to the hotel industry globally for over ten years.  
Rofkind feels that a design needs to be "creative and timeless". By mixing those themes with a consistent dedication to luxury, BUZ has been creating unique designs for a wide variety of projects. She believes the ultimate design solution is the result of listening to the needs of the client and solving the problems with an open and inquisitive mind. Some of BUZ Designs' recent trademark projects include the recent restoration of the Ritz Carlton Montreal, Mandarin Oriental Pudong (opening 2013), Mandarin Oriental Geneva, Shenzhou Peninsula Sheraton Resort and Nankun Crosswaters Ecolodge.  
For more information on BUZ Design Consultants please visit: www.buzdesign.biz 
For more information on St. Legere Design Intl. please visit: www.stlegere.com