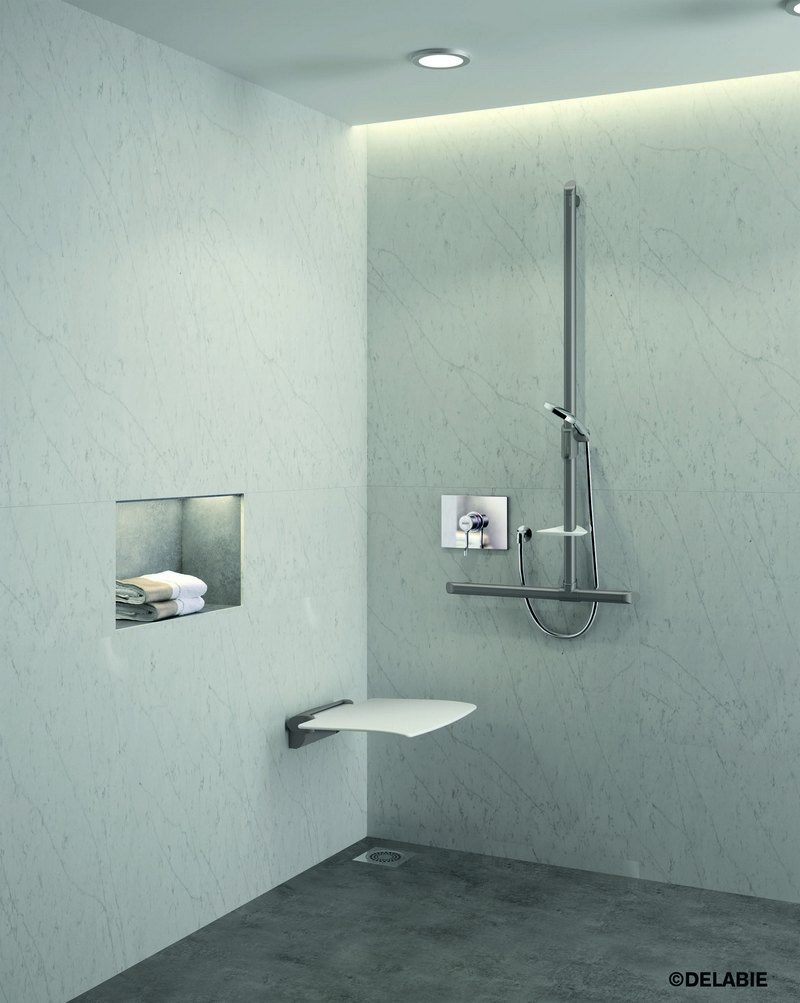 (按此瀏覽中文版)
When style meets applied science
Several years ago, DELABIE – French manufacturing expert in non-domestic sanitary fittings, started its own aesthetic revolution. Combining performance and design, the brand's water controls and accessories have become harmonious and refined objects, even in their standard versions, equally at home in hospitals and care homes, as well as hotels, shopping centres, bars and restaurants. Style is, therefore, integral to the design brief, whatever the model or the challenges faced. This strategy has been rewarded time and again, as various products have received design awards, some of which are very prestigious international awards.
Be-Line®: safety equipment without the medical trappings
The Be-Line® range of grab bars and showers seats could not be further from the medical or healthcare universe, having been developed in association with designers and occupational therapists.
DELABIE's Be-Line® range combines aesthetics and comfort. Its innovative design eliminates the medical aspects of accessible washrooms, leaving only a feeling of well-being, free from any complex, both at home and in the wider environment.
Be-Line® subscribes to the school of design for all. It is suitable for all users.
These bars are available in metallic anthracite or matt white powder-coated aluminium, two colours which contrast with any wall on which they are likely to be installed – an important point for the visually impaired. With no traditional fixing plates, they are also more discreet and easier to clean.
The aerodynamic, modern design is optimised to ensure a good hand position, allowing it to close around the bar without causing muscle fatigue.
The Be-Line® lift-up shower seat is both comfortable and discreet, especially since it can be removed in a single movement and replaced by a shelf, allowing installation only in those showers where the users have need of it.
As with all DELABIE's Accessibility products, Be-Line® grab bars and shower seats benefit from a Safety Pack: 10-year warranty, CE mark and tested to over 200kg. In public and commercial places, the user weight is unknown. The products installed must therefore be able to support any user.
Crowned with success, the Be-Line® range has won various awards such as Plus X Award 2020 for the ergonomics and design of its lift-up grab bar.