To accommodate future air traffic growth, Hong Kong's Airport Authority (AA) has put forward plans to expand Hong Kong International Airport (HKIA) into a three-runway system (3RS). The proposal details the strengthening of Hong Kong's status as an international aviation hub, as well as generating economic growth and extensive job opportunities. It was approved by the Executive Council in March 2015.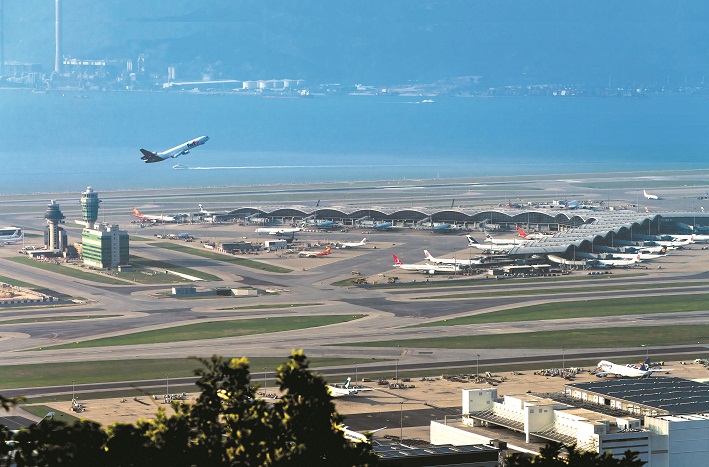 Since its opening in 1998, passenger traffic, cargo traffic and air traffic movement have increased by 121 percent, 169 percent and 140 percent. In 2014, the airport served 63.3 million passengers, handled 4.38 million tonnes of cargo and accommodated 391,000 air traffic movements (ATMs). Suffice to say that HKIA has become one of the world's busiest airports and has more than 100 airlines connecting to about 180 destinations worldwide, including 47 in mainland China. Indeed, further statistics from Hong Kong's Census and Statistics Department show that in 2012, the airport's direct, indirect and induced contributions to the local economy amounted to HK$94 billion, representing 4.6 percent of the city's gross domestic product (GDP).
The airport also supports Hong Kong's four economic pillars – financial services, trading and logistics, tourism, and producer and professional services – which, according to government statistics, together accounted for around 58 percent of GDP in 2013. The direct, indirect and induced employment made possible by HKIA represent more than 4 percent of the city's workforce.
With airport expansion set to create more business, more jobs and more convenient services for Asia's World City, the advantages, not least the need for a third runway is apparent. And with rising traffic demand the current two-runway system is nearing capacity. Medium-term measures to meet traffic growth has seen Hong Kong's AA invest HK$12 billion in new facilities. This includes the midfield development project, which will include a 105,000 square metre, five-level concourse, 20 parking stands and the extension of the automated people mover system connecting the Midfield with Terminal 1 and other passenger facilities.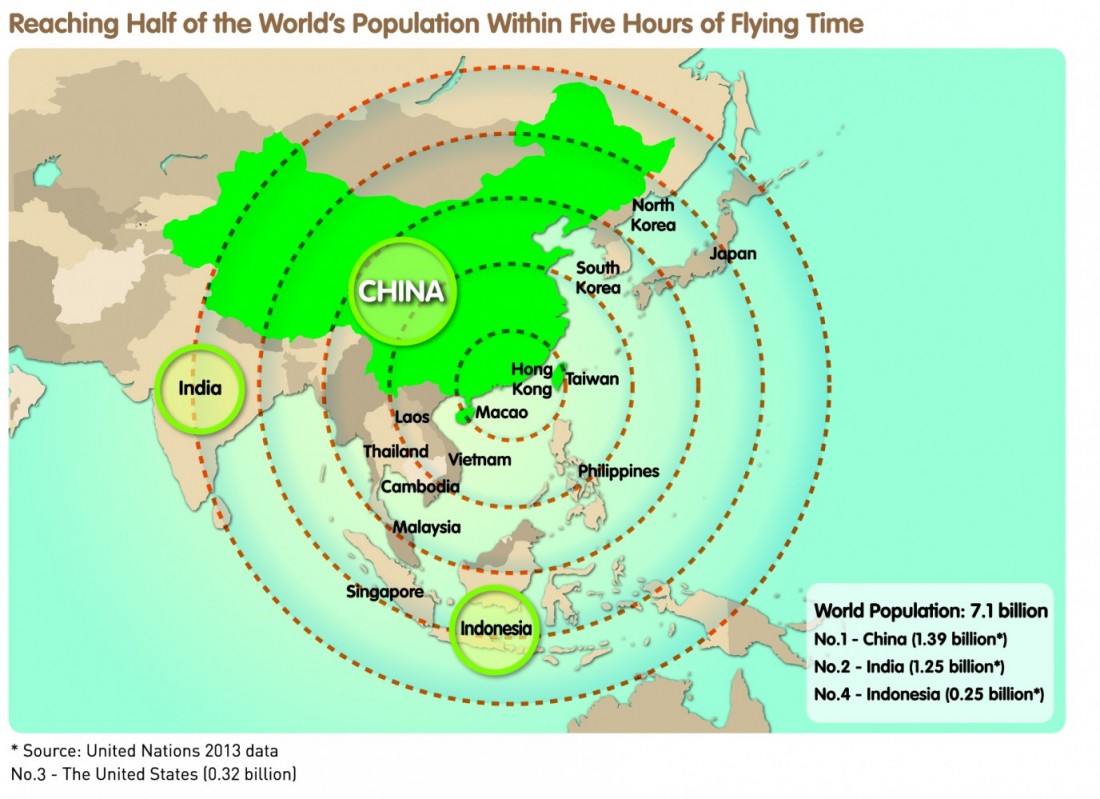 Investment has also been made into the expansion of the West Apron, consisting of 28 parking stands, a cross-runway vehicular tunnel linking to the cargo area in the south and other related supporting facilities. Before any third runway project can commence this year, with completion estimated for 2024, the AA is also planning to enhance the capacity of Terminal 1 and its handling capacity of passengers and baggage. Upon completion of the Midfield development, HKIA will be able to handle an additional 10 million passengers each year.
What is clear is the Hong Kong must maintain its competitive advantage as an aviation hub. With international air traffic expert IATA Consulting expecting the 3RS to allow HKIA to handle more than 100 million passengers, with close to 9 million tonnes of cargo and 607,000 ATMs, if a third runway is not built, supply of aviation services will undoubtedly fall short of demand.
Within this scenario ticket prices are undoubtedly set to increase, with airlines focusing on more lucrative routes such as Seoul Incheon, Singapore Changi, Guangzhou Baiyun, Shanghai Pudong and Shenzhen Bao'an, all of which are currently expanding their facilities.
Expanding HKIA through a third runway requires much more than building an additional runway. In addition to a new 3,800 metre runway and supporting taxiway systems, the project is set to include six further core projects and facilities:
• New passenger concourse and 57 parking positions covering a floor area of 283,000
square metres
• New 2.6km automated people mover system connecting Terminal 2, with a top
speed of 80km/hour with the ability to transport up to 10,800 passengers per hour
• New baggage handling system (BHS) linking Terminal 2 with new passenger concourse
• Reclamation of 650 hectares of land
• Expansion of Terminal 2, providing arrivals, departures and full-fledged passenger
services able to serve 30 million additional passengers (as stated in the HKIA
Master Plan 2030)
• Additional and comprehensive road network and transportation facilities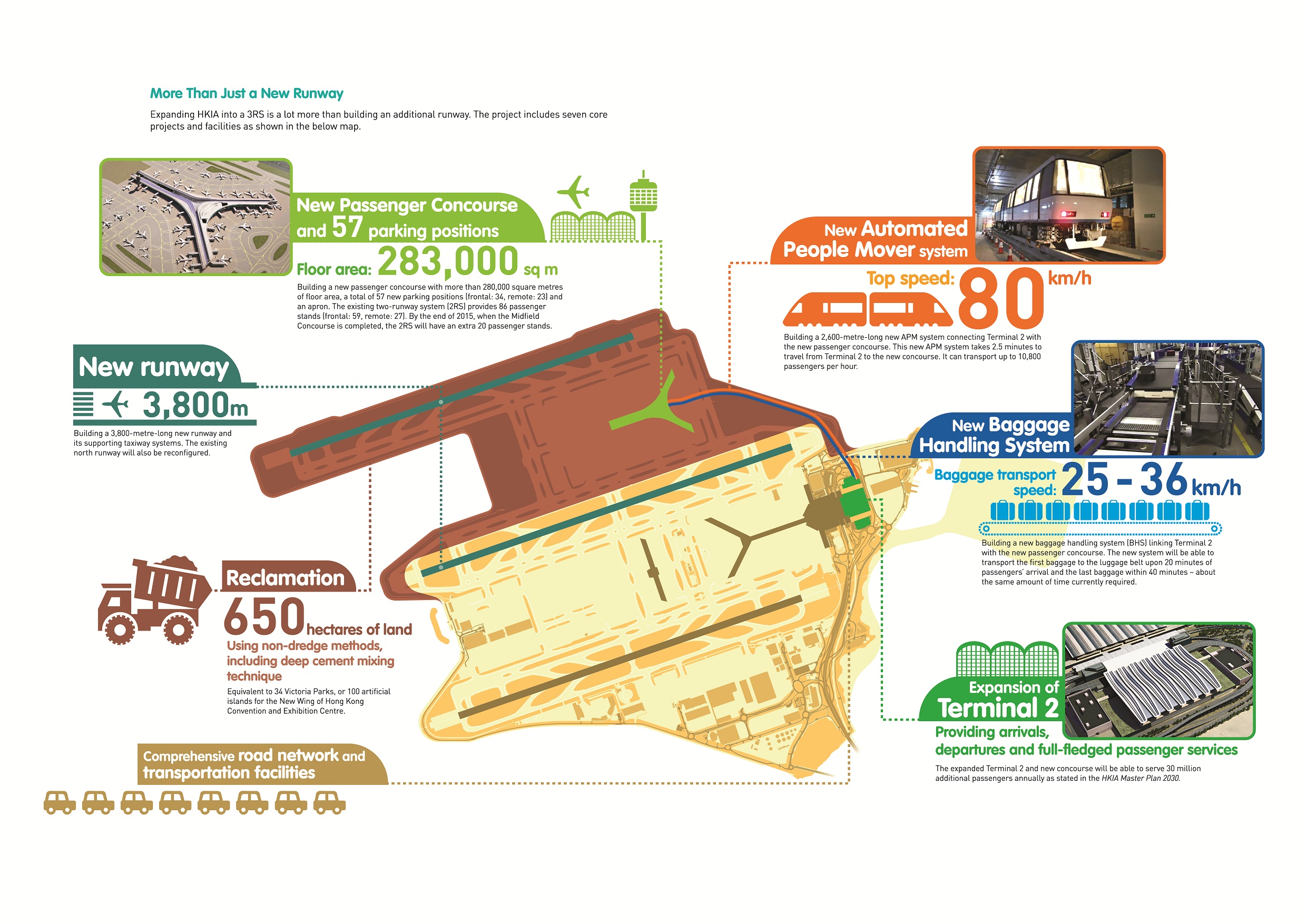 The scale of the 3RS project represents the largest and highest-budgeted construction in the city since the establishment of the Hong Kong Special Administrative Region. Total costs are estimated to reach HK$141.5 billion at today's prices, a figure almost equivalent to building a new airport next to the existing one. That said, factors leading to the high cost include high local construction cost as well as construction taking place while the airport is in operation and investment of up to HK$22 billion in environmental protection measures. Upon completion of the 3RS, HKIA is expected to serve 30 million additional passengers annually, according to the HKIA Master Plan 2030. The concourse facilities could be further expanded if necessary, which will help accommodate an additional 20 million in passenger traffic.
Based on the international experience that shows that investing in airports generates higher economic returns than other types of infrastructure, it is important to understand the economic implications of expanding HKIA. Indeed, in a 2015 study commissioned by AA, Enright, Scott and Associates estimated that the 3RS would generate combined direct, indirect and induced contributions equivalent to 5 percent of Hong Kong's GDP forecast for 2030. Direct jobs associated with HKIA would reach 123,000 by 2030 and indirect and induced jobs would increase to around 165,000. Further, under the 3RS, the airport's economic net present value (ENPV) up to 2061 is estimated to increase by HK$455 billion compared to the ENPV of HK$591 billion generated by the 2RS. In short, the 3RS will bring enormous economic benefits to the city.
Environmental factors are also a key consideration of the 3RS project, with the AA committed to tackling its potential environmental impact.
Images and texts are provided by Hong Kong International Airport.