18 Kowloon East not only breathes new life into an old area of the city, but has actually transformed the entire district due to its prominent position and inclusion more vertical greening and other sustainable features than many other new commercial towers built in Hong Kong to date. 
Kowloon Bay, the former industrial area built on reclaimed land adjacent to Ngau Tau Kok, is currently going through a rapid transformation into one of Hong Kong's newest commercial hubs. Developed by Sino Group, 18 Kowloon East, located in the heart of the district, has incorporated new and extensive greening from the lobby and up into the lower floors of the building, offering a glimpse of just how our city might start to look like, now that sustainability has taken hold in the community as well as the local building sector.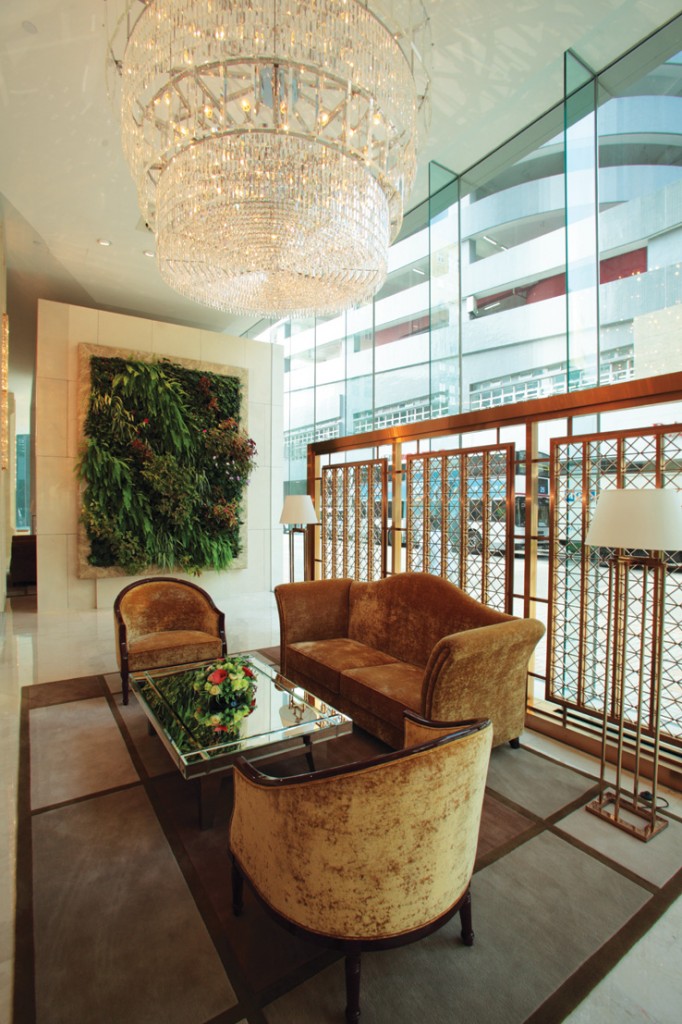 The tower features a hotel-style entrance hall in which a double-layer Swarovski chandelier in the ground-floor lobby sets a mood of grandeur and style. Tenants will enjoy unobstructed views from any office, with sea views for units that face south and west. But it is the building's green features which really impress. Vertical green walls greet visitors on the outside of the building as well as in the lobby. Moving up planters cover the exterior of the car park floors creating the impression of a living, breathing building, whilst on the ninth floor a stylish skygarden offers an airy and well lit space for leisure activities set amongst water features and extensive plantings. 
Other green features at 18 Kowloon East include solar power generation to power the vertical green irrigation system and rainwater irrigation for both the vertical green walls and other plantings. Sino Group has long recognised the importance of sustainable development and environmental protection. The corporation proactively promotes green living to their customers, tenants as well as the general public through green education and activities carried out across the city. 
Mr Daryl Ng, Executive Director, Sino Group, stated, "As a socially responsible corporation, Sino is committed to promoting environmental sustainability for a greener community. Our green efforts are three-fold: eco-friendly architectural planning, green property management, as well as green education and activities." 
"18 Kowloon East is our latest commercial development, providing a total of 37,000 square meters of Grade A office and retail space. Besides being conveniently located in the flourishing commercial hub of Kowloon Bay, the building comes with special green features including the sky garden, vertical green wall system and façade plantings, creating a unique green oasis in the heart of the city." 
"Environmental care is an integral part of our business; we make substantial efforts to make our properties more eco-friendly through well thought architectural planning, energy-saving initiatives and management services. For instance, in 2007, we launched the first green shopping mall in Hong Kong, Citywalk with vertical green and landscaped water features. We also collaborate with Hong Chi Association on initiatives including Mission Green Top and Mission Green Thumb to help foster green habits and benefit the community," concluded Mr Ng. 
Sino has won a number of awards for their efforts in promoting a greener future. These includethe Hong Kong Eco Business Awards (2006), Hong Kong Awards for Environmental Excellence (2008, 2009 and 2010) and Green Building Award (2010). Sino practises green property management, incorporates eco-friendly architectural designs and has instituted a number of new energy and water saving innovations. 
In October 2007 Sino Group's residential and commercial project, Vision City, introduced a series of environmentally friendly innovations that are unique in Hong Kong. Sino invested HKD 50 million in green initiatives at Citywalk, Hong Kong's first green shopping mall. The 3,700 square metre Citywalk Piazza increases the green space of the external areas to more than 30 per cent and features a vertical garden the size of a tennis court, in an open piazza with landscaped water features and a hybrid chiller system that improves local air quality and re-uses waste water discharge for other purposes. 
The objective at Citywalk and Citywalk Piazza was to provide shoppers with a fun, natural environment compared with conventional wall-to-wall shopping malls and is a good example of how nature and shopping can be fused into a more dynamic, healthy experience. 
Further demonstrating the group's commitment to the green cause, in 2009 Sino launched Mission Green Top in Skyline Tower, which features a rooftop garden with a floor area exceeding 100 square meters. Greatly appreciated by the building's tenants, the project received the Outstanding Partnership Project Award 2009/10 from the Hong Kong Council of Social Service in 2010. Sino Property Services has collaborated with Hong Chi Association to launch a new seedling adoption programme entitled Mission Green Thumb which commenced in 2010 at Exchange Tower. The initiative encourages Sino tenants to join hands with Hong Chi trainees to develop a greener environment in commercial buildings. By training people with intellectual disabilities as organic farming professionals, the project also promises additional employment opportunities. 
First time visitors to 18 Kowloon East are likely to be immediately impressed that they are looking at something new; a building that seems to effortlessly entwine both the natural and the man-made. As more developers adopt a similar stance as Sino Group to the issue of constructing ever more sustainable buildings, perhaps 18 Kowloon East really does offer us a first glimpse of our immediate future.