As Hong Kong developers increasingly embrace the concept of a sustainable built environment, a new generation of young, environmentally-savvy, eco-conscious contractors are introducing a new range of eco-products into new architectural structures … and workers and residents are happier and healthier as a result!
There's a new green structural revolution happening all around us, designed to improve and enhance the environments in which we live. And leading the pack in guiding Hong Kong's biggest developers in the application of these new ground-breaking 21st century green solutions is a company of young, inspired, new-generation contractors – Metrochain Limited with its subsidiary companies Strongly International Limited, Metanber Engineering Limited and Hong Kong Vertical Green Limited. Under the guidance of Director, Benny Chuang, Metrochain is now the acknowledged leader in the production of vertical greening and solutions for plane plantings with a distinct turf and modular system for greening roofs and slopes. In short, Metrochain is, project by project, changing perceptions of our immediate surroundings, be they at work, home, or somewhere in-between.
Evolution of the Green Wall
"The evolution and production of Metrochain's Green Panel System, or vertical green walls, dates back to the establishment of the company in 1997," says Chuang. "At the time we specialised in hard landscapes, however, in 2005 a client asked if there was a way of extending limited green areas. We had no idea, but put our heads together and designed our first green panel a mere 1.5 metres in size!"
So positive was industry response to this new vertical green wall concept that in 2008 Metrochain became the recipient of a Hong Kong Eco-Products Awards 2006 Notable Mention. Quite a coup for a young company originally established to do landscaping!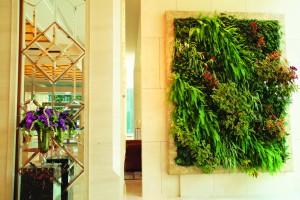 "Recognising the environmental and aesthetic benefits that vertical green walling could bring to new developments, in 2007 Metrochain was contracted to install a vertical green wall at Vision City in Tseun Wan. So positive was the response to the design and aesthetic appearance of the wall of nature that Metrochain was subsequently awarded the Quality Building Awards 2010 Honourable Mention".
Research and Development
"As demand for our vertical green walls and other eco-related products continued to grow, we also identified a need to get involved in research and development and established our own R&D facility and nursery out in Fo Shan."
"We established this facility for a number of reasons, not least because we also recognised that if we were to continue growing this side of the business that had been so enthusiastically received for its environmental credentials, that we could also no longer continue leaving such a large carbon footprint as a result if importing plants and flowers, such as tulips from Holland."
"We subsequently investigated all species native to Hong Kong and potentially suitable for inclusion into a vertical green walls and discovered 200-300 species that were not only hardy enough to be used, but many species with different coloured foliage and different shaped leaves that would also provide the colour and pattern contrasts we desired be reflected in the design of green walls."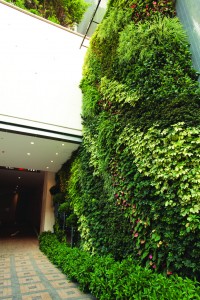 The example of recently constructed 18 Kowloon East, where vertical green walls surround the building from ground to ninth floors, and where a dedicated green sitting out area has also been constructed for employees working in the building.
"The impact of these wraparound green vertical walls is immediate to anyone at street level,". "However, 18 Kowloon East is also the first project in Hong Kong to consider workers beyond their immediate office environment and to provide a clean, green, environmentally attractive and dedicated sitting out area well above the throng at street level, where they can meet colleagues at lunchtime or simply find a quiet space to read and contemplate if that is what they want as well."
Vertical Green Wall Design Concept
So how do you design and build a vertical green wall that will stay in place, accommodate hundreds of living, growing plants, that is also easy to maintain and therefore guarantees its life for years into the future? Metrochain's vertical green walls is an innovative solution to vertical planting and the design is so versatile that it can range from a one-piece self-standing system to a wall-mounted modular system with different combinations. 
"Vertical green walls can be designed to suit various artistic designs by using plant species of various sizes and colours that are planted into removable perspex modules or cells in the overall system,".  "The lightweight and flexible design of the vertical green wall also enables its installation into any new structure and also to most existing walls.  Metrochain is also able to provide structural calculations for the vertical green wall to ensure the total structural safety of the system."
The Metrochain vertical green wall can be set up with various combinations of standard modular units that provide flexibility in the design of the finished pattern using different plant species and easy installation procedures. The standard modular units are easy to replace and rearrange and the finished pattern can be changed whenever desired. The vertical green wall can be installed on structurally sound concrete or brick walls utilising Metrochain's proprietary designed mounting kits. The growth medium used within vertical green walls modules is composed of soil-free nutrition ingredients, organic and inorganic fillers, as well as water absorbent materials and is distinct from natural topsoil with its lightweight properties, less impurities and high nutrition concentration.
The vertical green wall irrigation system should also be controlled automatically either by timers or moisture sensors to ensure even irrigation for all plants without human error, especially for a vertical green wall that is difficult to reach after installation.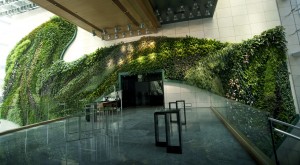 "An excellent example of this is the vertical green wall installed at Hotel Icon in Tsim Sha Tsui East,". "People entering the hotel lobby seem to be drawn to the wall, which starts at ground level in the hotel's restaurant, aptly called Green, soaring 18-metres to the floors above".  Designed by French botanist and artist, Patrick Blanc, and meticulously installed by Metrochain, the Hotel Icon vertical green wall is a striking botanical feature accommodating a range of colourful, native plants and flowers measuring 230 square metres – the largest natural wall feature of its kind in Asia.
And it's not only buildings that benefit though the installation of vertical green walls. In fact, the Hong Kong government has totally embraced the vertical green wall concept, applying it to key projects across the city, including the Highways Department's application of a vertical greening system as a noise barrier along Tseung Kwan O road, at Sau Mau Ping Phases 12 and 14, at new recreational facilities established on the site of the former Jordan Valley landfill, and at the Luard Road Collection Point.
In fact, in Hong Kong, the next time you are in Wanchai and admiring the new Police Headquarters Complex, stop for a moment and think just what it is that adds the final element of attractiveness to this new architectural structure. It is the installation of Metrochain vertical green walls across various walls, that emphasise the architectural flow of this new building, while also softening its otherwise hard and often reflective external surfaces.
From residential to commercial to educational building applications, the versatility of the Metrochain vertical green wall is unlimited, with flexible modular system able to be applied in almost limitless configurations.
The Next Generation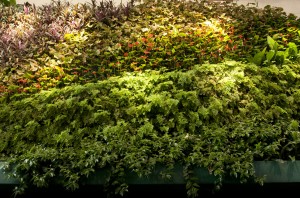 The Metrochain vertical green wall system has been further embraced by the Hong Kong's Education Department and installed into 20 schools to date, as well as another 40 buildings across Hong Kong. Ever conscious of the need to educate the next generation about caring for the environment and our natural surroundings, Metrochain also established an environmental group called "Earth of Friends". With a current membership of 40-plus primary students, Metrochain is determined to spread the message about plant care and a sustainable environment for future generations and is already inspired by some of the new and novel applications these green warriors of the future have conceived for even wider use of vertical green walls! 
More Green in Hong Kong – www.facebook.com/More.Green.in.HK
Strongly International Limited – www.strongly.com.hk