Design and branding agency – Marc & Chantal has brought a sense of rigour and branding to wayfinding – the art of simplifying navigation through complex built environments.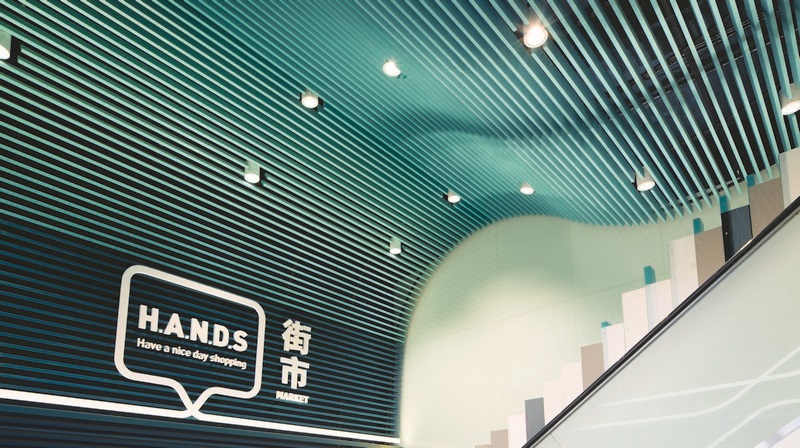 When done expertly, wayfinding is at its most effective when we don't even realise that we're being guided through an environment. In its purest form, wayfinding is made up of the cues we pick up from the environment as we move through it, and the creation of our own navigable map that helps make sense of a complex world.
It has been a formalised research topic for behavioural scientists and designers since the1960's, when urban planner Kevin Lynch published The Image of the City – a book that proposed humans made mental maps of their environments based on five consistent elements, including paths and landmarks. Far beyond simply hanging up signs with arrows and text, these multi-sensory and holistic features help us make sense of our world and create better places.
Twist in The Tale
Wayfinding is a discipline that design and branding studio Marc & Chantal, located in Hong Kong and Beijing, have taken and expanded into something very comprehensive. At their Sheung Wan studio, the agency integrates elements of architecture and design into their own unique vision of wayfinding. It is design and branding that works on a motivational and emotional level, telling a compelling story about that space.
"The work we do in wayfinding is more holistic than simply designing signs," says Marc Brulhart, a founding partner of Marc & Chantal. "This is a process based in how we navigate through the world we create, aimed at making it a much more enjoyable experience. We work closely with architects, developers and other consultants and always strive to integrate our solutions with the built architecture to improve people's experience in the space."
Brulhart has encouraged both an intellectual rigour and artistic flair to Marc & Chantal's wayfinding practice. The studio bases its consulting work on a comprehensive technical survey of the area – tracking how people use spaces and navigate their way through a building – before incorporating art and design touches to alter traffic flow.
The results work on an emotional and intellectual level to build connections between users and the built environment, bringing clarity to shared spaces, in particular sprawling and complex institutional environments.
A Place Within Places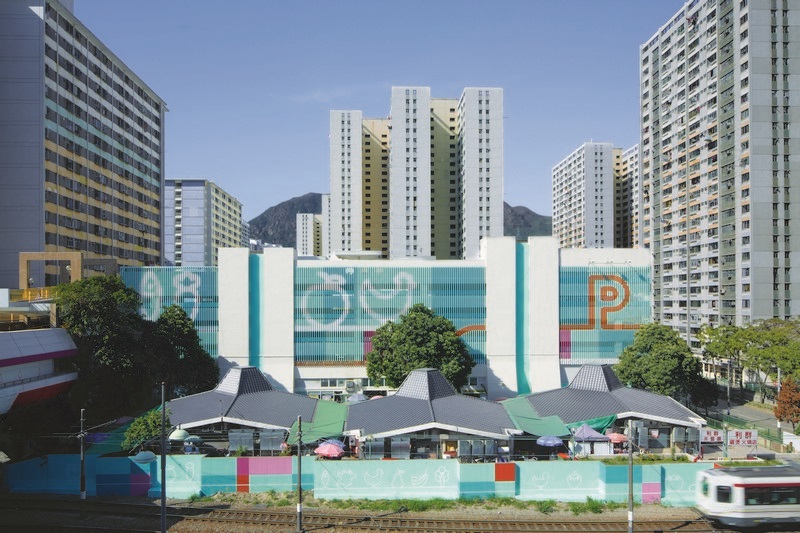 Marc & Chantal project manager and wayfinding specialist Selina Mak likens the firm's approach to creating a sense of place.
"Many of the strategies and solutions we're proposing to clients have really substantial feature walls and elements that become a touchpoint for the whole development," Mak says. "These are design features that really help create a sense of place. 'I'll meet you at the fountain' is the type of navigation experience that we try to create."
One of the most striking examples of the firm's practice was Phase 3 of Hong Kong Science Park, part of a complex campus of more than 20 interconnected buildings with multiple entry and exit points. Marc & Chantal was commissioned to create the navigation through the area and to handle the interior design of public spaces. The final result doesn't rely solely on signage, which can be missed or misunderstood, but instead on architectural features.
The key architectural concepts from Simon Kwan & Associates, the architects for Phase 3 of Science Park, were studied and implemented in the wayfinding for a holistic appearance and journey through the buildings.
There are colour-coded accents in high-traffic areas that act in the same way as road markers. En masse they suggest a turn is imminent or a destination is approaching. Well-lit, high-contrast panels draw the eye – and attention – towards important details, such as room numbers, and indicate entry points and exits. Corridors that would otherwise be finished uniformly have textured geometric surfaces that give each a personality.
In its entirety, end-users are offered a comprehensive set of navigational cues that can be followed easily. Architecturally, the finishes and feel stay true to the architect's vision.
"In this case, the colour-coded faceted walls reassure you that you're heading in the right direction without using arrows and a lot of signage. It's this kind of intuitive use of design that truly integrates with the environment," says Mak.
"It can help an end user because they do not reach their destination flustered. They aren't looking for an actual sign, because they are reassured by subtle cues that they are heading in the right direction."
"As place branding, you can be very creative with colour, materials and design, but when it's part of the environment, it's much more effective."
Application from Understanding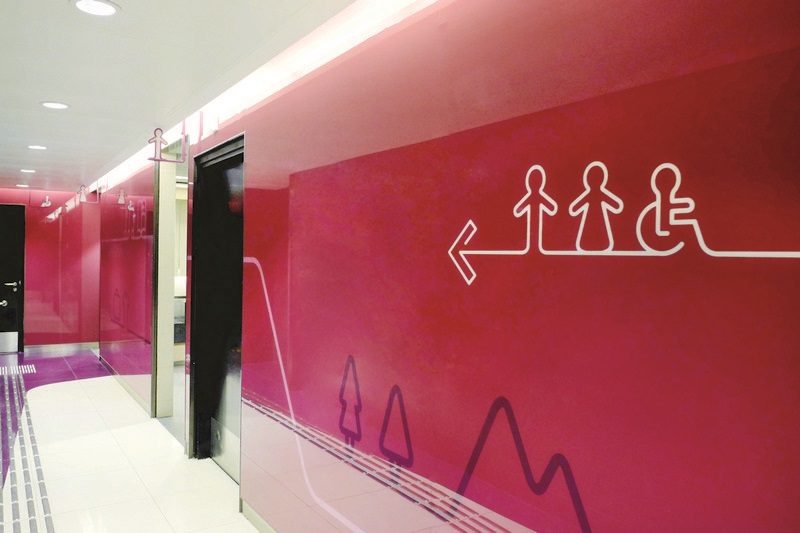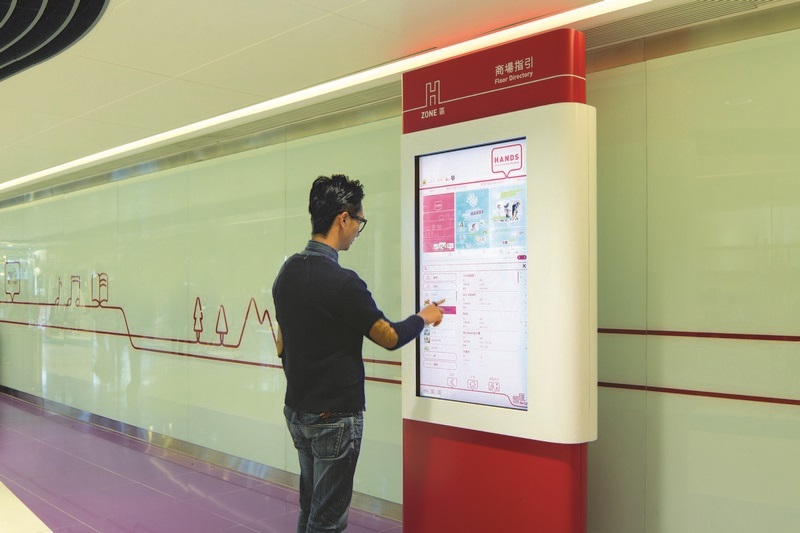 Marc & Chantal's wayfinding practice springs from a sense of the rational and application of their proprietary know-how.
The agency underwent a root and branch analysis of its wayfinding capabilities about three years ago. Under Brulhart's direction, an independent, industry-wide review was undertaken and an in-house training programme for staff established. That process led to a flexible but formalised process for tackling wayfinding projects.
"As an agency that keeps an eye on the big picture, the end goals are to have users walk through that space and remember something about it, stop and interact with something engaging or to move through more easily," says Brulhart.
The firm's process begins with goal setting with a client. At this early stage, understanding is key. Workshops and brainstorming sessions with clients and qualitative research with users are used to capture the spatial and emotional setting of the place. Research then moves into an analysis of traffic flows and drawing out larger patterns of how end-users circulate through a space.
The next stage incorporates the creative and design elements of the process."We get really creative. We think about the relevance and importance of visual treatments to the client and really get into the brand – often far beyond the initial brief," he says. "Our process is structured to take the strategy and inject a huge dose of innovative design approaches to come up with something unique."
And it is this creative process where the practice shows an expert artistic eye.
Commercial Creativity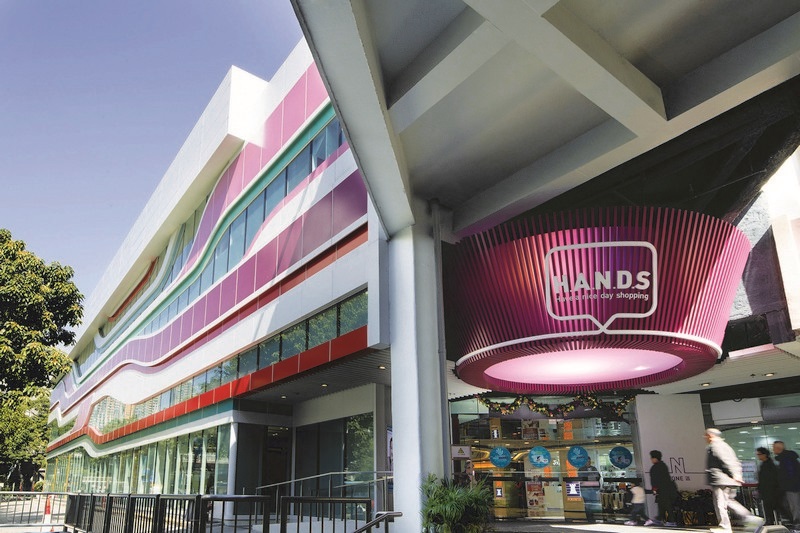 This creative approach to place branding and wayfinding is clear at H.A.N.D.S mall in Tuen Mun. It is a refurbishment project undertaken by Link REIT. The four structures of the former On Ting Commercial Complex and Yau Oi Shopping Centre were drawn together in a youth-oriented collection of smaller outlets.
The wayfinding approach at HANDS breaks down the barriers between four spaces and integrates them into five brightly coloured function-linked zones. Overhead directional signs and information kiosks deliver information precisely. Wall murals and vivid colours tie each of the zones together. The specially created icons and fonts have a unique pop art sensibility that creates a fun and playful tone and adds value.
"As we see it, putting the context back into the spatial relationship between end-users and the built environment is one of the core responsibilities of the practice," says Brulhart.
"Everyone talks about how in shopping malls you don't want people to pass through too quickly, but a more relevant challenge is how we can make the journey seem interesting. What has been done here is incredibly important to the satisfaction of the end-user and therefore to bottom-line revenue."
All of which just goes to show that better strategy – coupled with excellent design – creates fantastic places that need not cost more, and can add great value for all types of users