The advent of the COVID-19 pandemic has changed a great deal of our daily life, including the work from home arrangements, with restrictions placed on face-to-face communication and project coordination.
(按此瀏覽中文版)
Despite these challenges, BEAM Society Limited ("BSL") embraces the new opportunities to step outside the comfort zone, creating a new assessment automation system for the industry at large.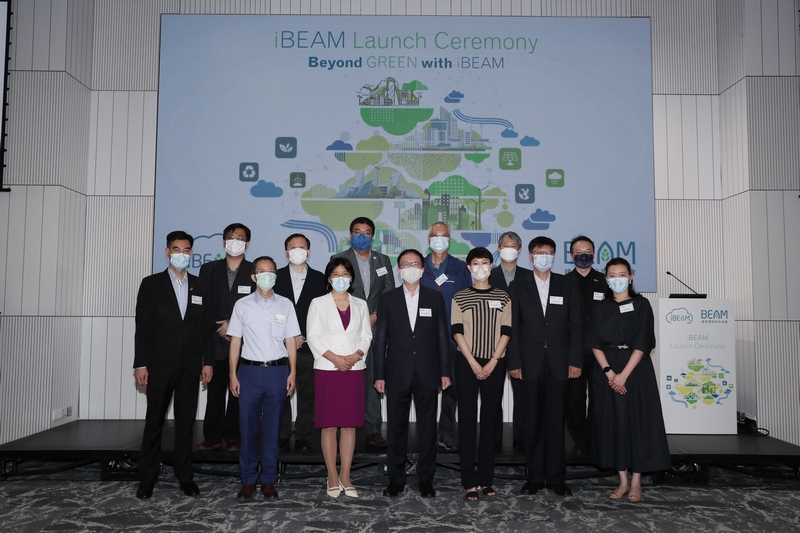 What is iBEAM?
Launched by BSL on 13 May 2021, iBEAM is the first-ever locally developed integrated green building cloud data platform in Hong Kong. As a state-ofthe-art platform, iBEAM collects, manages, standardises, submits, reports, discloses and processes data related to BEAM Plus, built environment and sustainable development. The BEAM Plus assessment workflow on iBEAM features intelligent project management, online real-time communication and secured data management, presenting iBEAM as a platform of high reliability, consistency and security. Project teams can thus upload all building data to a single cloud platform, which enhances transparency, security and integrity of the assessment process while reducing carbon emission towards a greener built environment in Hong Kong.
Capable of analysing 450,000 entries of project data related to the built environment and sustainable development yearly, iBEAM would promote a common data environment for the prediction of green building development trends and making visionary suggestions for sustainable development across the industry. It also enables users to step closer to a paperless process and assists in reducing our complete carbon footprint.
Mr Frankie So Hung Fai, Chairperson of iBEAM Project Steering Committee says, "We anticipate an annual uptake of 10,000 users and 200 building assessment applications upon the launch of iBEAM, with steady growth in subsequent years." In the long run, iBEAM will facilitate the transformation of Hong Kong into a smarter, greener and more resilient city as envisioned in the Hong Kong 2030+ and the Smart City Blueprint for Hong Kong 2.0.
iBEAM provides practical solutions for public benefits
The rising awareness of environmental protection and sustainable development has heralded increasing public attention to the overall quality of the built environment. To date, BEAM Plus has certified green building developments encompassing over 18.6 million square metres of space, equivalent to over 2.5 square metres per capita. This makes BEAM Plus one of the most widely used voluntary green building labelling schemes of its kind in the world on a per capita basis.
BSL commenced the design and development of iBEAM in April 2020. Five engagement talks were held throughout the development stage, garnering over 1,100 industry participants. Before the launch of iBEAM, constructive feedback was obtained from the iBEAM Xperience Studio, a flagship experiential workshop that engaged over 100 construction professionals and 14 consultancy firms in the industry, to further refine the system in terms of functionality and practicality before the official roll-out.
Mr LIU Chun-san, JP, Under Secretary for Development notes, "BEAM Society had been a close partner of the Government in promoting green building environment ever since her establishment in the 1990s. The development and adoption of iBEAM is most welcomed by the Development Bureau. iBEAM aligns with our two major visions: to develop smart, green and resilient new towns; and to adopt innovation including digitalisation technology for the construction industry as envisioned in Construction 2.0."
Ms Ivy LEE Siu Wing, Chairperson of BSL, adds, "iBEAM is part of the green building journey. Looking ahead, BSL will continue to work closely with the governments of the Greater Bay Area and Hong Kong, as well as our strategic partners, professional and educational institutes. Working hand in hand, we will create a more sustainable and liveable environment for mankind."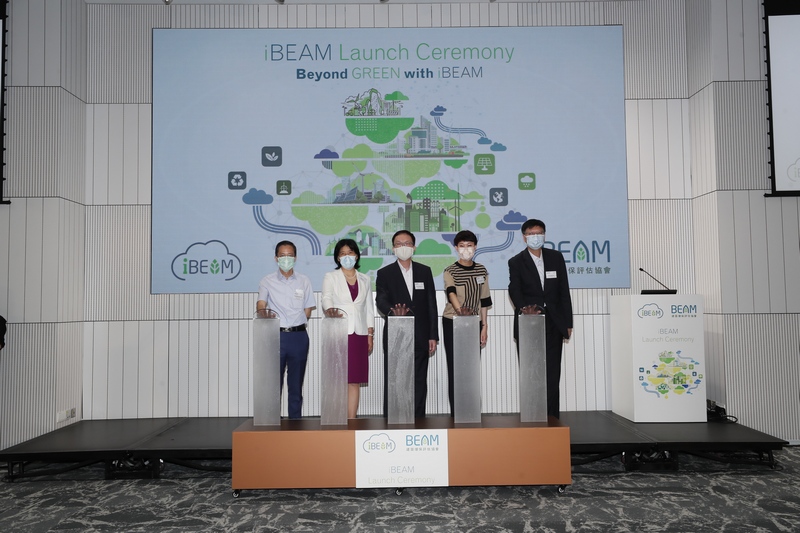 Under the COVID-19 pandemic, what will iBEAM bring to society?
What are the real-life examples?
• The significance of iBEAM is not only limited toCOVID-19, but also in coping with any possible disruptions resulting from the unexpected events that might emerge in the future.
• In spite of the emergence of pandemics, iBEAM and BEAM Plus seeks continuous improvement and works in coordination with the development of society and the environment.
• From the architectural perspective, how can we meet the ever-demanding public health requirements in terms of design and application with iBEAM?
Design: With expert analysis and evaluation, data collected can be used to improve building services design.
Application: Changes in Existing Buildings assessment details could be made in response to COVID-19, for example, air circulation.
• iBEAM can analyse 450,000 pieces of data from built environments and waste management, identifying a better methodology for building design in a quicker manner.
• Indoor Air Quality is crucial for disease prevention. Data can be fed into iBEAM to enable more comprehensive review of the ventilation efficiency and to enable managements to take appropriate precautions for potential epidemics.
• iBEAM could act as a solution provider supported by the data collected on the platform. As such, green building development trend can be traced. It can assist developers, builders and the Government in the post-pandemic era in planning and designing a healthier and more liveable built environment.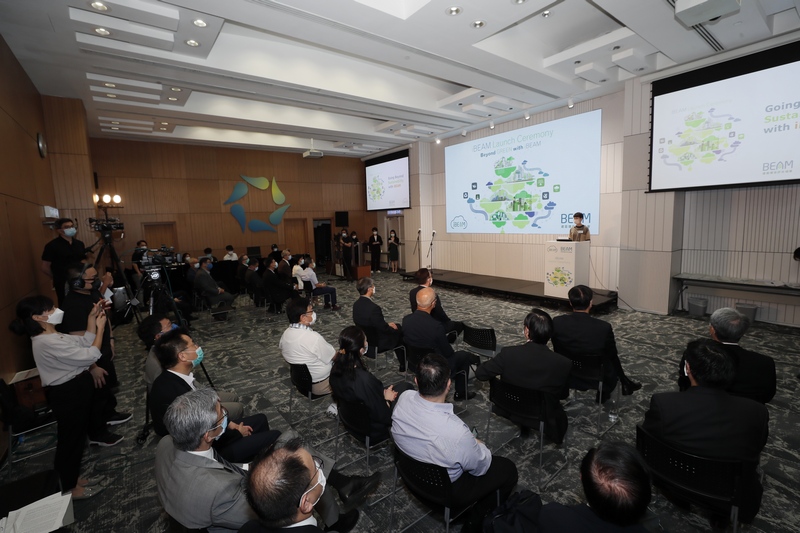 About BEAM Society Limited
BEAM Society Limited (BSL) is a non-profit organisation established in 1996, which was later incorporated in 2010. Being the developer and owner of the Building Environmental Assessment Method (BEAM), BEAM Society Limited (BSL) is committed to administering and developing the BEAM Plus Assessment Tools.
BSL offers impartial assessment on building sustainability and builds capacity by providing training for BEAM practitioners – BEAM Professionals (BEAM Pro) and BEAM Affiliates. BSL has become a public body under the Prevention of Bribery Ordinance since 2016.
About BEAM Plus
BEAM Plus offers a comprehensive set of performance criteria for a wide range of sustainability issues relating to the planning, design, construction, commissioning, fitting out, management, operation and maintenance of a building.
BEAM Plus Assessment Tools available include: BEAM Plus New Buildings, BEAM Plus Existing Buildings, BEAM Plus Interiors, BEAM Plus Neighbourhood and BEAM Plus New Data Centres and BEAM Plus Existing Data Centres.