A new office building designed by Broadway Malyan has completed in Jakarta, offering high quality business space in the city.Tower 9, part of CIBIS Business Park, comprises 54,800 sqm of office and ground level retail space and includes the largest Grade A space available in Jakarta, with floorplates of 4,000 sqm.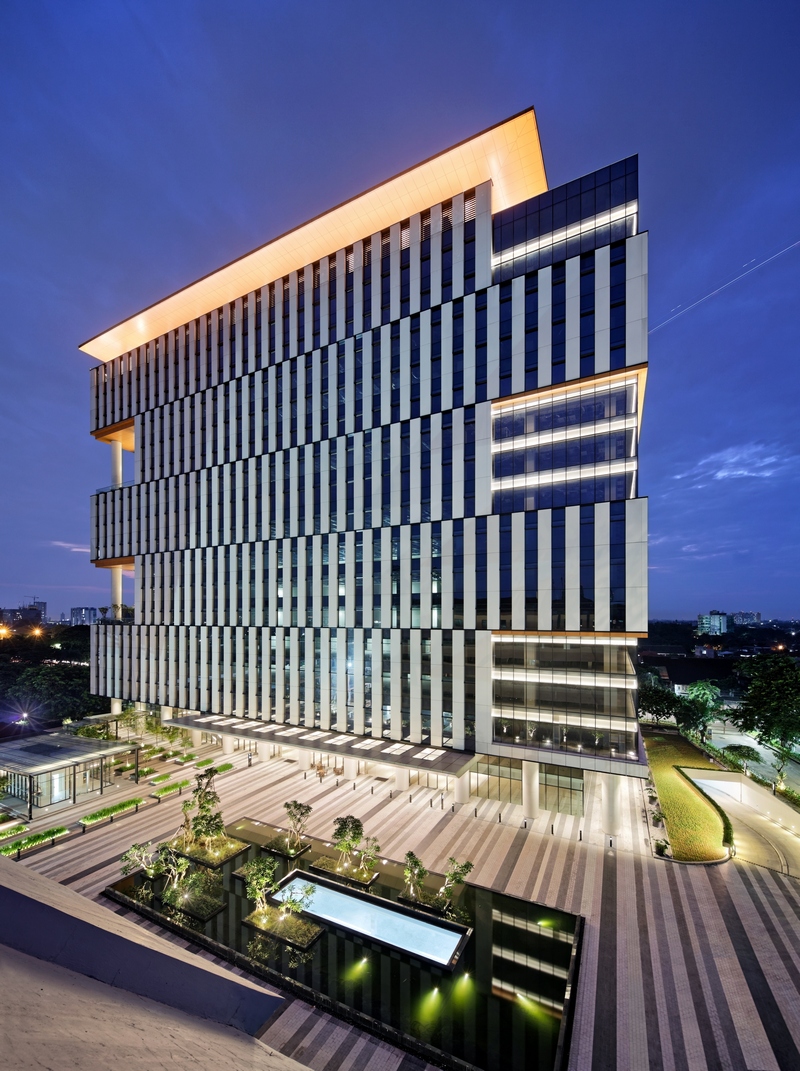 The completion marks the first phase of the business park that is being delivered by PT Bhumyamca Sekawan. The aim of the project is to provide international standard office space in Jakarta to attract new companies into the market and provide better space for existing businesses looking to improve and upgrade their current premises. Architecture and urbanism practice Broadway Malyan designed the masterplan for CIBIS Business Park as well as the detailed design for Tower 9.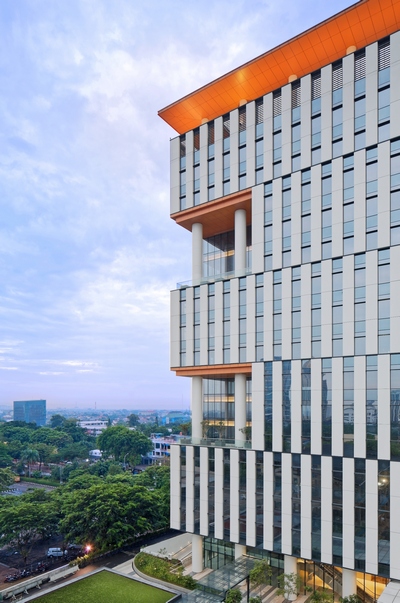 Ian Simpson, director at Broadway Malyan, said: "The challenge was to balance what would be viewed as an "international style" office building with the local Indonesian culture. When buildings are designed without that local context in mind, it is very difficult to deliver something appropriate for the surroundings.
"This is our first built project in Indonesia and it was important to us to get it right and provide something at a high standard, which is reflective of both the area's character and the aspirations for the development."
The tower has received LEED Platinum Pre-certification due to a number of sustainability focused initiatives in the design. This includes a 'green roof', which reduce storm water run-off and ambient temperatures, and rainwater management systems to collect, store and purify water for other uses. Following completion of Tower 9, Broadway Malyan is working on the designs for further buildings at CIBIS Business Park. Ed Baker, director at Broadway Malyan and head of masterplanning, added: "Our long term aim is to create a business park with a village feel. The heart of our design is a 1.5 hectare square which will include a Banyan tree and a water feature, which will help to cool the area.
"The design prioritises pedestrians, with the parking located underground, to provide a walkable, open space for people to enjoy. As we design the other towers, we will maintain this approach, ensuring that each building complements what has gone before."
A further eight towers are planned as part of the 12 hectare masterplan. Whilst primarily providing office space, a number of other uses are proposed for these buildings including serviced apartments, conference facilities and retail and leisure units. Broadway Malyan is also providing landscaping, branding and wayfinding services for the development.