(10 June 2016, Hong Kong) – Colliers International's latest thematic report shows that demand for flexible workspace is rising across Asia, particularly in Hong Kong and Singapore. The domains of traditional serviced office operators and coworking operators are increasingly converging. Over 2016 Colliers expects flexible working operators to lease 20% more office space in Hong Kong than Chinese groups took up in 2015.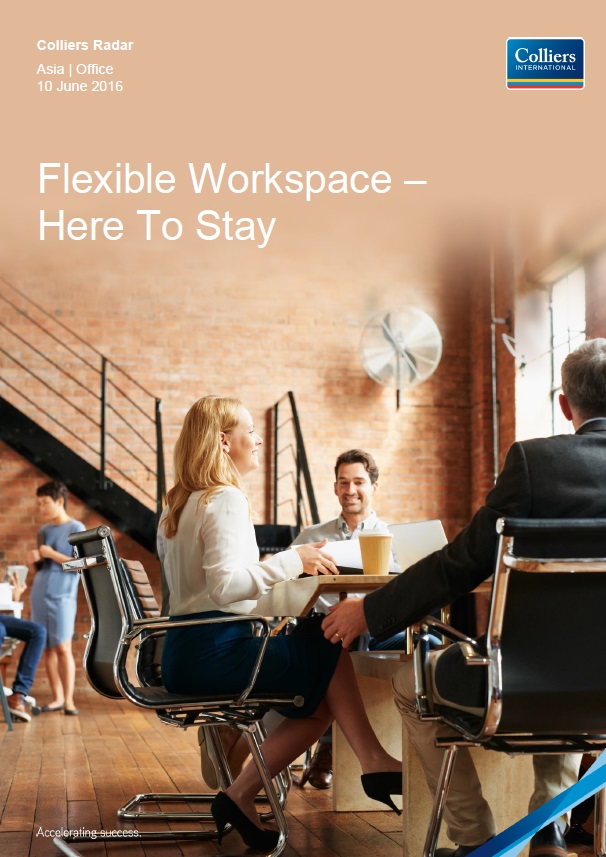 "We certainly feel that the new wave of flexible workspace operators is here to stay. The sustainability of these operators will be driven by the increasing appetite of MNCs looking to add diversity and flexibility to their operational real estate. We've already seen increased take up of this type of space by MNCs in other markets and we fully expect Asia to follow suit." said Jonathan Wright, associate director, Office Services.
The key factors driving demand for flexible workspace are 1) the arrival of new generation of workers, 2) increased attention to technology and innovation, and 3) the rise of flexible working operators offering serviced office and coworking space.
Colliers estimates that Chinese companies secured 400,000 square feet of office space in Hong Kong under new leases in 2015, whereas flexible working space operators have secured 252,000 square feet of space in Hong Kong over the first five months of 2016 alone. Over the year as a whole Colliers expect flexible working operators to lease 20% more office space in Hong Kong than Chinese groups took up in 2015. This growth should support demand for office space and ultimately rent levels.
The growth in fintech (financial technology) and internet applications in Asia is reinforcing the surge in supply and demand of flexible workspace. "We see large banks and financial groups are increasingly trying to adopt fintech solutions in order both to rationalise their operations and to defend themselves against new challenges."  Wright added.
"The trend towards flexible workspace is here to stay, and has implications for all property market participants. In particular, landlords must build relations with a new class of tenant, while flexible working occupiers must devise the right strategies for further penetrating major urban markets," said Andrew Haskins, executive director, Asia Research.
Colliers expects the factors driving the desire for more flexible working space to strengthen further. This has implications for all property market players, including:
Landlords can expect higher demand for space, but must build relations with a new class of tenant
Developers should incorporate new features into building design
Flexible working occupiers in Hong Kong and Singapore should look for space in the CBD fringe or outside it
Landlords and investors should watch operators' business models, because over-expansion on a localised scale is a risk