(30 June 2020, Hong Kong) Gammon Construction Limited has been awarded a HK$5.67 billion contract by the Highways Department of the Government of the Hong Kong Special Administrative Region to construct buildings, electrical and mechanical (E&M) works for the Central Kowloon Route (Contract No. HY/2019/13). This is the second contract Gammon participates in the Central Kowloon Route project.
(按此瀏覽中文版)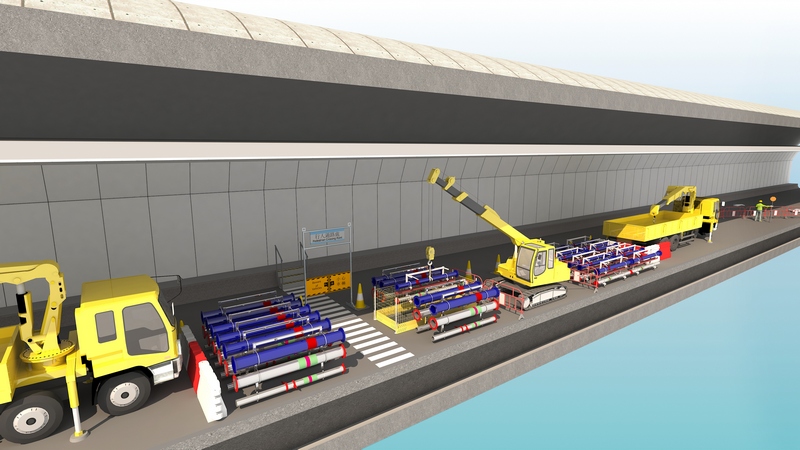 The works form an essential element of the overall Central Kowloon Route (CKR), a 4.7km-long dual three-lane trunk road that will enhance connectivity between the east and west Kowloon districts and relieve congestion. Gammon is also constructing the Kai Tak West Section of the CKR which includes underwater and cut-and-cover tunnels, as well as roads.
Chief Executive of Gammon, Thomas Ho, said: "We are delighted to be working with Highways Department again on this vital piece of infrastructure for Hong Kong. Our reputation for the delivery of complex tunnel E&M works continues to grow and we look forward to further strengthening it through the safe and efficient execution of this contract.
"Our delivery methodology incorporates an integrated digital project delivery approach making use of smart and digital construction techniques including the adoption of extensive DfMA and off-site pre-fabrication to improve efficiency, overall safety and quality on the project. BIM and innovative digital construction and asset management systems will be also used to support a collaborative approach on the project."
The scope of work for the Central Kowloon Route – Buildings, Electrical and Mechanical Works contract includes construction of tunnel ventilation and administration buildings, electrical and mechanical works including building services system, tunnel ventilation system, air purification system (APS), lighting system, central control and monitoring system (CCMS), extra low voltage (ELV) system, electrical system, plumbing and drainage systems, fire services system, and traffic control and surveillance system (TCSS) as well as tunnel cladding, thermal barrier and landscaping works.
Gammon is also currently completing buildings and E&M works for the 5km Tuen Mun-Chek Lap Kok Link Northern Connection Tunnel and has delivered similar works for the Route 8 Nam Wan Tunnel. Both projects were for Highways Department.
Work on the Central Kowloon Route – Buildings, Electrical and Mechanical Works contract is due to start in June 2020 and will be substantially completed for CKR commissioning in 2025. Around 800 staff and workers will be engaged at the peak construction period.