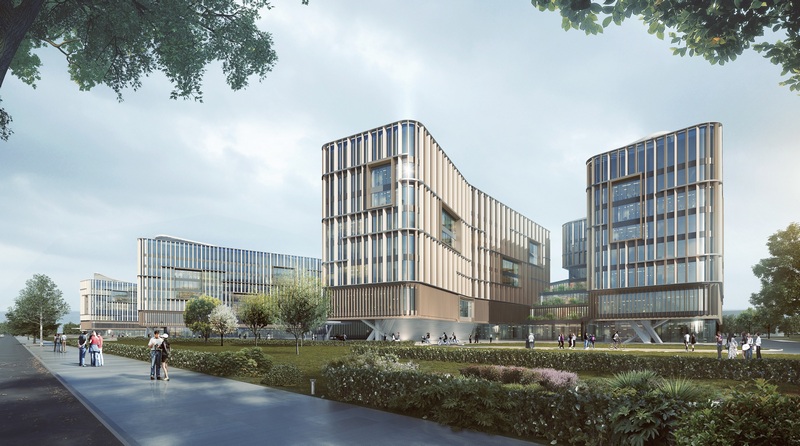 Project: Shijiazhuang Zhao Hua Hospital Development
Location: Shijiazhuang, China
Client: Hebei Zhonghong Ruiyue Real Estate Development Co., Ltd.
Architect: LWK + PARTNERS
Site Area: 114,700 sqm
Gross Floor Area: 206,460 sqm
Designed by LWK + PARTNERS, Shijiazhuang Zhao Hua Hospital Development aims to be more than just a place to see the doctor. This medical complex in Zhengding New District, Shijiazhuang addresses health and wellbeing from a holistic perspective by creating a community landmark with diverse functions, which ties in with the local planning objectives to build a low-carbon, eco-friendly and smart neighbourhood.
The development has 10 levels, including two levels underground, housing a national Grade 3A general hospital, a rehabilitation hospital, an obstetrics & gynaecology hospital, a children hospital and a postpartum care centre. With a large capacity of over 1,160 beds, the project provides top medical services to Shijiazhuang and the whole country.
The project takes a patient-oriented approach to upend the traditionally cold, clinical atmosphere of hospitals. It diverges from the usual rectangular form and takes inspiration from mountain landscape, resulting in a distinctive design that creates harmony with nature and the community.
Buildings adopt a streamlined design. Facades incorporate natural materials such as stone and terracotta, featuring vertical lattices that come in a series of light-hearted, dynamic colours to create positivity.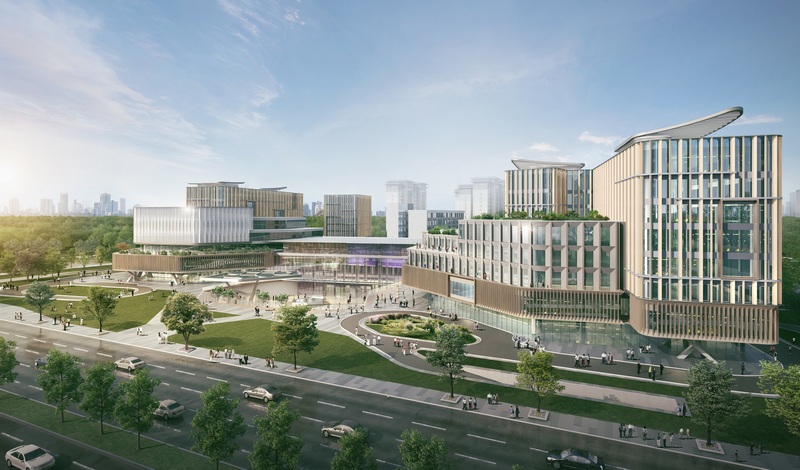 Besides dedicated healthcare spaces, Zhao Hua is also where people come to restore their minds and souls.
The complex is planned with extensive open areas, terraced gardens, sunken plazas, retail spaces and even teaching facilities and event venues. They serve multiple community functions and create a comfortable setting for patients, their families, staff and the general public.
But the broad range of community facilities also mean a higher traffic as compared with normal medical buildings.
In response, LWK + PARTNERS has applied a decentralised design throughout the complex to achieve efficient circulations.
Each building has its own entry points, which is different from the average hospital in mainland China. Healthcare users are therefore quickly directed to their intended department, as opposed to a single main entrance where a crowd would gather and people must pass through upon arrival.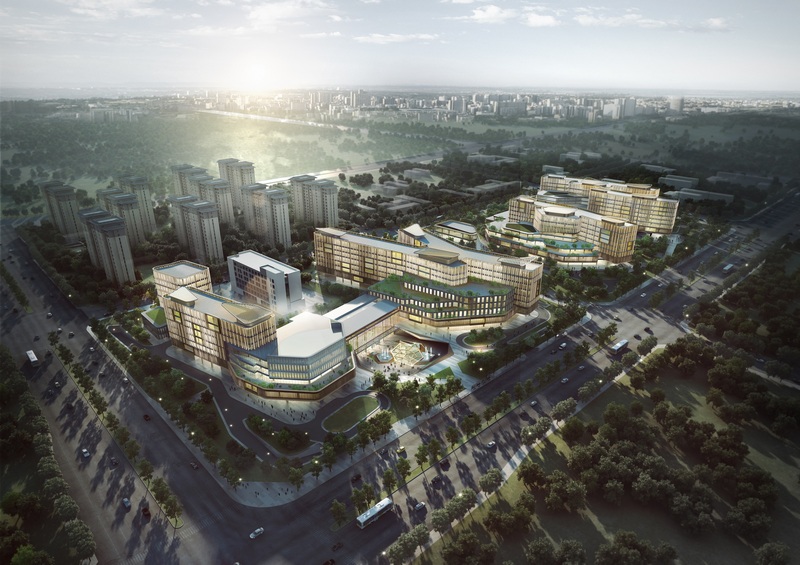 Each building is also assigned with a distinctive theme colour and icon to facilitate wayfinding. Measures are in place to ensure efficient circulation of patients, supplies and equipment. 'Clean' and 'dirty' items flow through separate routes without crossing, while visitors are properly diverted and discharged to avoid disrupting normal operations.
Hospital rooms are south-facing to optimise natural lighting and ventilation. Sunlight is also regulated as it comes through layered lattices on the facades. Room specifications are in line with international standards.
Zhao Hua is a combination of efficiency, beauty and diversity. It goes beyond the technicalities of medical professionalism to serve the community through an inclusive, people-centric approach to urban spaces.