The inaugural Design Green | Skycourts and Skygardens exposition, curated by Pomeroy Studio, focused on broad aspects of skyrise greenery through: The Exhibition, The Discussion and The Installation.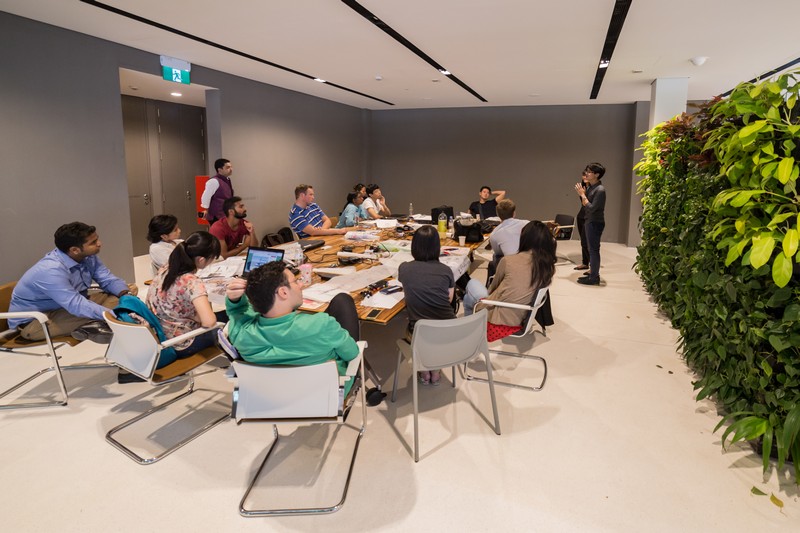 Held at the National Design Centre (NDC) for the first three weeks in September, overlapping Singapore Green Building Week 2014 and supported by the DesignSingapore Council, the event showcased global design projects. The expo took over the centre's roof terrace, converting it into a communal gathering space; engaged students in research and dialogue; saw professionals engaged in dialogue sessions; and included a design seminar and tour at the National Library. The exhibition and related events celebrated the incorporation of greenery and open spaces within buildings to promote social interaction.
Inside the Designer's Studio
The curator, professor Jason Pomeroy, said the motivation to curate and stage Design Green came about after repeated questions if skyrise greenery, vertical urban greenery, skycourts and sky gardens were feasible in high-density urban environments. After more than 10 years of research and authoring a book on the subject, he thought it was important to bring these issues to a broader audience.
"I thought it would be a great way to bring some of the ideas from the book to life by staging the events within the NDC, which is quite a remarkable colonial structure. We took over the ground and first floors to host the exhibition that not only explains the socio economic, cultural, physiological, technological and spatial benefits of sky courts and sky gardens, but also gave case studies of works, past, present and future," says Pomeroy.
"We also wanted to engage with practitioners to bring their expertise to a broader audience which was the discussions entitled Inside the Designer's Studio. This was very much for the general public who are increasingly seeing greenery in their urban habitat, whether it is in Singapore or elsewhere, such as in Europe or America. With this interest we decided to put on an exhibition that would appeal to the public through photographs, models and so on. And we were very heartened to see not only academics and professionals but also very curious members of the general society."
The exhibition wasn't just about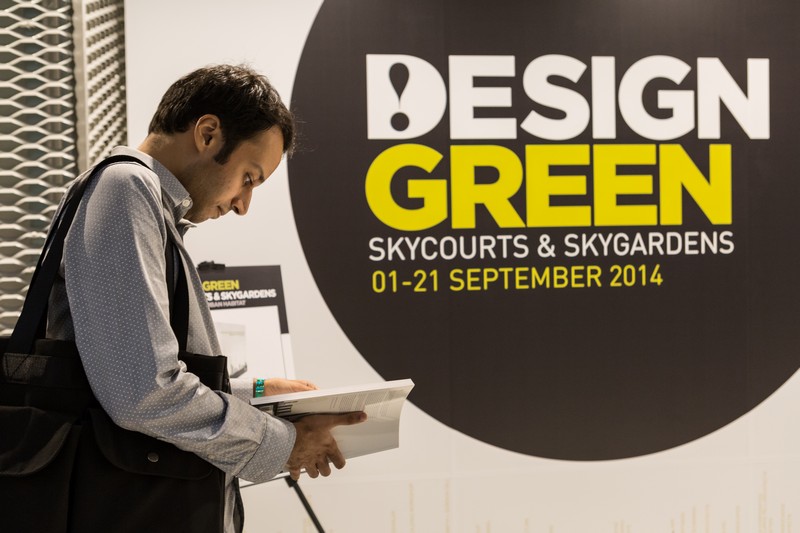 creating a curated exhibition, but brought the concepts to life. An edible garden featured rosemary, basil and other herbs that found their way into the drinks served during the evening performances. "This relates directly to the communities that exist in tall structures, with the idea of creating a communal space where residents can come together to participate in these green activities, such as planting and using their own herbs."
The interaction was enhanced by a solar canopy on the centre's roof that generated enough energy for four performances by a Hong Kong DJ. Pomeroy wanted to challenge the idea that a rooftop should be a bland space for elevator or air-conditioning equipment. He helped demonstrate that it is easy to activate these spaces with appropriate greenery and activities that provide a focal point for the community to come together.
"We also wanted to engage with academia. So we went to Singapore University of Technology and Design, Tianjin University and the University of Nottingham to hold a three day masterclass whereby we hypothesised that Orchard Road in the year 2050 may be a very different space, in that there would be no more public space," he says.
"So how could you recreate these social spaces in the sky on the rooftops of existing buildings? This provided a unique opportunity for the masterclass students from different parts of the world to come together over a three-day period, attending lectures by professors from these institutions, as well as champions of industry.
"Within this short period of time the students came up with some remarkable solutions. The immediate feedback from both professors and students was that it was a really enjoyable exercise to have three different universities with different specialisms from three different parts of the world to tackle a very contentious issue which is the role of rooftops as potential public space in 2050."
The public offered enthusiastic feedback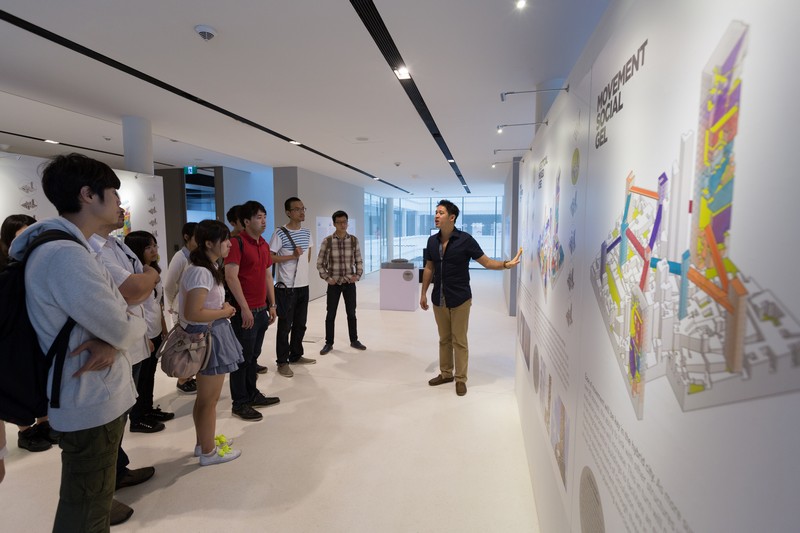 on Design Green, illustrating that these issues are prevalent around the world, and that the future planners, engineers and architects currently at university must be equipped with the tools to challenge the "business as usual" approach in the building of urban spaces.
"Part of the reason for this masterclass was also to enforce the reasons that these changes need to take place. There are still members of society who are unaware of the whys and wherefores, even though they might have heard about some issues in a general sense, such as climate change."
Pomeroy says the premise and definition of sustainable development began only with the publication of the United Nations World Commission on Environment and Development report, Our Common Future, in 1987. That highlights that today's students were the first to be born in a period where recycling, reusing and reducing consumption was implicit. While that is encouraging, it still needs to be taught and that requires a framework.
The final segment of the exhibition was Inside the Designer's Studio. The discussion was based on the popular American television series Inside the Actor's Studio, that sees in-depth conversations with Hollywood actors in front of a live audience of student actors.
"We were very lucky to be able to welcome Mike King [see report this issue], the principal engineer from Arup who was responsible for the Singapore Sports Hub, Andrew Grant, the landscape architect for Gardens by the Bay and Ken Yang, celebrated architect of the National Library of Singapore. Each one of them was given the opportunity to present their ideas for a greener urban habitat for 20 minutes before engaging in a Q and A with the audience, and it was absorbing to hear these individuals open up about their own craft."
The future of Design Green

As Professor of Sustainability at Nottingham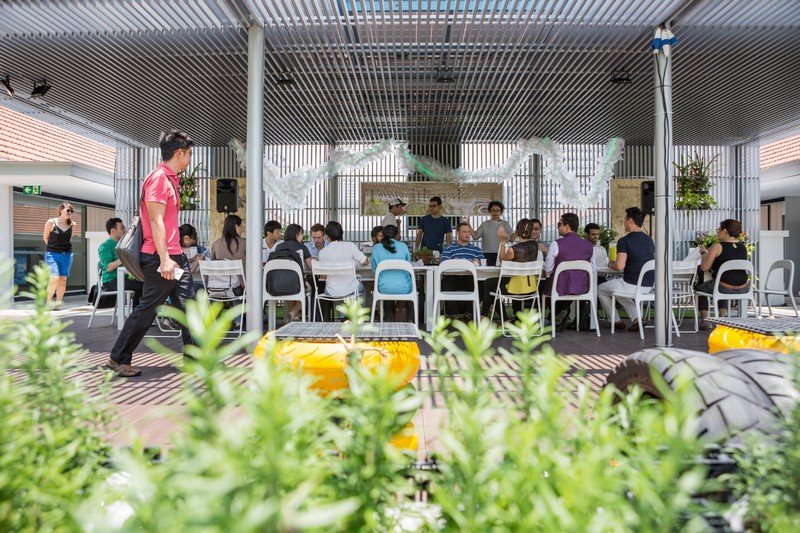 and Venice universities, Pomeroy says he will continue to engage leading universities. Design Green will become a bi-annual event that we will continue to develop three fields of research: vertical urban theory, zero energy development and modular construction.
"We are perfectly positioned as designers and thought leaders of the sustainable built environment to bridge the gap between design and research. Balancing a creative vigour in our design projects with an academic rigour in our evidence based research and the ability to translate academic research into realistic commercial design and vice versa allows us to provide focused but empirical commentary on sustainability within the urban habitat, which is applicable throughout Southeast Asia, and dare I say it, globally."
Design Green is about collaborative knowledge sharing that will benefit future generations.