Since its opening in 2014, the Helmholtz Institute at the University of Ulm HIU in the city of Ulm, Germany, has developed into a national centre of scientific excellence. Located in the university's Obere Eselsberg Science Park and designed by Nicki & Partner Architekten, the facility will host researchers and students specialising in sourcing new and innovative electrochemical energy storage solutions. The position of the new building and the extensive surrounding landscaping links the two sections of the campus which are separated by a busy road thoroughfare.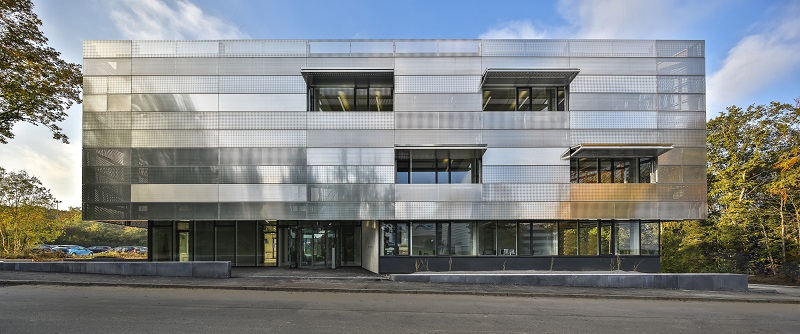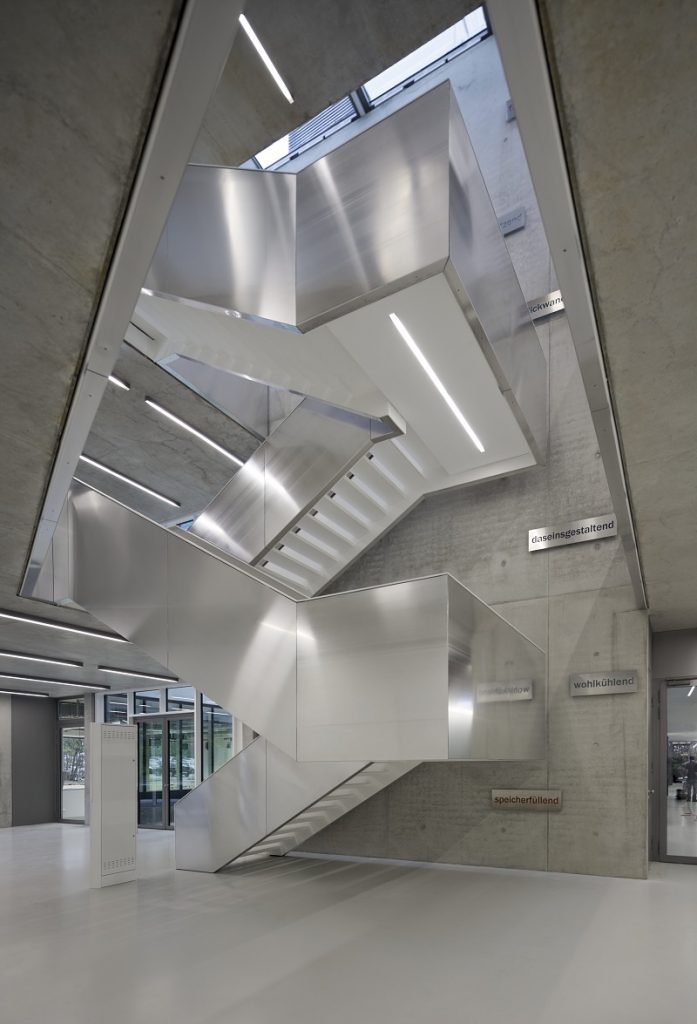 The Institute's striking metallic facade would not look out of place as the exterior of a top-secret government lab in the latest Marvel blockbuster. Composed of homogenous perforated sheet metal, with regularly distributed windows of various sizes and variable sunblind positions, the facade makes an immediate dramatic statement to the surrounding area and gives a futuristic feel to the building expression. Panels in front of office windows and public spaces can be raised individually to bathe the interiors with natural light. As the light changes across the day, and seasons pass throughout the year, the exterior metallic panels reflect this, creating a lively play of light across the park's courtyard spaces.
This visually arresting use of metallic sheeting continues throughout the building's interior walls and staircases. This, coupled with stark concrete walls, forms the build's cohesive and minimalist design aesthetic. Bold metal panels placed along interior walls bear text inscriptions; 'Freudeleuchtend', for example, meaning 'joyful radiance', promotes among researchers a sense of pride and motivation in their work. The three-storey elevation unites office administration areas as well as chemical, physical and specialised laboratories under one roof. Requirements as outlined in the design brief specify the building's foundations must be vibration-free to facilitate the use of a scanning electron microscope.
The Helmholtz Institute at the University of Ulm HIU was one of four German buildings to be shortlisted for 'Building of the Year' at this year's WAF World Architecture Festival.