INSIDE – World Festival of Interiors has announced the five award winners on the second day of the festival at Marina Bay Sands in Singapore. The schemes selected demonstrate the strength of creative design around the world with winning projects selected from four different continents.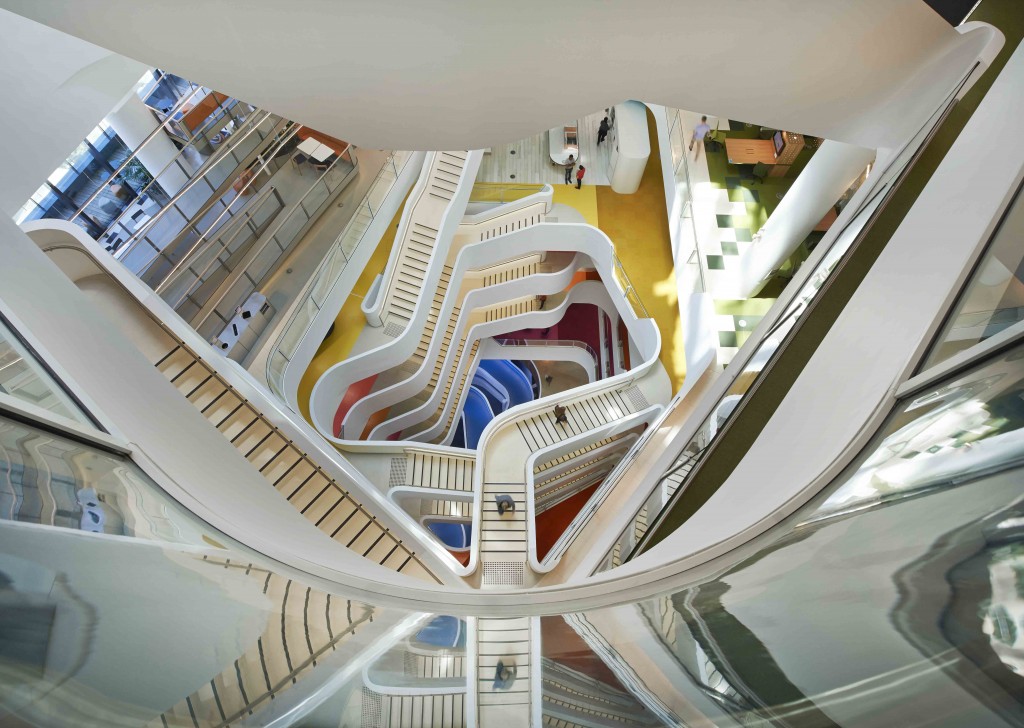 The Shepherd's Bush Pavilion Hotel in London by Flanagan Lawrence won the Creative Re-use category. The Grade II listed former cinema in west London was transformed into a hotel that preserved the building's civic pride whilst creating additions including a grand atrium featuring golden hooped balconies that rise to the full height of the structure. The judges described the atrium as "instrumental" to the design and contributed to the creation of an "elegant and sophisticated interior".
A cinema resembling a scene from a disaster movie triumphed in the Civic, Culture & Transport category. 'Exploded' in China by One Plus Partnership places cinema-goers at the heart of the action with a chaotic composition of sharp lines and box-like structures to bridge the gap between the big screen and the viewer.
Medibank Workplace by HASSELL grabbed the Offices prize for this major new project in Australia. The project sees the creation of one of the world's healthiest workplaces and the judges acknowledged the scheme as a key demonstrator for "the power of design". There was one Highly Commended project in the category for Uralchen Headquarters by Pedra Silva Architects.
In the Health and Education category the University of Queensland Oral Health Centre was announced the victor. Designed by Cox Rayner Architects, the project places the craft of dentistry at the heart of the scheme, creating forms and shapes inspired by the profession. Judges commended the project for "humanising a clinical environment [that] re-imagines dental education".
In the final category of the day, Ward Village Information Centre by Woods Bagot received the Display award. The project reinvents the historic IBM Building in Haiwaii into a sensitive centre of sales and information and offers "a tactile, warm and sensitive" approach.
All of today's winners will go head to head tomorrow with the four other category winners from day one of the festival in an attempt to be named World Interior of the Year 2015. The nine category winners will present live to the jury on the final day of the festival.