Recently, storied wine and spirits merchant Justerini and Brooks commissioned Hong Kong based interior designer Peggy Paik to design their Hong Kong office located in The Centrium, Central.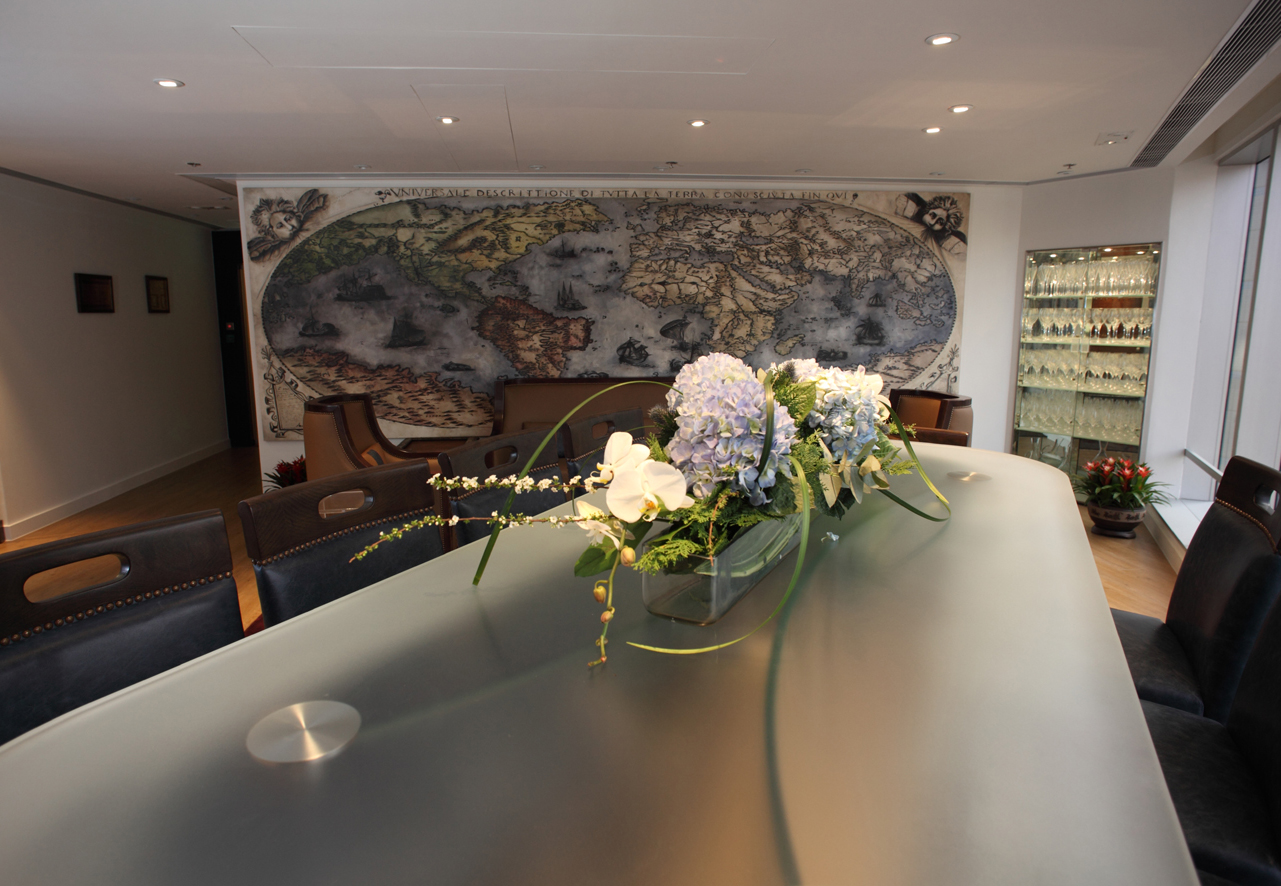 The relatively small space, in the Wyndham Street office, was to serve the varied purposes of workspace, wine tasting environment and customer entertainment. Intrinsic in her design, Peggy Paik created a unique combination of modern and old-world sensibilities with the specific ambition of illuminating Justerini and Brooks' storied history.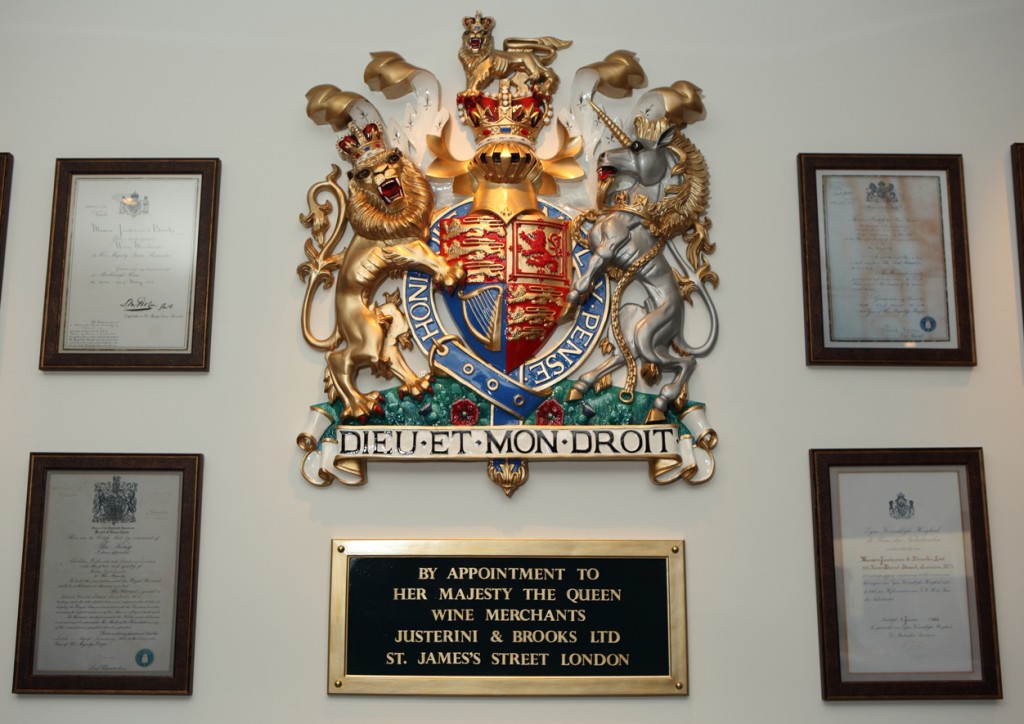 Through careful integration of various focus pieces, including a 10-metre hand-painted re-creation of an ancient world map and replications of hundreds of years of royal warrants, Paik was able to capture the identity of the prominent merchant. 
Founded in 1749, Justerini and Brooks quickly gained a reputation for both quality and service; a reputation they have maintained ever since. First awarded the royal warrant in 1760 by King George III, Justerini and Brooks has been granted this honour by every successive monarch ever since, including Her Majesty Queen Elizabeth II.
Later, markets expanded throughout the world and there became an increasing taste for blended Scotch whiskey. From this market demand J & B Rare was born and has since been considered to be Justerini and Brooks 'house whiskey'. Since then sales of J & B Rare have grown rapidly and it is now the second largest selling Scotch whiskey in world. Their current Chairman, Hew Blaire sits on the Buckingham Palace Wine Committee.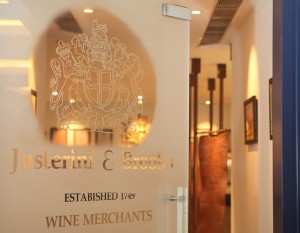 Within this storied history, Interior Designer Peggy Paik found her inspiration for the project's design. While touring Justerini and Brooks' headquarters in one of London's distinguished neighbourhoods, Paik found herself unusually troubled to define her focus for the project. While they toured, she noticed 260 years of Royal Warrants were hanging scattered throughout the house- to Paik, these pieces of history defined Justerini and Brooks' identity. 
For almost thirty years, Paik has been creating memorable designs with a particular focus on artisanal productions and bespoke artwork. Her designs can be found throughout the world in exquisite homesteads and in some of the most elegant hotels including the Mandarin Oriental and Hotel Lisboa and even in a recently restored European castle. Peggy Paik has also completed many projects within the wine industry including the Crown Wine Cellars in Hong Kong, Beijing and Shanghai. With a personal interest in the culture surrounding wine and having had the pleasure of visiting Chateaus and vineyards around the world, Peggy Paik has a particular sensibility for the design of this space.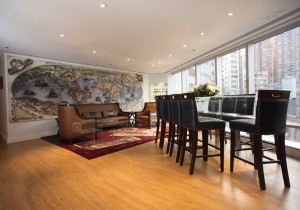 The beautifully executed design of Justerini and Brooks' office space contains a number of shockingly interesting focus pieces; all of which are tied together through a combination of old world charm and modern sensibilities. "I very much like the contrast of old and new in one particular space… I also love to use massive pieces in small spaces," stated Paik. 
The first focus piece in the project is a large, centrally hung, custom moulded fibreglass recreation of Justerini and Brooks royal warrant. After the warrant was moulded, it required several months of hand painting. Displayed in "museum lighting", around the custom fibreglass warrant, are recreations of hundreds of years of Royal wine contracts. In order to recreate the contracts, which had never left their original frames, a special printer had to be employed. All writing on the recreations was done by hand, calligraphy style. This printer had the unique charge of recreating exact copies of the papers, including unique colours of aged paper, stains, Royal Crests, and Royal Chops- the results are brilliant.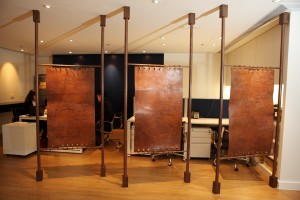 Additionally, the room required a division between work area and entertainment space. For this purpose, Paik created panels of distressed leather. On the leather panels a calligrapher hand-carved the names of many famous vineyards and chateaus from around the world. The writing and panels were purposefully fashioned in an array of sizes to give the illusion of three dimensions. 
On the other side of the leather dividers are two more interesting pieces. First, a 2.2-meter ultra-modern, bespoke crystal tasting table which provides both an area to rest ones' wine and an unambiguous contrast between new and old. Just beyond the crystal table is a luxurious custom-made rug in deep burgundy featuring corks representing exclusive champagne brands, the rug being the focal point of the seating area in which a leather sofa and two deep armchairs offer visitors refined comfort.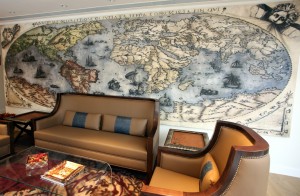 The most striking piece commissioned by Paik is located on the wall behind these chairs; a ten-metre recreation of a world map, hundreds of years old. After finding this map depicting the world of the original ocean voyagers, the ensuing challenge was for it to be enlarged so it covered an entire wall. After a special printer created a colourless outline, a local artist painstakingly hand-painted the map to capture the essence and colour of the original, thus evoking the sense of history enshrined in Justerini and Brooks' now timeless brand. 
Peggy Paik's design process is the ultimate orchestration; a collaboration among clients, artisans and suppliers. Regarding her work on this project, she said, "This is my passion, I love it and I cannot imagine life without doing what I am doing."