Currently the talk of the town, Hong Kong's recently opened Hotel ICON, conveniently located in the heart of Tsim Sha Tsui, stands as a rare and welcome breath of fresh air to the city's accommodation offerings and boasts a veritable "who's who" of international architects and designers who have raised the benchmark on boutique hotel design in a city traditionally more famous for its large international brand name properties. 
From the inspired architectural design by Rocco Yim of Rocco Design Architects to the contemporary interiors by CL3 Architects William Lim, from Conrad & Partners striking food and beverage outlets to French botanist and artist Patrick Blanc's creative vertical garden and Vivienne Tam's exclusive suite design, Hotel ICON reflects the clean lines, natural materials and simplified elegance increasingly acknowledged as the hallmarks of new 21st century design.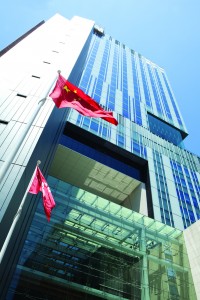 Not to be outdone by design, Hotel ICON also commissioned renowned Hong Kong designer, Freeman Lau, to curate the hotel's notable and eclectic art collection which includes works by some of Asia's best talents, including Cheung Yee, Kan Tai-Keung, Nancy Chu Woo, Hung Keung, Pauline Lam, William Furniss, John Fung, Chow Chun Fai, Tsang Chui Mei and Terence Lee.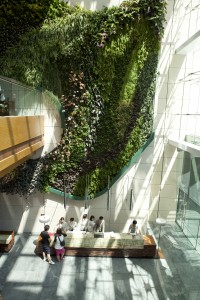 Owned by Hong Kong Polytechnic University's School of Hotel and Tourism Management, Hotel ICON is Hong Kong's first dedicated teaching hotel providing hands-on training in a real hotel environment, whilst also catering to those guests lucky enough to be staying at this international design paradise.
 Hotel ICON comprises 262 rooms reputedly the most spacious and best equipped in Hong Kong, including 165 rooms, 68 Above & Beyond Club rooms, 26 suites and three Prototype rooms, most with picture postcard views across Victoria Harbour.
"The property's three main components are the hotel, the staff quarters and the classrooms," says CL3 Architects Managing Director, William Lim. "There is a major emphasis on training here as this is a training hotel, so there is also a training restaurant and a wine tasting laboratory utilised by students. The classrooms are also available for meetings and conventions when required and this adds an additional element to attraction of the property."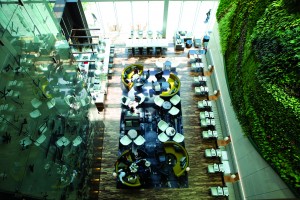 "We placed a major emphasis on the use of natural timbers and glass and these are the elements that make the hotel different. CL3 has been involved with this project for four years, from the day the actual foundations were poured, so there were certain aspects of the architecture that we were able to influence in line with our interior designs. For example, we altered the design of one of the premier suites by replacing traditional walls with large floor to ceiling windows in order to further promote the light and to convey an open and spacious ambience within this very luxurious suite and also to highlight the sweeping panoramic views of Victoria Harbour and Hong Kong Island beyond." 
Lim elaborates further, stating that once you walk through the front door of Hotel ICON, everything is about the interiors.  In relation to the hotel's rooms, Lim states that it was particularly important to keep in mind that the hotel has an educational mission and it is not a businessman's hotel. Lim also states that he wanted to bring the outdoor environment into the hotel and to keep the interiors as open and fresh as possible.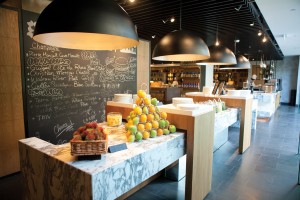 "We introduced light, natural coloured, re-engineered timber highlights throughout the property and adding elements of luxury and uniformity to rooms and public spaces from the moment you walk through the front door and view the 50-metre square circular timber lobby seating," says Lim. 
Also gracing Hotel ICON is the exclusive Vivienne Tam-designed VT Suite. A graduate of Hong Kong Polytechnic University, international fashion designer Tam applied her signature look of unforced elegance and chic simplicity to the suite's interior resulting in an ambience of unimpeded luxury and relaxation.
 Hotel ICON food and beverage outlets offer guests a selection of three notable restaurants – GREEN, Above & Beyond and The Market.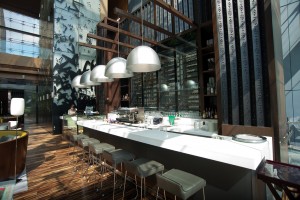 Situated at lobby level, GREEN provides a neighbourhood café setting by day, morphing into a fun and lively tapas bar by night and is ideal for casual catch-ups to group dining amid its elegant setting. A highlight feature of GREEN that also extends to the floors above is the superb 18-metre vertical garden created and installed by French botanist and artist Patrick Blanc. Accommodating a range of colourful, tropical plants and flowers and fed through an internal irrigation system, this verdant garden wall measuring 230m2 is the largest of its kind in Asia.
The Conran & Partners-designed Above & Beyond Chinese restaurant located on the top floor of the hotel and featuring breathtaking panoramic views across Victoria Harbour, provides seasonal Cantonese cuisine set amid surroundings that evoke images of a private club with books and Asian artifacts lining the library shelves, while floor-to-ceiling views further add to the overall ambience. Additionally, there are three modern and stylish private dining rooms, one with a functioning kitchen, and available for guests to invite a private chef to serve customised meals.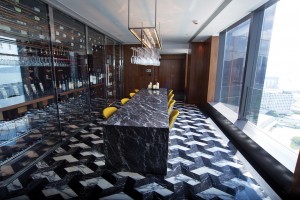 Inspired by Hong Kong's wet markets, The Market situated on the second floor offers a wide selection of Asian and international delicacies. Complete with open kitchens, the atmosphere is lively and vibrant. Accommodating 160 diners, The Market also includes an open-air garden terrace for those who prefer al fresco dining, particularly inviting during the city's less humid spring and autumn seasons.
Hotel ICON guests can also pamper themselves at Angsana Spa, a tranquil oasis of indulgence and pampering where professional therapists from the world-famous Banyan Tree Hotels and Resorts offer a range of relaxing and rejuvenating beauty, health and massage treatments in four contemporary private treatment rooms complemented by a fully equipped health club.
Further catering to guests relaxation and enjoyment, Hotel ICON's outdoor swimming pool, gym and fitness centre also allow guests to exercise while enjoying the spectacular and unrivalled harbour and city views.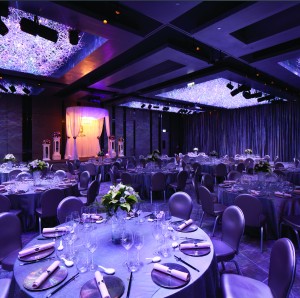 Hotel ICON also features the grand Silverbox ballroom, an ideal venue for theatre-style conferences with a maximum capacity of 480 persons, Lim designed a main hall that can be divided into smaller spaces for more intimate gatherings or private corporate events. "The Silverbox ballroom is another example of the flexibility of spaces within the hotel," says Lim. "Its potential is restricted only by imagination and I envisage myriad functions and events for which the Silverbox ballroom will be an ideal venue."
"Hotel ICON is a great source of pride for all of us who were involved in this project. It now stands as both the city's leading boutique hotel and teaching hotel and also introduces a new level of luxury accommodation to the city."