Hong Kong's leading team racing event for schools culminated in two exciting divisional finals' series this afternoon in front of Royal Hong Kong Yacht Club's Middle Island sailing centre located on the south side of Hong Kong Island.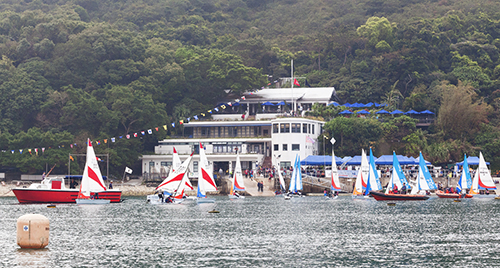 Members of the public watched from the promenade as 172 sailors from 22 schools completed two marathon days of team racing in Feva and Pico divisions, overseen by Race Officer Andrew Moore. Races featured three teams per school, with two schools in each race. The winner of each race was decided by totalling the points for all three finishers– lowest score winning, e.g. 1st +3rd +5th beat 2nd +4th +6th.
On Saturday the breeze gave an average of 7 to 8kts, gusting to 15 and while Moore acknowledged that the standard of sailing varied form team to team, he stressed that many of the more experienced schools were match racing the starts and contesting extremely close starts, mark roundings and finishes.
Even with a couple of resails, he managed to pack in 78 races on the first day, ahead of schedule and creating the time for semi finals and petit finals as well as the finals competition for divisional honours. At the end of the round robin element of the competition, French International School (FIS) topped Feva pool A, with King George V (KGV) first in pool B, while in the Pico class, Island School and Kellett School took first place in A and B respectively.
The semi final round switched to a knockout format, with the 'best of three' winners going forward the finals. In the Feva division, KGV overcame Hong Kong Sea School (HKSS) 2-1 setting up a confrontation with South Island School (SIS) who knocked out FIS, also by a 2-1 margin. In the Pico division, HKSS reached the finals with a 3-0 win over Hong Kong Schools Sailing Association, and Kellett School beat Island School 2-1.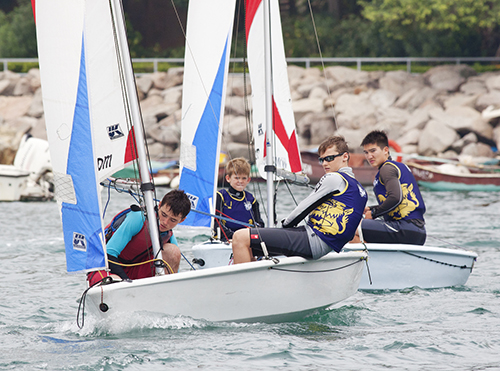 The finals and petit-finals also featured a 'best of three' format, producing some of the best sailing seen all weekend and some nail-biting finishes. The Feva final went down to the last beat of the final race. At 1 race apiece, KGV was lying 1st, 3rd and 5th at the penultimate mark and with great presence of mind, the third paced boat blocked the 4th and 5th placed SIS boats to allow his teammate to come through and secure 1st,3rd,4th to win the race and the regatta. A similarly exciting final in the Pico division resulted in a 2-1 triumph for Kellett School,
The prizegiving took place immediately after the final race, with Rear Commodore Sailing, Anthony Day thanking event supporters Neil Pryde and Aberdeen Boat Club before inviting Race Officer, Andrew Moore and Neil Pryde representative, Peter Davies to award the prizes. Day noted that "(Inter-School Sailing Festival) is a key part of our development programme and the more sailing we can channel through the school curriculum, the better. This competition showcases a great demand for youth racing and we hope that it continues to grow."
Images from Inter-School Sailing Festivals are available free of charge for use with editorial, however a credit in the form "Image : RHKYC/ Guy Nowell" must be carried with any that are used.