RICS ("The Royal Institution of Chartered Surveyors") will host its inaugural International Heritage Conservation Conference on 9 January, 2015. The conference will examine the key success factors of a number of local and overseas heritage projects.  The purpose of this conference is aimed at critically reviewing on Hong Kong's history in heritage building conservation and outlining a plan for future developments.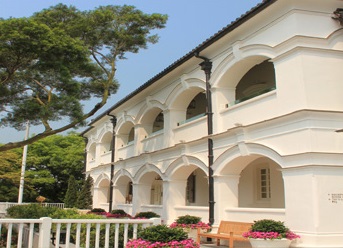 Owners, operators, architects, project managers, and the relevant government departments of the following projects have confirmed their attendance as speakers: Tai O Heritage Hotel, Savannah College of Art and Design, and PMQ. Overseas projects also include Malaysia's Blue Mansion and Australia's Sydney Living Museums. One of the deliverables of this conference is to produce a report, capturing the discussions and lessons learned, to be submitted to the HKSAR Government for formulation of future policies towards adaptive reuse of heritage buildings.
The Tai O Heritage Hotel is one of the main featured projects of the conference. Mr Randy Yu will be speaking at the conference on behalf of "The Hong Kong Heritage Conservation Foundation Limited". Mr Yu is a native of Tai O and focuses on the hotel's conservation, rehabilitation and management aspects. He is also committed to the sharing of knowledge and generating interest towards the hotel. Mr Yu also serves as General Manager of Sino Land, and on the second day of the conference, delegates will also have the opportunity to participate in a guided tour of the Tai O Heritage Hotel to learn more.
Case Study 1: Tai O Heritage Hotel
Tai O Heritage Hotel is the former Tai O Police Station, built in 1902, and is one of the most historically valuable heritage buildings in Hong Kong. In 2009, The Hong Kong Heritage Conservation Foundation Limited started its revitalisation, being one of the six projects under Batch I of the Development Bureau's "Revitalising Historic Buildings Through Partnership Scheme". The company is dedicated to preserving and renovating the Police Station. The station was then redeveloped into the Tai O Heritage Hotel with 9 guest rooms. The old Tai O Police Station was even graded as a Grade II historic building by the Antiquities Advisory Board in 2010.
The refurbished Tai O Heritage Hotel is about 1,170 square metres and the colonial-style architecture is well preserved. Historical elements and details, such as cannons, searchlight, corner turrets, dry-goods store and cells can all be found. In addition to the increased awareness and appreciation of heritage building conservation, more work opportunities are created in Tai O as well.
In addition to sharing successful cases, the Conference will also provide a platform for investors, developers, experts in the environmental and heritage industries, scholars, architects, surveyors and professionals in related fields to discuss the economic benefits of heritage conservation, as well as the challenges faced and feasibility of environment protection in the community.
For more information on the Conference or to register, please visit www.ricsasia-conference.org.