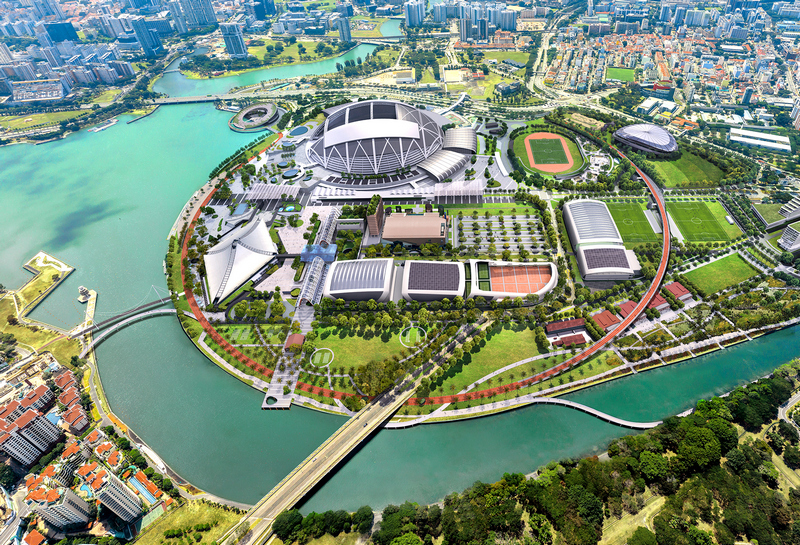 (2 September 2019, Singapore) Award-winning Singapore-based interdisciplinary sustainable design firm Pomeroy Studio has collaborated with national sporting body, Sport Singapore, to create an 89-hectare sports and recreation-oriented masterplan in Singapore. It is envisaged to be one of the world's most sustainable sport and recreation precincts. The designers and thought leaders of sustainable-built environments are the lead masterplanner, in collaboration with global infrastructure and transport engineers, Arup.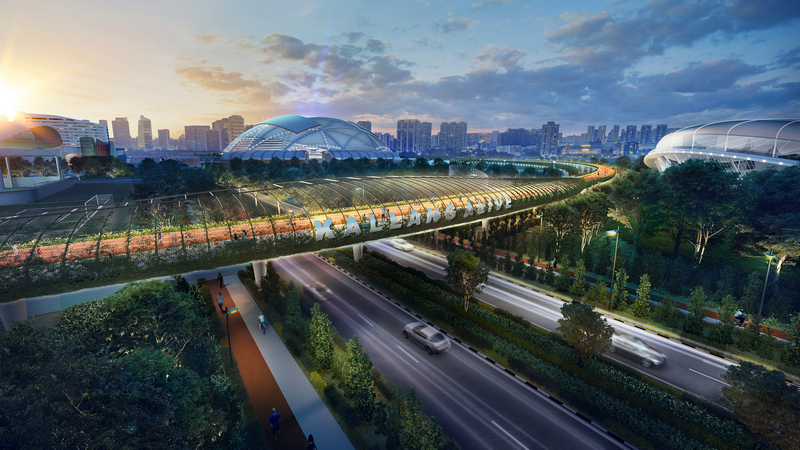 The masterplan will contain a host of sport and entertainment related facilities, including a state-of-the-art football hub and a tennis centre for community, as well as international tournaments. There will also be a Youth Hub, where proposals for a velodrome, speed climbing facilities and BMX sport are being considered. The Kallang Theatre is also planned to be redeveloped into an integrated sport, entertainment and lifestyle centre. The waterfront along Jalan Benaan Kapal is envisaged to become a green community space named Benaan Kapal Green. Lastly, another project that is being explored is the Alive Gateway and Loop. The loop seeks to trace the precinct's circular airfield heritage, and link the key attractions within the precinct by a walking and cycling path that interfaces with Singapore's Park Connector Network.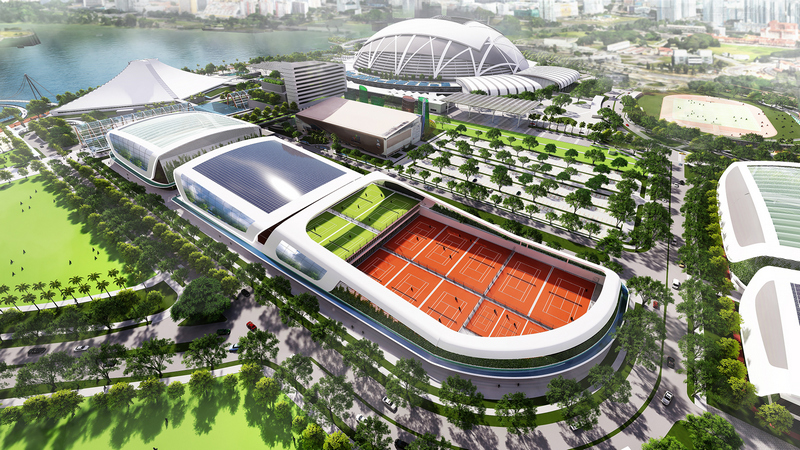 The masterplan's proposed circular 'loop' celebrates the sites' unique aviation history. Prof. Jason Pomeroy, founding principal of Pomeroy Studio explained, "The site was a former airfield; characterised by a 400 metre radius circular landing zone that served as a gathering point for many a person landing in Singapore. We are celebrating the circular geometry of the airfield as a walking and cycling loop that undulates through varied landscapes, and links up the waterfront, across Stadium Boulevard and potentially Nicoll Highway. The loop will form a heightened means of mobility for everyone visiting the various sports, entertainment, and recreational venues within the Kallang Alive precinct, and will thus, re-establish a new gathering point; though this time for the community, as well as many a Star of track, field, court or stage."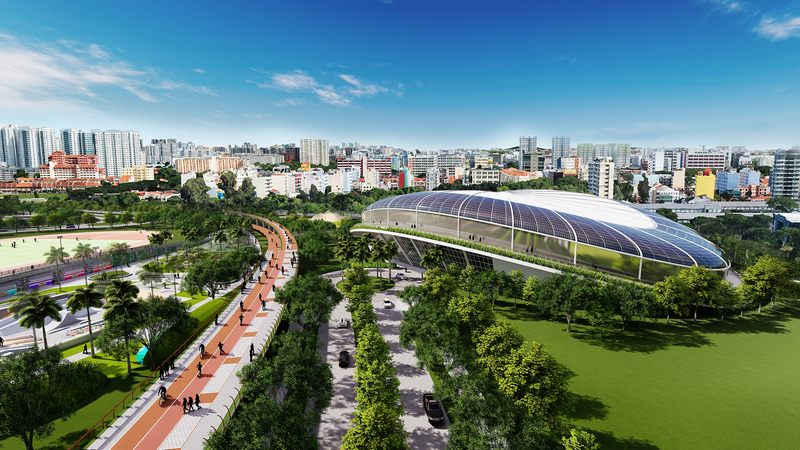 In line with Singapore's drive to be both a garden city and a car-lite smart nation, the masterplan integrates a vibrant people's park that is composed of foliated waterfront boardwalks, wetlands, and lush parklands, that embraces nature's environmental benefits of temperature reduction, carbon sponge, and storm water attenuation. The plan to integrate the pedestrian/ cycle/ e-scooter-friendly loop into these green open spaces further provides seamless mobility to and from the various venues and beyond. It also seeks to cultivate the use of smart green technology to enhance user experience. For example, green technologies that comfort control the temperature and humidity of walking and cycling are being explored. Such technologies could be coupled with solar power and kinetic pressure pads in the floor to generate clean energy. Digitally-interactive light and art installations that tell a tale of both Singapore's culture and sporting heritage seek to enhance the experience for residents, visitors, and tourists alike.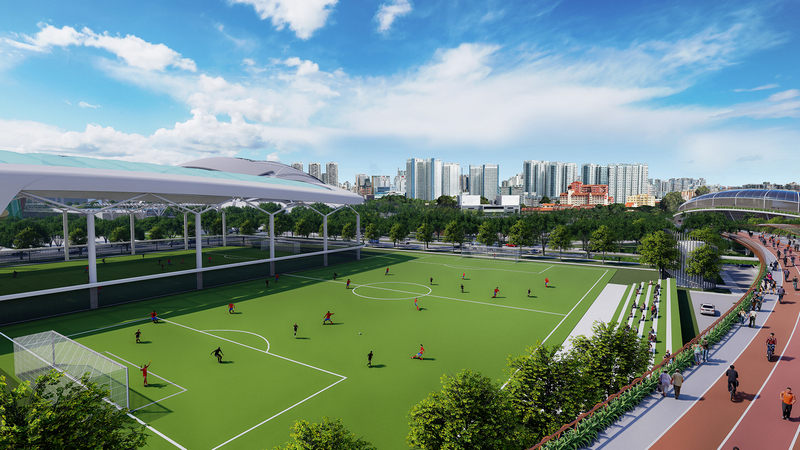 Mr Lim Hong Khiang, Chief of Sport Infrastructure Group, SportSG said, "We envision transforming Kallang into a vibrant sport, recreation and lifestyle precinct. We work with agencies like Pomeroy Studio to come up with ideas and designs that preserve the area's essence whilst incorporating elements of sustainability and technology. We look forward to bringing to life the vision of Kallang Alive that people can enjoy."
Works are currently underway with the Kallang Football Hub being the first to be completed by next year.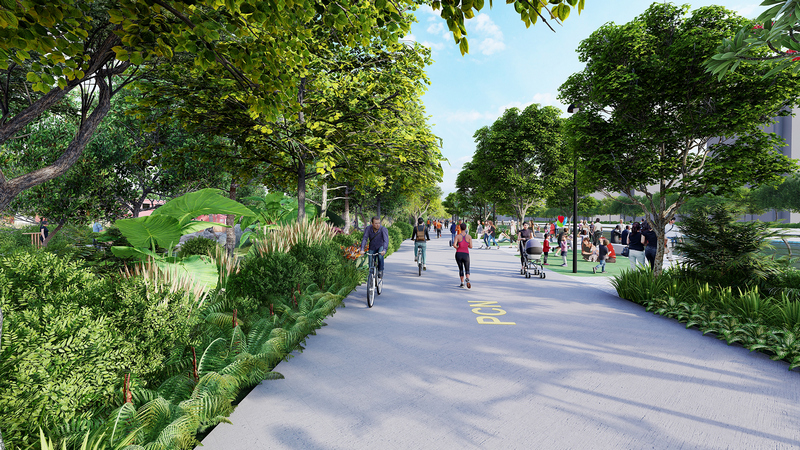 Design Team
Prof. Jason Pomeroy (Principal and Director-in-Charge), Yoshi Shimada (Technical Director), Leo Waible (Associate Architectural Designer), Deepshi Kaushal (Associate Sustainability Consultant), Valerie Chew (Architect), Richard Amburgo (Senior Landscape Designer), Cecilia Su (Landscape Designer), Md Zahidul Islam Abdul Wahab (Senior Manager), Erica Paraiso (Urban Designer), Gigi Teo (Senior Graphic Designer)